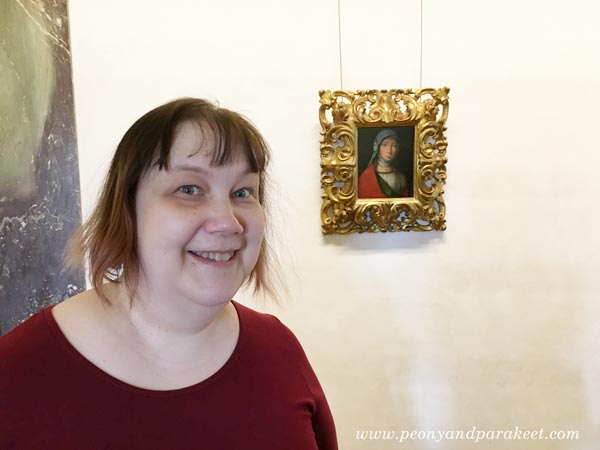 If you have followed my blog for some time, you know that this photo is very meaningful to me. It was a hot day in June when I visited Uffizi Gallery in Florence, Italy. The huge old building was filled with world-class art. But I wasn't just going to look at the famous masterpieces like Botticelli's Primavera or Birth of Venus. I was searching a small painting of Boccaccio Boccaccino.
Meeting Boccaccio Boccaccino at Uffizi
Boccaccino's painting made my heart bounce when I saw it on Google at the beginning of this year. I made my version of it during the spring.
After finishing the painting, Boccaccino's Gypsy Girl continued to fascinate me so that in June, I traveled to Italy with my husband to see the original painting. I tried to prepare myself for the situation that I wouldn't see it. Sometimes museums lend paintings for other exhibitions or don't have everything on display. But my journey wasn't wasted: I got the chance to admire the painting, so tiny that I couldn't believe my eyes. Namely, the whole spring I had tried to capture the gentle features for much bigger size, and it felt challenging!
Now when I compare the details, I see many differences. My gypsy girl is not the same person than the original, but it's ok. I feel that it resembles me and especially how I would like to be seen: gentle but observing, always protecting what's precious.
Wouldn't it be if I could tell my story to Boccaccio Boccaccino? I would tell him how I saw his painting on the Internet, in a big catalog that anyone can browse. I would tell him how I examined the images of the painting and painted a bigger version of it. He would probably wonder how I could afford for all the paints for the big version, and who had ordered such a large painting of a modest gypsy girl. "It's just for me," I would say, "this painting is so special that I don't want to sell it." "You must be a wealthy woman," he would probably say and then continue: "Where did you say you come from?". I would tell him about Finland, an area in the far north and show it on a map. Then I would tell him about airplanes. He wouldn't probably believe anything!
But at the end, all I would like to say to him is this: "People from all over the world come to see your painting. They buy the ticket in advance. They queue. They sweat. They book the hotel based on its location. They take pictures of it. They examine them when they are back home."
Isn't that something any artist would like to hear?
More Uffizi – Some Ideas for Your Art Journals
1) Fresco Pages
Like any museum in Florence, Uffizi Gallery's ceilings had a lot of frescos. The long hallways were full of illustrations.
The round ceiling is so brilliant that I have to show you a close-up photo:
I love how the branches go to the back and to the front of the bars, and how the color changes in the background. It's such a great idea that I also quickly recorded it onto my art journal!
2) Delicate Patterns Filling Solid Areas
Another idea is to see the possibility of a solid or dull area. See how the grass can be more than just green color or green strokes. I saw quite a many paintings that had this: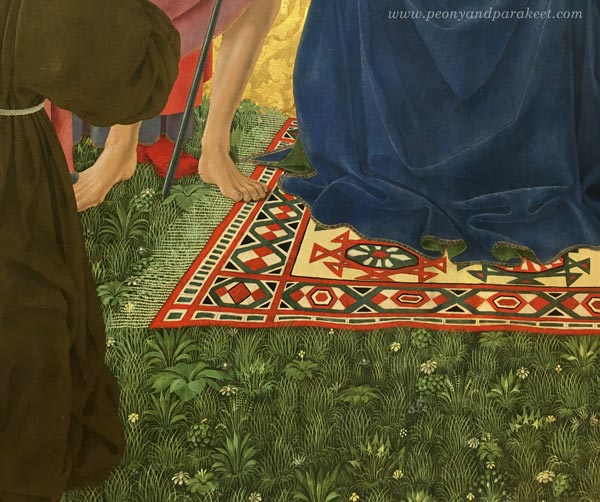 3) Translucent Elements
I am fascinated by the number of veils in Renaissance art, and especially how they are painted.
They are like abstract art if you look at them closer! See how the line changes in strength and how a little bright spot makes the fabric look shiny!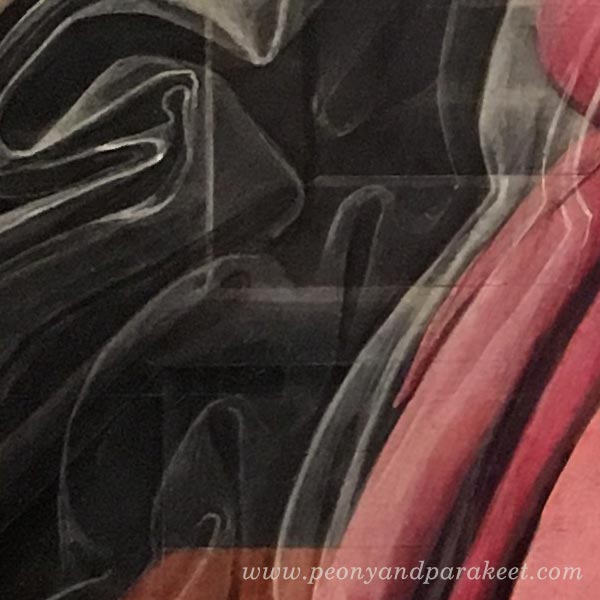 I also loved how the veil was painting in this painting: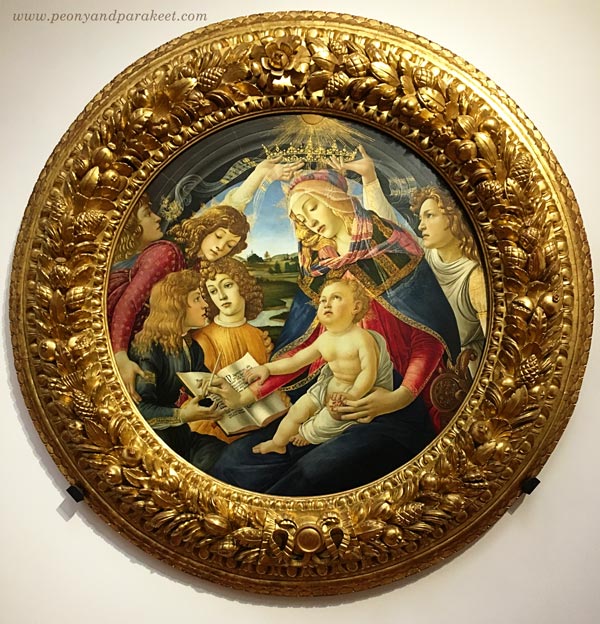 Another idea: add stripes on those translucent elements!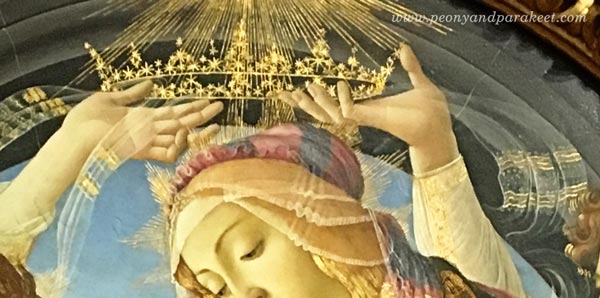 4) Light on the Center
I end this blog post with the simple idea that came from a stunning painting. Create a very bright element in the center and then add dark shadows around the painting!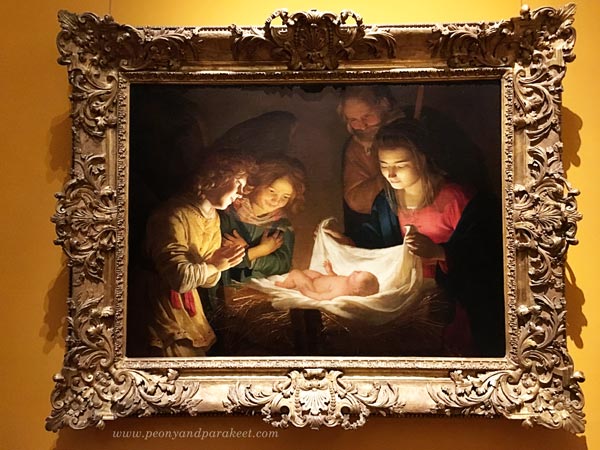 As you can guess, it was an inspiring visit, and I could easily write and show more. Hopefully these inspired you, and hopefully, I will see you in the classes this fall.
Coming Up!
Online classes
Aug/Sept Collageland – a self-study class (textile-inspired collages)
Aug/Sept Inspirational Drawing 2.0 – available as self-study (drawing from imagination)
Oct/Nov Flower-themed online workshop (not your regular flower art class!)
Local workshops in Finland
Sept 9-10 Draw Freely – Piirrä vapaasti 1-2 (Suomeksi! – in Finnish)
Other news
I am planning to offer a free live webinar in September if I can just fit that into my schedule. Many have asked about my coaching program The Exploring Artist. I will rerun that at the beginning of next year.
Stay tuned and if you haven't subscribed my weekly emails yet, subscribe here!