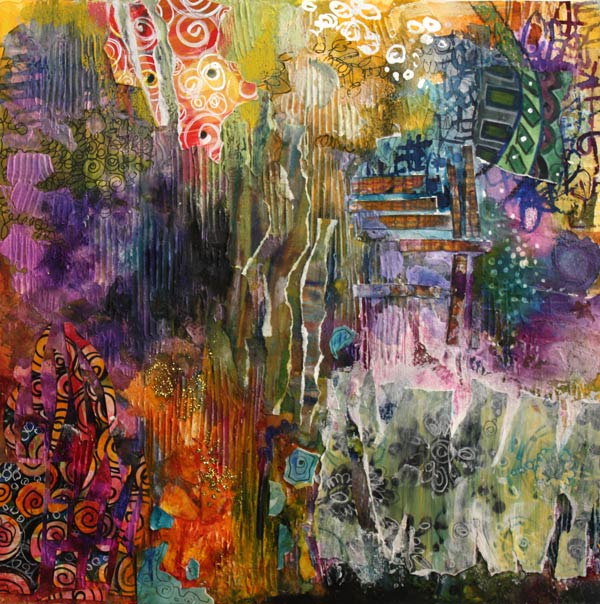 I have had the idea for this painting for a long time: to mimic fabrics including their surface structures. I wanted to combine watercolors and decorated papers with the structures I also had a deeper theme: being open for combinations. Fabrics in a quilter's stash have no hierarchy between each other. Similarly, we can accept different sides of ourselves and our lives and make them work together.
Creative Process with Molding Paste

I began the artwork by painting a watercolor paper yellow. I love my White Nights watercolor set, its colors have such a great intensity! After the watercolor background, I added splotches of molding paste and made it look like corduroy by drawing straight lines. My paste is a Danish product, Schjerning Smooth Structure Paste, but if you are going to purchase some, I would recommend Golden Molding Paste.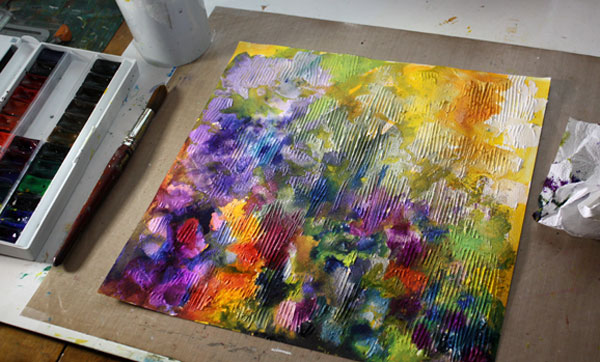 The great thing about molding/structure paste is that, after it dries, you can watercolor on it.
You can also paste extra layers.
It is difficult to doodle on the layers but if you leave some areas free of paste, you can doodle there. The combination of the structured surface and doodled areas create great contrast.
You can also add decorated papers and achieve a more detailed look that way. I tore most of my papers by hand so that their soft edges remind from the softness of fabrics.
I do not usually look my paintings from the distance before they are almost finished. I feel it is unnecessary to try to balance an unfinished work. The last little details are added based on what I want to emphasize. In this work, I wanted to create a composition of several equal areas. The final step was to add the little turquoise pieces in the lower part of the work. Working as a contrast color, that made the weight of the orange equal to the other bigger areas.
Have you ever used surface structures in your art or craft? How? Which do you enjoy more: structure or color?
Let me be your mentor in art: Subscribe to my weekly emails!