This is my latest mixed media painting "Summer is Coming". It has been exceptionally warm weather in Finland and all that sunshine has brought summer not only to my mind but to my painting too. I tell you now how I created the painting!
First Layers: Having Fun with Watercolors
The painting began with watercolors. I made a mess that didn't look so good when looking at it from a distance. But it looked wonderful when taking close-up photos!
After splashing the first couple of layers with a big brush, I changed to a smaller one. I painted simple shapes with soft edges and thought that maybe this will be an abstract piece.
Is This a Still life – Again?
But after a while, it looked like a still life! I must admit that I have developed some kind of obsession for still lives. I have loved them for a long time already. But recently it has begun to feel that anything could be expressed with them. Well, a Finnish artist Miina Äkkijyrkkä has painted and sculpted cows for all her life, so still lives might not be so bad …
More Details with Colored Pencils
With colored pencils, I made the flowers more distinct. I wanted to work as softly as I could so that the delicate look of watercolor paint would still be dominating.
Almost There – Visual Nuances
Then I entered the actual finishing phase. This is what I call "Almost There" phase. It is the point where many just call the painting finished, and they try not to think about it too much. But if I am teaching a class, I encourage people to continue. One way is to show them what they can do next. So I open the photo of the painting in Photoshop and make little adjustments. With these suggestions, I try to add more visual communication and interest to the painting. Sometimes a little spot of color can make a big difference! See what kind of suggestions I made for my painting!
What's the Magic of Using Photoshop for Suggestions?
One thing is that I can zoom as far as I can. Another thing is that I can try out different kind of adjustments without making a mess. I don't do this often for my paintings, but I wanted to show you how little guidance can take the image to the next level. This is one thing that an art teacher can do: show you how you can fine-tune your work so that it has those visual nuances that make the painting more dynamic and alive.
Finished Painting
Here's the painting after finishing it according to the suggestions. I used colored pencils and white gesso for the final details.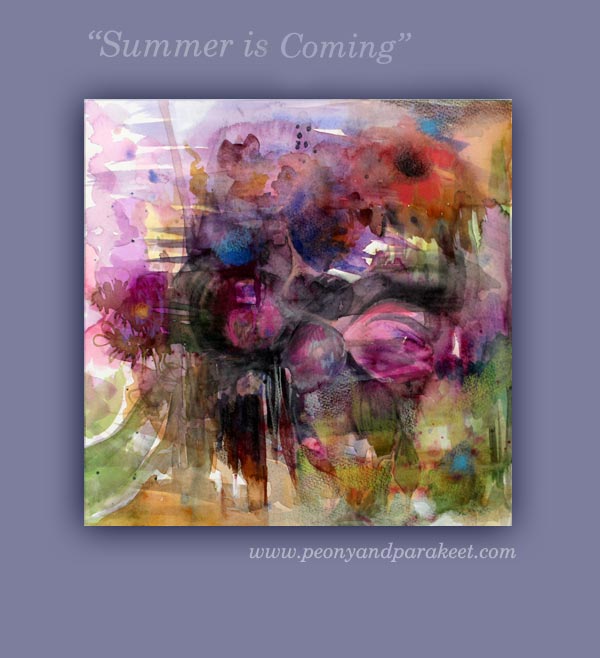 Subscribe to my weekly emails – Get a free mini-course!