This week, I show you my Moleskine Watercolor Notebook and share a bunch of art journaling ideas for watercolors.
I call my sketchbook a watercolor diary because it has become more than just storage of watercolor sketches. I have recorded many everyday moments and memories into it, and it has become a companion that is always easy to pick up and spend time with.
Watercolor Diary – Watch the Video!
I have included a lot of sample pages in this blog post but watch this recording of a live broadcast to get more out of them!
About 17:30 I talk about daffodils, but I mean dandelions, sorry!
Watercolor Diary – Sample Pages
Here are the pages of my art journal showed in the video.
Familiar Place
Long Path
Everyday Observation
Story of a Flower
This should read "Dandelion", not "Daffodil"!
This Place Looks Like That Place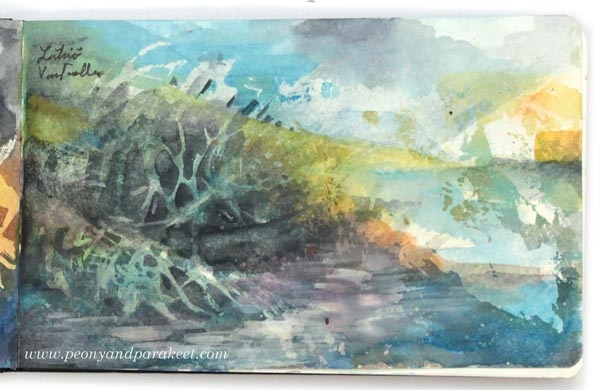 Inner vs. Outer
Travel Memories
Inspiring Cultures
Souvenirs from the Land of Imagination
Trip to the Museum
Organizing the Order
Abstract Garden
Flowers in the Wind
Abstract Buildings
Kneeling Down, Looking Up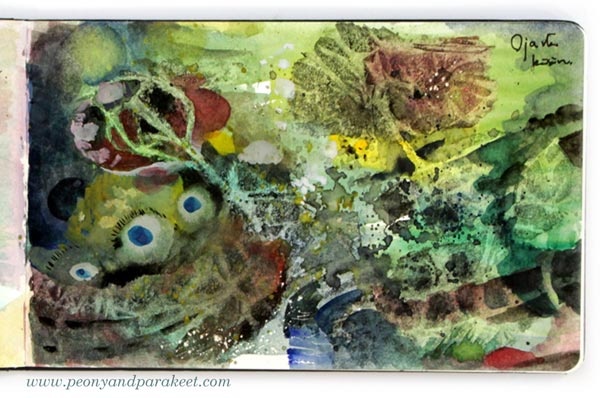 Image Collection
Focusing on the Air
Watercolor Collage
Making a Pair
Crazy Journaling
Watercolors and Colored Pencils

Rainy Day

Morning Dew
Take Yourself on a Picturesque Watercolor Journey
My class Watercolor Journey is especially for you who admires traditional watercolorists but who wants to be more loose and contemporary in your approach.
If you find sketching, perspective painting, careful shadowing and copying boring, but want to learn tips and tricks to let watercolors do half the work for you, you don't want to miss this class!
Connect the dots between watercolor techniques and creative expression – Sign up for Watercolor Journey!