Watercolor is a medium where I really want to grow my skills this spring. It's so versatile and much quicker than oil painting, for example. It can be easily combined with drawings and and … Well, I think if you follow this blog, you also love watercolors! Here's some watercolor inspiration!
1) Watercolor Bookmarks – A Small and Fun Project
Who wouldn't like to get a hand-painted bookmark? Watch the video with practical tips for watercolor painting!
2) Illustration in Watercolor – Use a Drawing as a Starting Point
If you like to draw, pick one of your sketches and use that as a starting point. My drawing from last Inktober is very detailed, but I enjoyed painting it!
Here's my setting. I kept the sketch visible most of the time but allowed my painting to evolve too. I didn't use any pencil to copy the drawing, I just started painting with pale colors and made adjustments layer by layer.
Here's the finished painting. When I drew the sketch, I wanted the person to look like she's contemplating, and wasn't quite happy with the face. But here, I was more successful the facial features. Colors also add to the expression.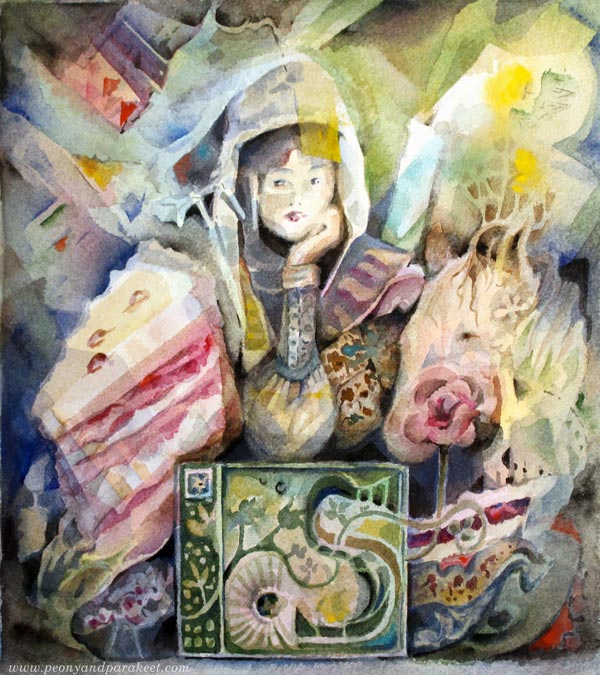 What I really liked in this project, was the lack of too many decisions at the same time. When I followed the composition and the elements of the drawing, I was able to focus more on the atmosphere.
3) Watercolor Sceneries – Play with the Level of Abstraction
Mastering watercolors is impossible without making most of the happy accidents and allowing abstract elements build the image. Try how abstract you can and want to go!
These images are from my class Watercolor Journey. The first landscape is quite realistic and representational. It's easy to see that there are trees and the sun.
Here's a more abstract version of the same project. Trees are not so clear anymore and the sun is more vague too, but on the other hand, it's not as static as the previous one.
Which of the two do you like more? How far do you want to go in your paintings?
4) Intuitive Painting – Loosen Up by Starting with Three Photos
If you like to solve mysteries, here's a project for you! Pick three photos and use one for each of the three first layers. Watch the video for more detailed tips and instructions!
I definitely did not see that there would be a fish in my piece when I started!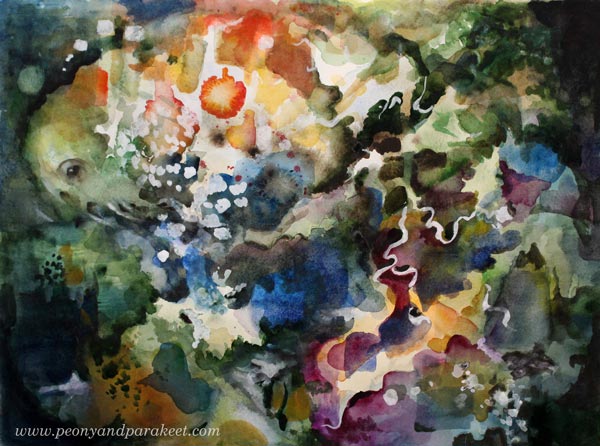 With watercolors, the art of seeing can be sometimes more important as the art of painting!
5) Watercolor Collage – Join my Class Animal Inkdom!
I have also used watercolors several times in my class Animal Inkdom. In Module 3 where we explore the underwater world, watercolors are a natural choice. For example, in this collage project watercolors have a central role. You will learn ways to draw fun and unique sea life animals, and make a playful underwater scene.
Come to draw and paint with us in Animal Inkdom! You will get the published lessons (including Module 3) immediately after the registration, and you can start drawing and painting right away. Sign up for Animal Inkdom here!