Here's a watercolor painting that I made while being a student of Finnish watercolor artist Mika Törönen. I took the class to understand more about watercolors. Watercolor is a weird medium, and its weirdness fascinates me! Watercolors seem simple and easy at first. But the more you paint, and the more atmospheric you want your paintings, especially watercolor interiors, to be, the more challenging they become.
I have recently realized that more than outdoor sceneries, I love painting interiors. Here are some of my tips for painting watercolor interiors!
1) Start with Geometry and Positive Attitude
Last spring, I committed to learning more watercolor techniques. I built a class called Watercolor Journey.
In the past, when I was teaching IT professionals my colleagues often said: "You learn best when you are teaching." First, it felt like cheating because I thought that teachers have to know everything already before starting a class. But when you have to break things into small manageable and teachable parts, deeper insights come up. This way I have found simple methods and easy guidelines for making rich and creative paintings.
This painting is made for the exercise of Watercolor Journey. It's about painting geometric shapes and thus simplifying the interior. You can make the photo more blurry by squeezing your eyes, and focus on the flat shapes that you see from it, for example.
But methods, tips, and guidelines are not the only useful things that I have learned by building classes. By making sure that I teach with a smiling voice and appearance, I have learned to think positively about what I do and how to encourage myself. One of the most depressing things in classes is to hear negative self-talk, whether it comes from the teacher or the student. That's why I think it's important always to express positive emotions, the love for art, and all the enthusiasm that can be found from creating.
2) Choose a Reference You Love
Mika Törönen creates his beautiful paintings from the references. We also had to pick some for the class. I wanted to continue the inspiration that I got by visiting Italy a couple of years ago. I chose a snapshot taken from one of my favorite places – Palazzo Pitti, Florence. Many students used the same photos as references as the teacher did, but to me, it's difficult to use references that I don't have any connection.
I didn't aim for an exact copy but still, the photo was quite complicated and it took all the three sessions to complete to painting. I learned some tricks from Mika Törönen, like how to prevent the paper from curling while working (watch the video where I use the method for painting a watercolor bookmark), and the courage to use small shapes and lines of very thick paint when finishing.
The class was based on us students watching him paint. He wasn't very good at translating his methods to words but as far as I saw it, a lot was to do with finding abstract elements from the photos and building a composition from that. He didn't guide much, and the painting time was quite limited. The benefit for me was that I got new energy for working with watercolors. I painted a lot between the three weekly sessions.
3) Embrace Surreal to Express Emotions
One of the paintings that I have made recently, is this surreal interior. I used several references for this one and also worked quite loosely from them. Choosing one reference is not always the best starting point because it can control the work too much.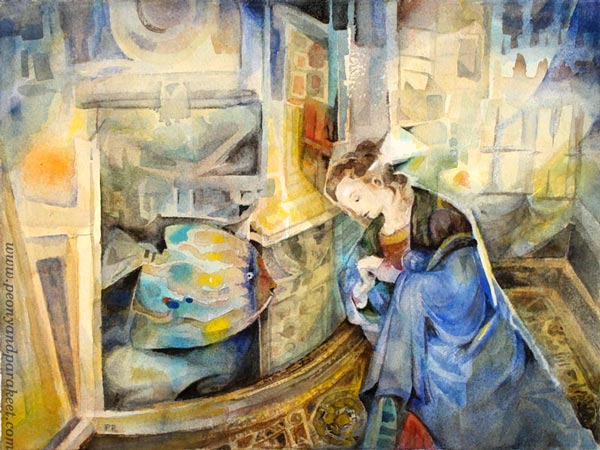 Here, my most important influencer was the feeling that I got after the first class session. The session was very quiet, and I felt the loneliness that felt both good and bad. Loneliness gives the chance to spend quality time with imagination. But of course, it is also a sad feeling.
When I have clarity about a specific emotion, I have both the positive and the negative aspect in mind. That tension inspires me to express it. In this painting, I used a fish to symbolize creativity that I connect with the time spent alone.
Often, the loneliness is in your head. You can feel alone even if you are surrounded by people. So I left a blank triangular ray of light that hits her head.
Working with creativity and without other people's perspectives, can make things turn upside down. I used my photo of Palazzo Vecchio's Hall of Five Hundred as a loose reference. If I turn the piece, you might recognize some of it.
4) Design the Lighting and Focus on the Light
Here's my latest watercolor painting called "Eternity". I think that it's most loose of all the paintings of this blog post because here, I focused on the light.
My reference photo was taken in an old church Chiesa del Gesu in Rome. It was only a starting point. After the first pale compositional layers, I abandoned it.
The elements and the lighting didn't quite match my vision of eternity, so I made a lot of changes. I also wanted to break the symmetry that is in the reference photo. I imagined setting a scene for a movie and let the water express the light more than what it would reveal. There are only a few sharp lines and clearly defined shapes. This way the result is a loose painting and looks less like a detailed drawing.
I used a lot of water when making this one! Sprayed, too!
Watercolor Interiors – and Flowers!
I used Arches Rough 300 gsm watercolor paper for these three watercolor interiors. I hope that this blog post inspired you to pick your watercolor set and paint some watercolor interiors!
This spring I will rerun my class Floral Fantasies in Three Styles, where we paint watercolor florals, a very suitable theme to go with the interiors! There will also be an extra watercolor exercise, which will be available separately if you already have the class. Stay tuned!