This week's post is an affectionate thank you to my colored pencils.
Here's why I love them so much!
#1 Colored Pencils Add Magic to Everyday Moments
Colored pencils are quick and easy for everyday use. Whenever I write, I can quickly pick a few pencils and color a part of the text or make a small illustration.
Planners, shopping lists, and any notes become more cheerful when I add some colored pencils to them.
#2 Colored Pencils Change a Journal to a Treasure
Colored pencils are perfect for small journals. When I started my colored pencil diary last year, I wasn't sure how long the inspiration would last. But the small size felt so easy that the pages kept coming, and I love to browse the journal often. It's my inspiration book and one way I do "research" – search for ideas that reappear more freely in my paintings.
This spread is a part of a new class, Fun Botanicum, where we make a set of plant-inspired pages. The idea of making chapters and different types of pages in a journal is so inspiring. One small journal can be like a library that has many collections!
#3 It's Enjoyable to Paint with Colored Pencils
After painting a series of oil paintings, I am usually exhausted. Then my pencils feel a refreshing approach to painting. When I "paint" with colored pencils, I press only lightly like holding a brush, make soft and blurry shapes, and create color mixes by layering. This way, I fly to my imagination without making a mess or worrying over things like drying time or fluency.
I feel a similar softness to using a brush when smooth hot press watercolor paper meets a wax-based pencil. Gentle strokes don't hurt but nurture the hand, and the overall experience speaks self-love: "Be gentle, focus on the good in the world."
#4 Colored Pencils Love Lines
I love drawing lines, and fortunately, my colored pencils love them too. I can draw straight lines, curves, continuous mesh, outline – all my pencils require is sharpening now and then!
I love the willingness of my pencils to work until they are too short for the extender. I try to treat them as well as I can, no matter how short they are and what brand they represent. Old pencils can do lines too!
#5 Colored Pencils Can Take a Break
My oil paints are like afghan hounds. They require a lot of care and attention, and they always look appalled if I stop too soon. But colored pencils are like little parakeets. They sing when I am with them but are happy to fall asleep when nothing is happening. So I can color just a bit and then leave the project to wait for the next free moment. My pencils are ok with that – Every Single Time!
For example, this week's work was made in several sessions. Watched the news and colored some. Listened to an audiobook, and colored some. Walked by and decided to color some. Unlike my oil paints, colored pencils never complain about what I listen, and they don't get jealous if I watch tv at the same time.
First, I didn't intend to color the border, but then I couldn't help myself to spend a little more time with the pencils.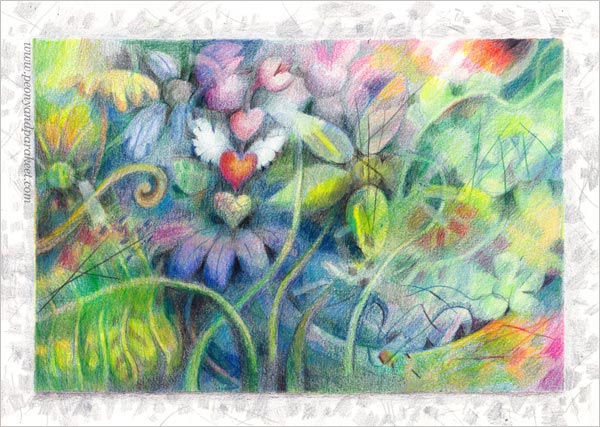 Hearts make this piece a bit cutesy, but colored pencils always make me more playful than paints.
I love this system of color-coordinated boxes!
Having Good Time with Fun Botanicum
Let's gather colored pencils and get inspired by plants, crazy lines, delicious colors, and the freedom of imagination.
Fun Botanicum begins on March 15. Sign up now!