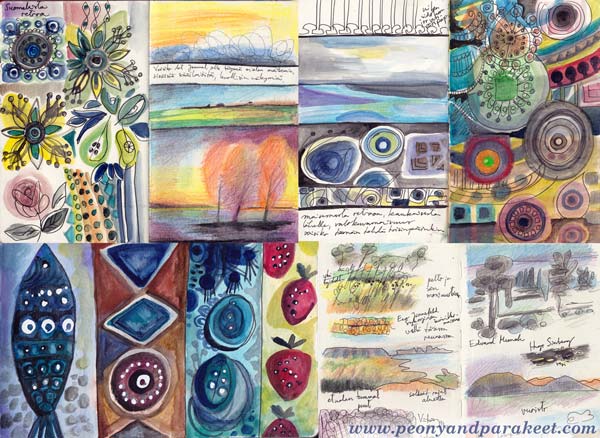 This is a photo collage of the art journal pages that I have made. My art journals are also my sketchbooks: some of their pages document new ideas instead of expressing my current thoughts and feelings. When I draw sketches, I often pick a subject that I want to explore more closely. This time, I wanted to examine landscape paintings and mid-century modern ceramics.
My sketchbook pages also contain text. If I find an inspiring article or book, I write down the most useful quotes. This time, I found an interesting article about landscape paintings in the latest "Taide" magazine. It is a Finnish art magazine that I regularly read when visiting a local library.
Carrying Sketchbook and Pencils
I always take my art journal with me, when going to the library. Usually, I pick a Moleskine Sketchbook, thin-tipped drawing pens and some colored pencils. Cretacolor Aqua Monolith pencils are excellent for traveling (see this post for more information).
Drawing Sketches from Paintings
I also found a book about a Swedish painter Peter Frie who specializes in simplified landscape paintings. Some of his paintings are constructed so that the landscape only fills a part of the canvas. I found this concept really interesting and applicable for art journal pages too.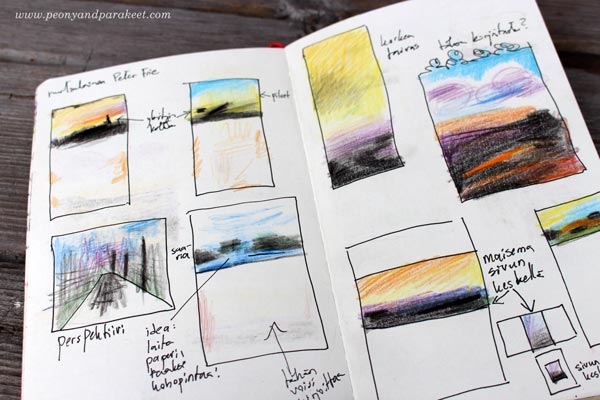 When I draw sketches, I don't copy the paintings accurately. I focus on the construction and the details that I find especially interesting. I also add explanations to them so that I can remember later why I included those bright spots or other details to the sketch.
Now you may ask: why wouldn't I just take a photo or be even more practical, browse Pinterest and pin images? It's what many do, and it's much quicker than create hand-drawn and hand-colored sketches. I believe that when you draw, you will get deeper on the subject. You have to:
… decide what's most important, and what can be left out
… find out the main structural elements and their relations
… recreate the image in your personal drawing style
And while doing all that you will learn new shapes, ways, and structures so that you can later use them more freely in your artwork.
Random Page Order Increases Inspiration
I create pages in random order to my art journals, and I just love how new pages go with the old ones. The drawing on the left is a new one, and an older page on the right looks like another version of the same location!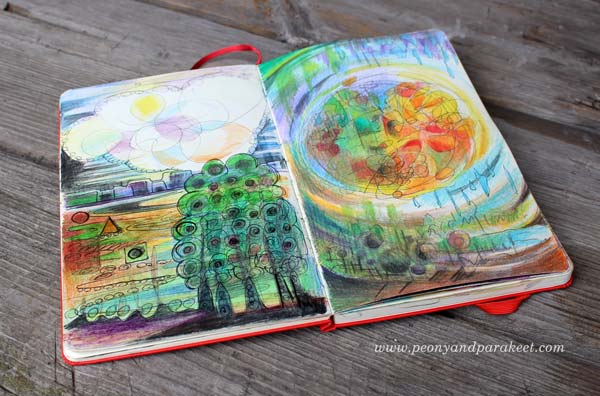 It is also interesting to create spreads that deal with two very different subjects: the page on the right is about landscapes and the page on the left shows sketches about motifs from mid-century modern ceramics.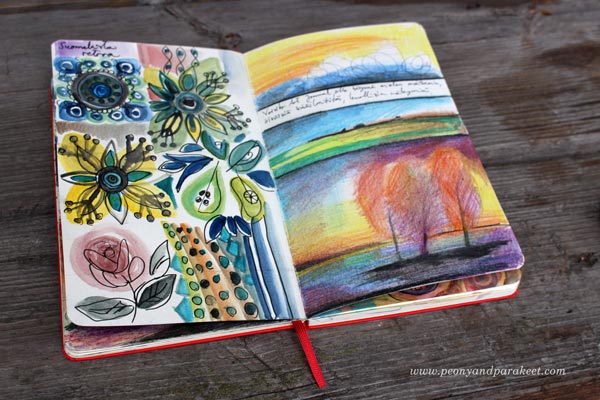 I found the idea of dividing the page fascinating, so I created a new one with watercolors, adding ideas from the ceramics in their sections.
Then I created a couple of pages that combine the ideas from landscapes and ceramics.
When you see inspiring things but find it difficult to remember them later when creating, it is helpful to keep a sketchbook! To fully process inspiration, we need to use both our heads and hands!
Let me be your art teacher: Subscribe to my weekly emails!