Express nature's magic by doodling, drawing, and coloring!
Draw Wild Animals You Love!
Embellish a notebook with your animal favorites, draw collage pieces, or make expressive wildlife art!

Animal Inkdom is especially for you who wants to …
… start small and grow drawing skills step by step – the class is suitable for beginners too!
… get creative with ink drawing techniques and play between fantasy and realism
… learn simple guidelines to quickly draw more realistically
… have fun by decorating animals with doodles and motifs
… become more enthusiastic and confident about drawing and coloring
Create Your Animal Inkdom in Five Parts!
You will get instructional videos and a complimentary document for more tips and ideas every two weeks.
Jan 21 – Bees and Butterflies

We will draw imaginative insects with wings, and beautify them with flowers.
Feb 4 – Love for Birds

We will draw birds and feathers and show our love by adding hearts, desserts, and doodles.
Feb 18 – Glittering Sealife

We will draw whales, turtles, fish, and corals, and embellish them with splashes, drops, stars, and jewels.
March 4 – Furry Wisdom

We will draw geometric symbols that include furry and clever mammals like foxes, wolves, squirrels, monkeys, bears, and wild cats.
March 18 – Safari Ride

We will draw deer, zebras, giraffes, llamas, camels, elephants etc. and dress them with hand-drawn knits, fabrics, and tassels.
Bonus: Membership for Art Community Bloom and Fly for 2019!
With the class, you will also get a basic membership for the Facebook group where you can share your work and discuss with fellow artists. This membership is for 2019, so you can continue drawing and sharing even after the class has ended.
Supplies – Pens and Paper!
At the minimum, you will need a pen and paper.
A thin-tipped black ink drawing pen (for example, Copic Multiliner 0.3) and smooth paper are recommended but you can start with any pen and paper and grow your arsenal along the class.
These can also be useful:
White correction pen or fluid for covering small accidents.
A variety of drawing pens (for example, Copic Multiliners from 0.05 to 1.0)
A black brush pen if you want to quickly ink large areas (for example, Copic Multiliner with a small brush tip)
Colored pencils and/or watercolors for coloring.
A pencil and an eraser for sketching if you feel unsure at the beginning.
gel medium or paper glue if you want to make collages
Photos of your favorite wild animals for references.
Animal Inkdom isn't about perfecting every line but building a world of imagination inspired by wild animals, motifs and patterns. You can start small and then move towards bigger illustrations.
Technology Needed + Refund Policy
All the information and services are provided in electronic format. You will need Internet access and a personal email account. The document is in PDF format, and the videos are offered as a streaming service. You can access the material as long as you want if you download them to your computer by the end of April 2019. If you download videos, you will also need an application to view and download MP4 videos. You have to be over 18 to participate. If you cancel the class before January 1st (PDT), 2019, your payment will be refunded. After that, all sales are final.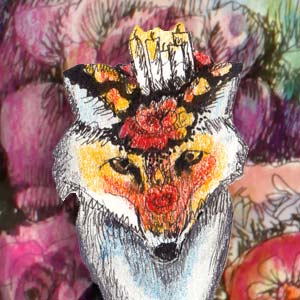 Animal Inkdom – Buy Now!
Price: 79 EUR (approx. 91 USD)
Pay with Paypal using your Paypal account or a credit card.