Paivi Eerola is a full-time artist and illustrator from Finland.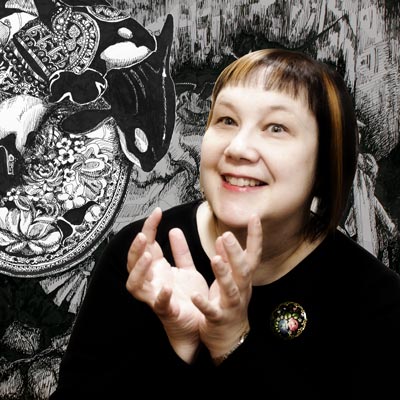 "Everyone Can Find Freedom with Imagination"
To Paivi, art is about taking the best of this world to create a new one. She believes that everyone can find their way to this freedom of imagination. As a former software engineer and industrial designer, Paivi uses both the left and the right brain for creating. She develops methods that help you to express yourself freely and increase the visual appeal of your art.
Visual Appeal from All Angles – Imagination Included!
Paivi thinks that artistic quality is more than just technical skills. Usually, art classes and tutorials are based on them because they are most absolute, and thus the easiest to teach and learn. But there's more to learn in art than just how to make realistic shadows or balanced compositions.
In her classes, Paivi supports self-exploration and getting in touch with your rich inner world. Art has areas where you can only reach with the imagination. Art is also about going deeper into expression and choosing the process that feels natural and exciting to you.

> Watch the webinar Finding Your Visual Voice – How to Start the Journey
Paivi's Students Say
I have a better understanding of how to practice combining my intuitive creativity with the actual making of art. I have been able to relax more and just let feelings flow into the colors and shapes. I feel I have changed by becoming more focused, by discovering that I do not have to give in to the fear of failure and that no matter my skill level, this community is welcoming, mentoring, and loving. You, Paivi, lead us gently and with such kindness, and I am so grateful to have found this artful, magical place you have created. – Catherine Cale, USA

The visual feedback that you provided me has been a very important part of this mini-course for me. It allowed me to learn in a visual way and to see through your eyes. It is not the same to give feedback just with words. To see what you mean when you give a guide during the process of finishing a painting is invaluable. I also want to thank you for the care that you provide to each of the members of the Facebook Group, I really learned by reading all the comments you provided for each of us. – Susana Trew, Canada

"Paivi is a very profound lady. Her insights are amazing. Although having a technical background, Paivi sees beauty, philosophy, and art in everything. Paivi has helped me a lot in my art journey." – Claudia Watkins, UK
>> Sign Up for Paivi's Art Classes
Artists' Coach
In her coaching program, Paivi helps artists to feel and act like one. "Owning the word "artist" is more about identity than about recognition," she says. "I developed a six-step process to embrace my artistic identity. The best thing has been that it helps others as well!"
>> The Coaching Program
Paintings about the Lushness of Life
Paivi's art mixes historic tradition of creating art with a contemporary intuitive approach. "Bringing the past to the present so that we can get hope for the future is one of the repeating themes in my art, " she says. "Old master painters knew how to bring up the lushness of life. To me, that lushness is a treasure chest, containing all kinds of elements that can be used for building new worlds."
By examining historical painting techniques, Paivi has developed a way of painting that is systematic but also allows new ideas to emerge in the middle of the process. Her primary medium has been acrylic paints, but it is now changing to oils to better fit with the layered technique.
Paivi sends her paintings and prints directly from her home studio to all over the world.
>> Buy Paivi's Paintings and Prints!
Interviews
From an IT Career to Teaching and Creating Art with Paivi Eerola – Interviewed by Lou Blaser
IT to Full Time Artist – Interviewed by LeAura and Divani Alderson
A Conversation with Finnish Artist and Art Educator Paivi Eerola – Interviewed by Melissa Dinwiddie
21 Secrets Conversations with Paivi Eerola – Interviewed by Connie Solera
Questions? Inquiries?
Email: paivi@peonyandparakeet.com
P.S. Yes, I do have a collection of peonies and four little parakeets.