Hi, I am Paivi Eerola, a working artist from Finland.
I teach inspiring online art classes, write about art, and sell fine-art oil paintings.
Here's my story, maybe you are on a similar journey.
You can call me a late bloomer in art.
Even if I have painted and drawn most of my life, there have been periods when my creative fire has almost been extinguished. But when I got older, it felt like my life would get wasted without art.
For a long time, I had a goal of making one painting that would be my footprint in the universe.
I wanted to be seen as a professional by the professionals, so I went to study design to become one. After graduating, I knew more about how to, but not so much about what to create. How should my painting look? What kind of image could be my legacy to the world?
Designer studies taught me to focus on the process as much as on the result. So I started drawing whatever came to my mind and made that a regular practice. I was working as a service designer by day but was a doodler by night.
I drew all kinds of scribbles, and playing with pens and paints brought me to the porch of creative freedom.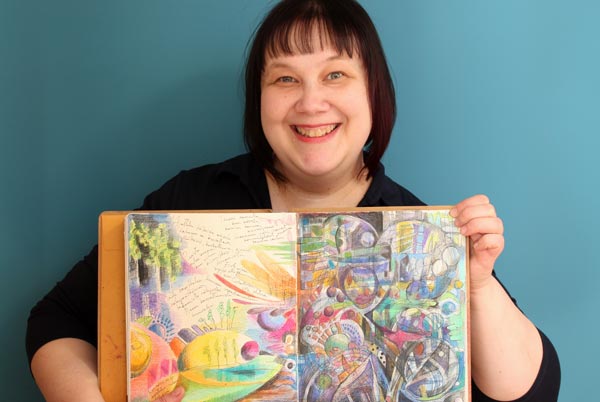 I started teaching this freedom to others and took the leap to become a full-time artist and online art instructor. When working on the classes, I was reminded that there were artists who had achieved my goal. Sadly, most of them, like Botticelli or Rubens, were not alive anymore, but it was possible to learn their techniques.
I changed freedom to a discipline that would lead me to a masterpiece.
After working with oils, underpaintings, and references, I had more "how-to", but still not "what-to." You see, my background is in engineering, and we engineers like to solve problems with tools and techniques. Maybe you, too, have come to this site to find a technique that would take you closer to your goal.
While there's nothing wrong with the techniques, they can never produce the fullest satisfaction that art can give. The same is with getting wild and not caring about the skills. It's all good for a while until the search begins again.
I had been thinking day and night about how to paint one painting. What to include, what to exclude, how the process would go, and how to recognize the right direction. But then, instead of narrowing what comes on the paper, I did something else.
I imagined a place that could expand.
First, it was a small corner, then a house, an estate, and slowly, a small world that first was drawn with pens and pencils, and then painted with watercolors. Its magic filled my mind and fed my brush.
The more I have painted, the more the world has expanded. It now feels bigger than me, and when I paint, it's like I am entering rather than creating.
A Finnish singer-songwriter Jukka Poika has a song called "Potentiaali" (potential). It says that there's a garden somewhere in the desert of your mind. I hope I can help you to find that garden.
Work with me!
Creatives: Follow the weekly blog, take classes, and join Bloom and Fly artist community.
Collectors: Looking for a piece to your collection? Welcome to browse the gallery!
Galleries: Browse my oil paintings and email paivi@peonyandparakeet.com
Authors and publishers: Browse the blog and email paivi@peonyandparakeet.com with your illustration or writing needs.
Paivi's Customers Say
I have a better understanding of how to practice combining my intuitive creativity with the actual making of art. I have been able to relax more and just let feelings flow into the colors and shapes. I feel I have changed by becoming more focused, by discovering that I do not have to give in to the fear of failure and that no matter my skill level, this community is welcoming, mentoring, and loving. You, Paivi, lead us gently and with such kindness, and I am so grateful to have found this artful, magical place you have created.

Catherine Cale, USA
Paivi understood and appreciated my project, and her enthusiasm has kept me motivated to keep working on it. The images are very well suited to my book, and their style is exactly what I was looking for. Paivi kept to her schedule, communicated well when I had questions, and I was really happy creating a shared vision with Paivi. I recommend her warmly.

C.L. Hunt, USA
Bio
1969 Born in Outokumpu, Finland, near the Russian border, painted icons as a child.
1998 Matriculation Examination, moved to Helsinki area to increase the number of women in technology.
1996 Master of Science in Software Engineering, Helsinki University of Technology.
1995-2007 Taught IT professionals and developed e-services.
2009 Bachelor of Arts in Industrial Design, Metropolia University of Applied Sciences.
2009-2014 Service Designer. Developed services and improved user experience.
2014 – Full-time artist. Online art classes at Peony and Parakeet.
2019 – Fine art exhibitions.
Interviews
IT to Full Time Artist – Interviewed by LeAura and Divani Alderson, 2019
From an IT Career to Teaching and Creating Art with Paivi Eerola – Interviewed by Lou Blaser, 2018
A Conversation with Finnish Artist and Art Educator Paivi Eerola – Interviewed by Melissa Dinwiddie, 2016
21 Secrets Conversations with Paivi Eerola – Interviewed by Connie Solera, 2015
Questions? Inquiries?
Email: paivi@peonyandparakeet.com
P.S. Yes, I do have a collection of peonies and three little parakeets!