With this blog post, I am celebrating 10 years of blogging! This blog started "only" about 7 years ago, but my first blog post was written in May 2005, over 10 years ago! So, this time it's all about bloggging, what it has done for me, and what it can do for you as well!
One or Many Blogs?
I suggest that you only have a one blog and that you try to update it as regularly as you can. I have done the exact opposite at first …
My first blog was a knitting blog called "Päivi neuloo" (Paivi Knits). It was born at the time when knitting blogs started to become popular and when both local and virtual knitting groups were born. I was the founder of the first Finnish virtual knitting community, so of course I started blogging too. This blog doesn't exist anymore, but I was able to create a screenshot from my personal archive.
Now when I look at those socks (my own design called "Ornamental Cabbage") I can see the connection with my current work. But back then, I didn't have a clue. I wasn't very active blogger and often felt that I have more finished knits than single blog posts. So to release myself from the pressures of blogging every knitted item, I created a new blog "Sukanvarsi" which was focused on sock knitting only. Now I only had to blog about finished sock projects!
In 2008, I founded my first Etsy shop Kukkilintu. The shop needed a blog so I founded one. Updating this blog was much more fun even if I blogged in a foreign language, in English. I started to get followers from other sides of the world. Along showing the handcrafted projects, I tried to write something about my personal life and desires too. During this time, I became more and more interested in creating art again. So I founded a new blog called "Peony and Parakeet" It wasn't meant to be much, just a place to post some collage art. One of the main reasons for its existence was that I wanted to participate in some challenges and be able to send links to my images.
But to my surprise, Peony and Parakeet started to get followers. To get Finnish followers too, I decided to start a new blog: Pioni ja Parakiitti, a similar than Peony and Parakeet, but in Finnish! For a couple of years, I blogged both in English and in Finnish, updated many blogs and wished I only had one! In 2012, I finally decided to have only one English blog and move to my own website.
If I could turn back the time, I had only stayed in one blog and gradually moved to a more narrowed focus and towards blogging in English. Building a new audience from one blog to another takes much more time than expanding the current audience. Every time I began a new blog, I thought that I would be a better blogger in a new blog. But now, when looking back, I only see gradual development, not that changing one blog to another had made a big change.
How to Find Focus?
The best way to build a great blog is to blog about three kinds of things:
1) things that make you really excited even if revealing them feels scary at first
2) things that resonate with your current audience
3) things that excite new audience as well.
When you manage to create blog posts that succeed in all those three, you have found your focus!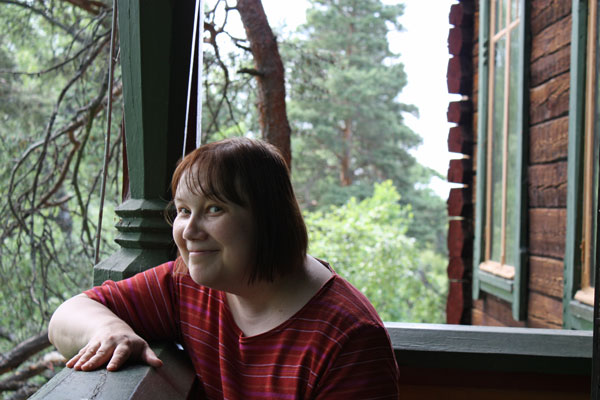 In 2010, I wanted to gain more audience. Blogging had become a regular practice and my new little Etsy shop, also called Peony and Parakeet, had also got some more customers. I examined digital marketing guides and realized that I needed to create a blog post that would be useful for my readers. So I did what was told, I wrote a blog post about creating hand-decorated papers and waited for a couple of days. During that time, very little people read the post. I felt disappointed and forgot the whole thing. But now, when looking back, it's my most popular blog post ever! It only took some time for people to find it.
For me, blogging has taught that other people see me often more clearly than I do. Including art that didn't look so great to me has been one of the best things that I have done. By reading the comments, I have learned so much and it has also, in turn, made me a better teacher and commenter. I think that it's built on blogging that when publishing a new blog post, it feels nerve-wracking. I often worry about grammar mistakes and think that I must be the only person in the world interested in the subjects that I write about. But the truth is that the more you go into the core of your enthusiasm, the more you will attract others.
What Makes an Art Blog?
There are few things where I try to improve and hope that others will too.
1) Being a visual person, pictures are really important for me. When I see very small pictures and a lot of text, I turn away.
2) Having very little text and no personal images makes the blog more distant.
3) About the quality of artwork: the more the images communicate visually, the better. If the artwork does not embark imagination or only shows off technical skills, it remains empty.
With blogging, we can also add more meaning to our images. In the picture above, I am holding a painting that I made when I was about 10 years old. Our family is represented in flowers: the blue violets are my mother, the dark palm leaves are my father, the yellow flowers are my two sisters and the red flowers represent me. The second photo has been taken at my favorite spot, remembering the night when I made the art journal spread and enjoyed listening to opera.
10 Years of Blogging – Celebrate with Me!

Have a look at the new Gallery page!
Check the updated Create page!

Tell me in the comments:
Do you have a blog? If not, are you planning to begin one?
Feel free to include a link to your blog!