This week, we draw a coloring page and color it creatively.
Inspiration from an Artist Friend Eeva Nikunen
This blog post is inspired by my artist friend Eeva Nikunen. She is a master at drawing coloring pages. She has many self-published books, and just recently, she drew the Alice in Wonderland coloring book for a famous British company Colouring Heaven. I especially love Eeva's illustrations of men, and her drawing skills are superior, much further than mine. Of the two of us, she is more of an illustrator while I am a painter, but we both alternate with drawing and painting.
Inspiration from Historical Styles
The Victorian era inspires Eeva, and I love it too. In 2020, I illustrated a book called Fairy Experiments for Thinkers and Tinkerers. It had over 60 Victorian-style line drawings and one simple coloring page as well. I have used a similar drawing style in the classes Animal Inkdom and Magical Inkdom.
I also like Art Nouveau and Alphonse Mucha's illustrations. See this old blog post from 2015 where I draw in Art Nouveau style!
The blog post has a short drawing video too.
Art Nouveau has inspired me to create a set of coloring pages for the e-book Coloring Freely. Here are some samples of them.
Let's Draw a Coloring Page!
There are great programs for drawing coloring pages like ProCreate and Adobe Illustrator. I like these programs, but I like to keep drawing with pens and pencils too. So let's look at how to draw a coloring page by hand!
I started with a pencil, and the focus was first on the pose. When I had a rough idea of a woman romantically entering a scenery, I drew over the pencil lines with a black drawing pen. I like to use ink pens because I draw better when I can't erase the lines. It makes me concentrate more, and my hand becomes steadier.
The sketch for the pose is number 1 in the photo. I think many of you would just throw it in the trash and think that the project is a disaster, but the secret is to keep going by tracing the sketch to another paper.
When tracing the old lines, you will get more ideas and new energy for adjusting the drawing. My second sketch had more elements, and I also started thinking about the facial expression of the character. When I ran out of ideas, I just drew hearts. Then I colored the sketch a bit to think about what the general idea of the image could be.
I like to develop ideas by drawing and coloring, not by thinking only. Many say they have images in their head, but mine are often too vague or too traditional. Drawing makes me more inventive and detailed. So, in the third sketch, the hearts were gone, and the lady had a bag, a leaf skirt, and a circle behind her. As you can see from the picture above, I threw the sketch away, but then when I thought about the blog post, I dug it out from the bin for the photo!
Here's the third sketch without colors and the final version that I drew after coloring the third one for some time.
The final drawing is about saying goodbye to summer and hello to fall. The bag symbolizes summer and the circle became a giant pumpkin. If you compare my lines between the sketches, they become more delicate and detailed towards the end. The first sketch is a clumsy thing, but by redrawing the lady several times, I was able to make the design more flowing. Straight lines became curvier and curves got more notches, making the shapes more interesting. By leaving some of the elements visible only partly, the image looks more coherent and less floating.
Choosing Paper for Drawing and Coloring
The thin and smooth marker paper makes tracing easy. I got to know it when I was studying as an industrial designer. Art supply stores sell it. For coloring, I prefer thicker paper, so I scanned the image and printed it on a brown drawing paper.
Unbleached paper allows me to color a bit more carelessly and playing with pastels and whites is more fun.
Creative Coloring
An inspiring coloring page is not too detailed. I like pages that have some detailed elements, like the bag in mine, but that also have plenty of space for additional ideas. Then the coloring page can be treated as a foundation for creative coloring. For example, my page has pretty empty hem, and I can have fun by coloring freely – creating color changes and motifs that make the design more rich and stylish.
I also like to color over the lines so that coloring extends the original design.
Compare the coloring page and the colored version below to see the additions made with colored pencils only!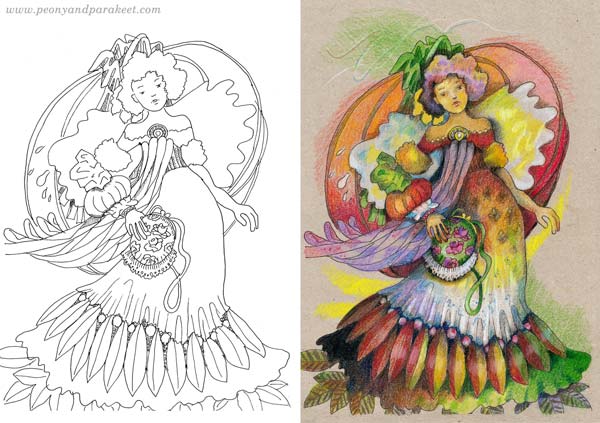 With colors, you can also change the style of the drawing. I think mine looks quite Alphonse Mucha without colors, but after coloring, less so. I like coloring shadows and making the design less flat than what Art Nouveau had.
The Intuitive Part of Intentional Art
After finishing a drawing that was born pretty intentionally, I like to ponder what had initiated it. I found this photo on my phone, taken a couple of days ago. The two-colored leaves looked so beautiful and bittersweet to me that I had snapped a picture of them.
I am sad that summer is over but also acknowledge that summers and falls are not separate. One carries the other. It's not fall's fault that the summer is gone, and the present that the summer gave is dear to her.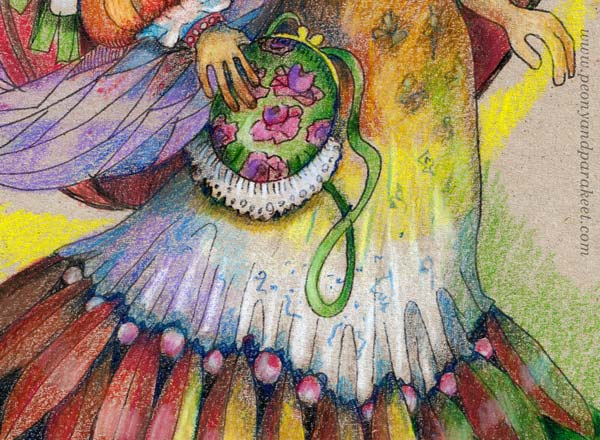 I hope this post inspires you to draw a coloring page through multiple sketches and then creatively color it!