This week is dedicated to moss and all the shades of green!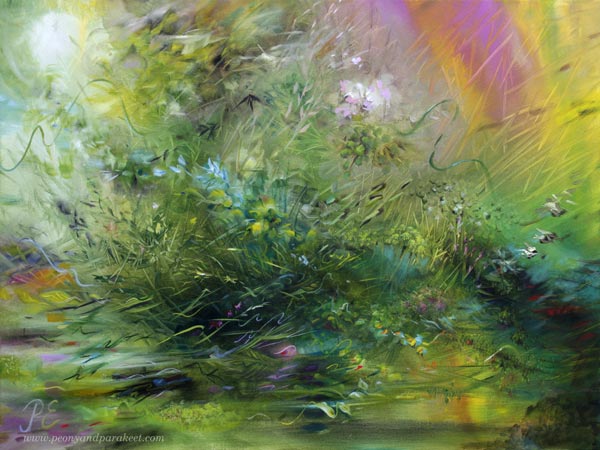 Inspired by Moss
For some gardens, moss is a bad thing, but my husband and I always get delighted when we see moss appearing. It's like velvet, an ancient treasure, woven hundreds of years ago and still vivid and strong.
Last month, I read Elizabeth Gilbert's book called The Signature of All Things. The protagonist Alma was a moss researcher and the space where she worked and stored her samples felt inspiring because it seemed to be a world of its own. The Finnish title for the book is Tämä kokonainen maailmani – "this whole world of mine," and I think it describes both the book and moss brilliantly.
Making of The Echo of Moss
In this painting "The Echo of Moss," I have wanted to express the two sides of moss – how it enables life but also gently connects us with death. Watch the video to see how it progressed step by step!
I painted this piece in oils in two separate sessions. There was a week of drying time between them. I am not always that quick, but this time I was in the flow state before making the first stroke. Probably because the subject felt both inspiring and familiar, and I love the color green.
Painting and Coloring Moss
Moss is not difficult to paint or draw. You only need softly colored variegated green in the background and then randomly placed dots or short lines on the top. Here's an example in watercolor.
This piece is a sample from my watercolor class Magical Forest which has a lesson on painting moss.
When working with colored pencils, color a variety of greens in different directions so that single strokes are not visible. You can use browns, blacks, yellows, and blues in layers to get a wide range of warm green shades. No outlines are needed.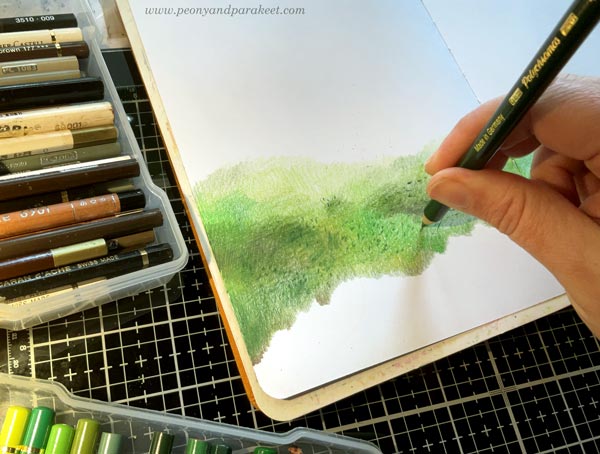 To get natural-looking spotting, close your eyes and tap your pencil randomly on the paper.
Green Green Green!
Green is my favorite color nowadays. "Every painting can't be green, Paivi, we want variety," I said to myself before I started painting this one. I was just like my mother who used to give permission and then remind me that it can't be expected to happen regularly. "Yes, mother, but I want to be a goddess of green!"
"Everything is green," said my husband when I asked him to take this photo.
"It's intentional!" I said to him.
I hope that this post inspires you to explore moss and different shades of green!
P.S. Speaking of color, one of my classes, Planet Color, is retiring on Sept 30.

If you are a beginner in painting and want to use acrylic paints more, for example, in your art journals, check this class! Planet Color is now more than 50% OFF before it goes away! >> Buy here!