If you can dream, you can draw!
Fly with the Colors and Draw the Magic!
Draw and paint on paper and fabric, create hand-drawn collage art and enjoy the magical atmosphere of mysteries, fairytales, wonderlands, and circuses.
Magical Inkdom is an online art class especially for you who want to …
… start small and grow skills step by step – the class is suitable for beginners too!
… learn simple tricks and tips for easy anatomy and magical atmosphere
… have fun by designing decorative frames, adding inspiring words, and doodling all the frilly details
… become more courageous about what you draw and how you dare to do it!
Create Your Magical Inkdom in Four Parts!
First captivate, second grow wings, third dress up, and finally, dance!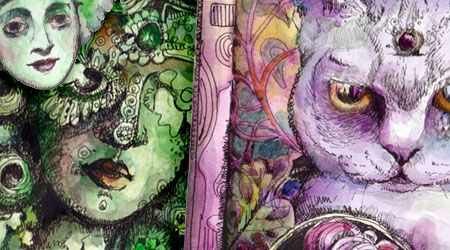 Lesson 1 – Cats and Witches
We will draw captivating faces, and decorate them with beautiful monochromatic frames. We will embrace the feminine power and connect it with the spirit of witty cats and kittens.
Lesson 2 – Wings and Fairies
We will draw flowers and give them wings and personalities. A favorite lesson for all who love fairies and expressing emotions!
Lesson 3 – Bunnies and Dresses
We will draw whimsical dresses inspired by Wonderland. This lesson also includes a project where we draw and paint on fabric.
Lesson 4 – Dancers and Horses
We will draw dramatically lit vintage circus scenes that have a sense of movement. Horse-lovers unite!
I loved this course because it stretched my imagination in new directions. The worlds of magic and fantasy have always been an interest, but I haven't often engaged with them artistically, and here was a chance! I found the lessons to be innovative and appealing because Paivi is so enthusiastic about her art. Creating cutouts and backdrops was enjoyable and I am now learning to use ink.

Lynne, Canada
Bonus: Membership for Art Community Bloom and Fly!
With the class, you will also get a basic membership for the Bloom and Fly Facebook group, where you can share your work and have conversations with fellow artists. This membership is for 2023, so you can continue drawing and sharing your magic for the whole year.
Supplies – Pens, Paper, and Watercolors!
At the minimum, you will need a pen, paper, and a small set of watercolors. A thin-tipped black ink drawing pen (for example, Copic Multiliner 0.3) and smooth Bristol paper are recommended, but you can start with any water-resistant pen and paper and grow your arsenal with the class.
These can also be useful:
A pencil and an eraser.
A variety of drawing pens (for example, Copic Multiliners from 0.05 to 1.0)
A black brush pen if you want to quickly ink large areas (for example, Copic Multiliner with a small brush tip)
A correction pen or opaque gel pens.
Scissors and gel medium (or paper glue) for hand-drawn collage pieces.
If you want to draw on fabric (Lesson 3): cotton fabric and coloring supplies like Derwent Inktense pencils, blocks, and alcohol markers. If you want to make a small purse of your hand-drawn fabric, you will also need a sewing machine, fabric for the lining and basic sewing supplies.

Magical Inkdom isn't about perfecting every line but building a world of imagination. You will create visual richness one element at the time. First, it's just a few, but when the amount increases, the magic will be revealed. To grow the quantity, you can make copies of your hand-drawn art and create more complex compositions quickly. This class is about creative play!
We'll use the same mindset of playing in our community: you don't have to have a big masterpiece to share your art. You can start sharing small hand-drawn bits and pieces, and when your classmates do the same, the shared enthusiasm becomes energizing.
I thoroughly enjoyed all the lessons. The classes were very playful, experimental and imaginative, which I absolutely loved. The videos were a joy to watch with a lot of thought and care put into them. I highly recommend this class to anyone who enjoys fantasy and fairytales with a unique, original touch. Easily my favourite online class to date.

Lindsay, UK
Yes, I want to draw and play
in Magical Inkdom!
Price: 59 EUR (about 65 USD)
Pay with a credit card or Paypal.
Technology Needed + Refund Policy
All the information and services are provided in electronic format. You will need Internet access and a personal email account. The documents are in PDF format, and the videos are offered as a streaming service. You can access the material as long as you want if you download them to your computer within 6 months of the purchase. If you download videos, you will also need an application to view and download MP4 videos. You have to be over 18 to join the Bloom and Fly community. All sales are final.