Here's my latest illustration called "Living Paper Doll." It expresses the world of fantasy that I have been able to find after changing some of my artistic dreams.
Trade-Offs to Create Joyful Art
For a long time, one part of me has admired old master paintings, yearned for more visits to famous art museums, and desperately wanted to master more and more skills. Another part has been less serious, playing with the idea of getting back to childhood, drawing animals and paper dolls, re-reading books like Emily of the New Moon, and watching Bride and Prejudice for the 12th time …
After October, or should we say Inktober, these two parts have started to shake hands and discuss what to save and what to throw out. A lot of that inner conversation has been about changing technical skills to using more imagination. Another trade-off has been between abstract and representational art. I no longer aspire to create fully abstract paintings. More than a fine artist, I am an illustrator of the mind.
If you look at this piece from January 2018, its visual style is very similar to my current pieces. But content-wise the change is a big one. This now looks empty to me.
Freedom of the Line or the Mind?
How many times have we tried to grow our drawing and painting skills to become "looser"? And how many times it has led to more stiffness regarding the use of imagination?
I have to admit that often we art teachers can be blamed here. It's easy to focus more on the technical side, composition and such, rather than supporting the growth in expression. But on the other hand, "techniques" and "step-by-step" are often the words that students want. Expression and imagination sound much vaguer.
However, joyful art is created with free spirit. Now I feel that if I had to choose one stiffness, it would be the stiffness of the line instead of the mind.
Joyful Art in Practice – Forgotten Piece Gets Completed
Last weekend, I organized my studio and found a piece that I had started in July. I hadn't finished it because I had no idea how to proceed. It was made on a huge piece of paper that I had later cut smaller just to be able to store it more easily.
Last summer, I did many experiments with graphite pencils. Here I also used watercolors, one of my favorite supplies. Now I wanted to add some ink drawing as well. It was a lot of fun drawing my current favorite subjects, animals, to this forgotten piece.
Ink pens and watercolors go well together!
First I thought I make this piece a self-portrait by drawing my face on the background. But then I thought about my business name Peony and Parakeet, and how Peony represents beautiful things while Parakeet is for curiosity and play. So the idea of a face changed to a bird. Notice how the elements blend with each other, creating a sense of unity to the piece.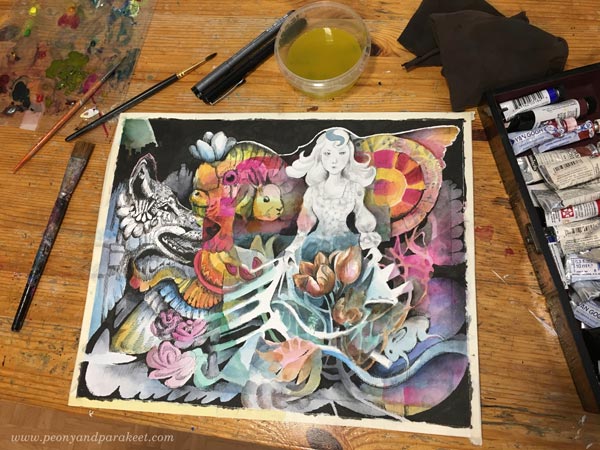 I toned down the bright white areas with yellowish green. I used Daniel Smith's Rich Green Gold. It's one of my favorites when painting with watercolors.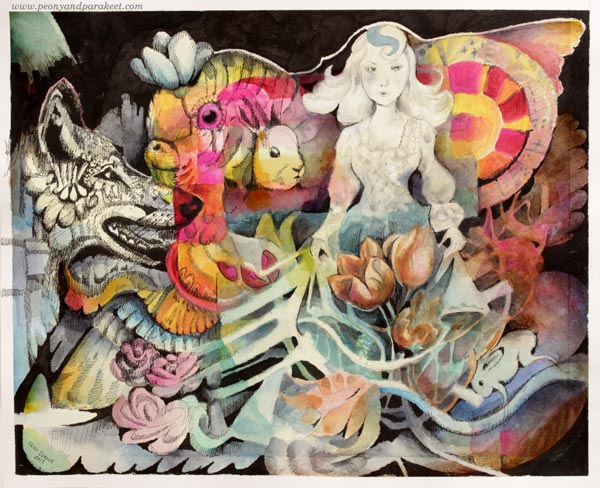 Paper Playground in the Studio
My studio has always had a minimalistic feel, but now it has got more and more joyful art that I don't want to put away!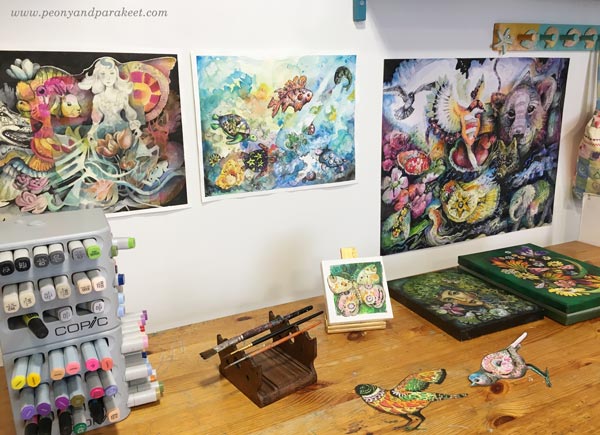 One of the big joys in January has been the art that has been created by the participants of Animal Inkdom. On Monday, we will start a new module and it's about drawing birds. I am so excited to see what everyone will create from the class projects.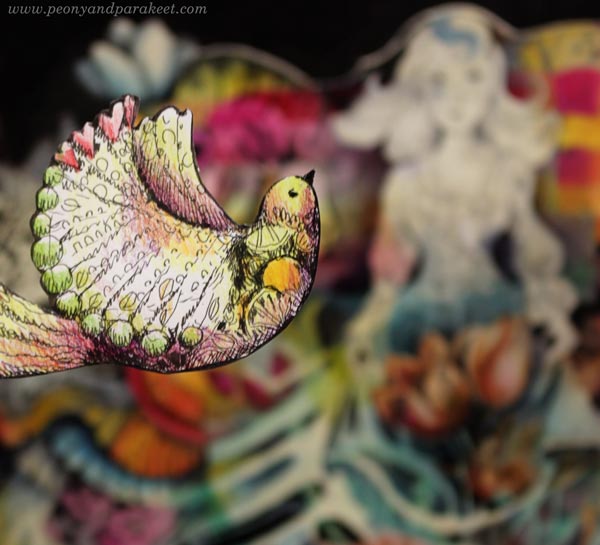 These paper dolls feel alive to me. They radiate hope that was always present when I was a child. I was living in a dream world most of the times, and back then, there seemed to be nothing extraordinary. But for an adult, it's amazing what the mind of a child can discover, and sad how we ruin that when starting to follow other people's expectations.
Art, Hope, and Humor!
There are no boundaries in art. Art includes hope and humor as well. To me, exploring humor joy has revealed new ways to create. I feel that I am now better at delivering a sense of mystery, dealing with dark themes, combining suspense and silliness, and accepting that sometimes art can be so bad that it's almost the best possible kind of art!
Come to Animal Inkdom to draw with us, we'll start with the birds on Monday. The previous module "Bees and Butterflies" arrives immediately after signing up, and you are good to go! >> Sign up here!