Modern Mid-Century – an art journaling mini-course
---
Put a Modern Twist to Simple Shapes!
Create a Mid-Century Modern Collage and Get Creative with Decorations!
Modern Mid-Century
is a self-study art journaling class including:
– 30-minute edited video including detailed step-by-step instructions + inspiration for shapes and clusters
– 4-page PDF file with complementary tips
The techniques of this mini-course will inspire you to create unique collage art from a simple starting point.  You will learn to draw and design decorative shapes that are fun and versatile.
Required Art Supplies
– Black thin-tipped drawing pen, tip width 0,4-0,8 mm. These can be brands like Micron, Staedler and Pilot Permaball.
– Acrylic paints.
– Markers (felt-tipped pens).
– Gel medium or paper glue.
– Drawing/sketching paper and an art journal book of your liking.
Samples – Student Work
You can use this course as a tool for expressing your ideas and stories as well as the other way around: finding new ideas while you progress. See the variety of ideas shown below!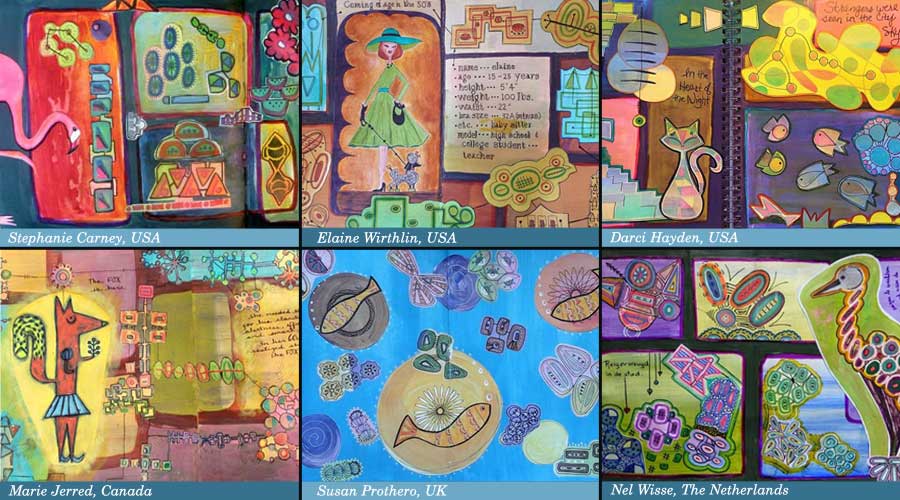 Immediate download
You can download the PDF file to your computer immediately after the purchase. The file contains the link and the password to the video. The video is offered as a streaming service. It is available at least 6 months after the purchase. You can access the video as long as you want when you download the video as MP4 file to your computer.
Buy the Class!

Price: 12 EUR (appr. 13 USD)

Pay with Paypal using your Paypal account or a credit card.

Buy the Whole Bundle!

Modern Mid-Century was published as a part of
Imagine Monthly Spring 2016.

>> Buy the bundle of all 6 classes!