This class has retired! But no worries, there are plenty of classes that are still available. >> Browse Classes
Make Your Watercolors Speak to You
Get a fast start for creating unique paintings!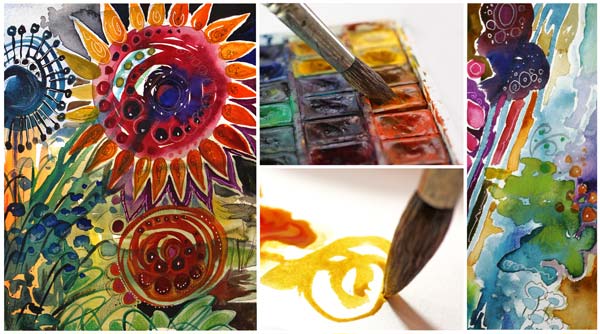 When you want to relax and have a limited amount of time, watercolors are great art supplies to use. But watercolors can be intimidating too. Especially if you get so called "blank page syndrome" where you stare at the blank paper not knowing where to start and what to paint.
Make your watercolors speak to you!
I think that creating art is like a good conversation. It gets deeper step by step. In the good conversation you will get a new perspective on your life and get to know your friend better. Let watercolors be your friend!
With watercolors, it does not always have to be stiff landscapes and still lives. You do not need to attend local painting courses or watch 18 hours of YouTube videos before you can express your feelings and taste the pleasures of simple, intuitive painting.
Don't ever get frozen in the front of the blank paper again.
Learn the method on how you can smoothly progress layer by layer
and get hooked on painting!
Buy Watercolor 101 for Intuitive Painting!
In the video, I will show you how to:
1) get started and keep going with painting
2) get the most out of watercolors using simple painting techniques
3) apply the techniques to create a beautiful flower painting (no sketching or other tedious tasks)
4) finish your painting with pens and colored pencils
5) create more, but different paintings with the same method
Immediate download
– MP4 video file which you can download to your computer
– 25 minutes full of information, ideas and advice
– Supplies needed: watercolors, 2 brushes (big and small)
– For finishing (optional): white and black pen, colored pencils
Are you still wondering what is intuitive painting? Watch a preview of the video!
– I love the video! Painting intuitively is so foreign to me! I have only done decorative painting before trying your style! What a contrast! I especially love this quote from the video…After learning to paint intuitively, "you will express yourself without worrying over the end result." That alone, made the value of the video…priceless!!
– Paivi, I love your video! You show me the way! I want more like this and others too!
– I just purchased your Watercolor 101 and I have to say… you have done an awesome job! I absolutely LOVE it!!!
This class has retired! But no worries, there are plenty of classes that are still available. >> Browse Classes