This week, we go from happy and light to adventurous and dark. This is how adventurous colored pencil fantasy art is born!
Imagine walking in a sunnyland through sunshine meadows, seeing pinks, fresh greens, smiling yellows, and trotting happily along a path that feels pleasantly warm and soft. And then, suddenly, something dark hits you, and you no longer feel the ground. Should you fight back to the sunnyland? Or try to figure out what this new place is that feels like a deepwater or a starryverse? That's what happened to me with colored pencils.
I have made drawings for the upcoming class Intuitive Coloring, and it's been fun. Happy pictures have filled my studio, and bright colors have got shorter.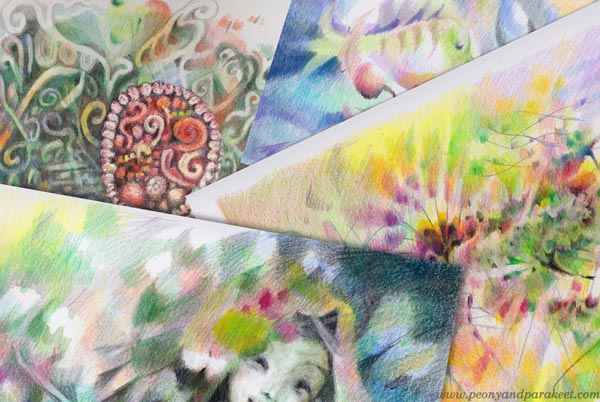 But then, boom! Somebody wanted to come out, and she was not a smiley face.
"Let's make you smile," I told her. "Let's take away the darkness, and you will fit better with others. So, here's a rose that will guide our path back to the sunnyland." But she didn't stay behind the flower, and her eyes refused to smile.
It's easy to follow intuition when she plays with the butterflies promising good things and much harder when she takes you to a less defined zone. For example, can I let go of not drawing an arm or a leg? Not that I would specifically enjoy drawing them, but because humans do usually have hands and feet.
Colored Pencil Fantasy Art
I didn't know what was what, but I let her appear anyway.
While spending time in this strange place, it started to feel exciting and inviting.
I found myself thinking: why do I give restrictions to my imagination when pens and paper don't set them? When imagination hits our intuition – or is it vice versa – why not just let go and see who's the little monster that wants to come out.
I want to fit and belong, and yet, it's not always so.
My art and my expectations don't always meet. But the dark starryverse feeds the bright sunnyland, and I need both to keep the sun shining and fairies moving forward.
How's this with your art?