This post is written by Cosmo, the best studio dog ever.
A studio dog is a position in an artistic family. In short, the job is to maintain the artist's mental and physical health. This happens by interrupting the artist regularly, but not too often, to get exercise, process inspiration, and stay grounded.
Artists often criticize themselves too much, so it's essential to love them unconditionally. Whatever they create, they are always worth to get noticed and appreciated. It's not the job of a dog to decide whether the art is good or bad but to value their temperament and overall creative personality.
Encouraging the artist to take breaks is not always easy. A regular schedule for interruptions is recommended. Sometimes the artist can get annoyed, but it's good to remember that art is like pig ears. It's easy to develop an addiction to them. Dogs can't live with pig ears only, and artists can't survive by only making art.
When walking the artist, it's helpful to understand that eyes are her nose. She needs to stop and take pictures once in a while, and these sights are not always what a dog would appreciate.
Creating art is lonely. The artist may want to be alone, but there's also a limit. Just lying on the studio's floor can keep her company.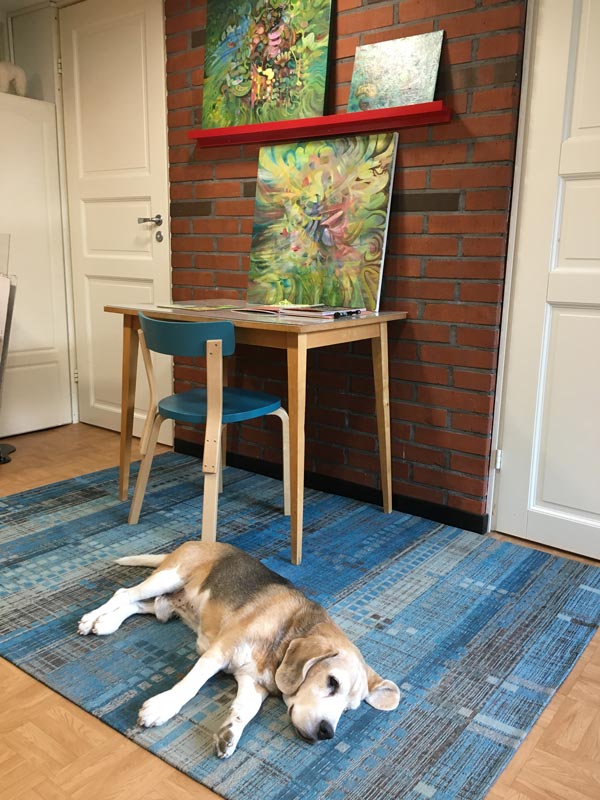 The hardest part of the job is to understand how the internet works. The artist wants to share pictures and stories like this, so sometimes studio dogs also end up on the internet. No matter how old you are, it's your job to look cute and approachable. It helps if you are not entirely black or white and if you have lop ears. And when the artist is browsing the internet, that's some kind of a pig ear too.
The job of a studio dog is a job for life. You don't leave the artist until you have to. At the age of 15 and a half, it's now time to say goodbye and pass the position to my assistant Stella. She is much cuter than I am, and I'm pretty sure she will handle other things as well. I do have trained her for over eight years.
Lematja's Heathcliff, "Cosmo", 23.3.2005 – 18.9.2020. Our hearts are broken, it was so hard to let him go.