It is the last week to sign up for my floral art class, so I wanted to show why flowers are so inspirational to create and give tips for expressive floral art. In this blog post, I make a fairly quick watercolor painting that treats the flower as a miracle of its own rather than a boring stereotype. Because let's admit, we have all drawn these:
Using reference photos or real flowers as a reference doesn't help if we just try to build the bridge between the stereotype and the real thing. The result can be even stiffer and more boring.
But flowers are not boring at all! I picked one fairly modest tulip from a vase to show you how to highlight its beauty and create expressive floral art.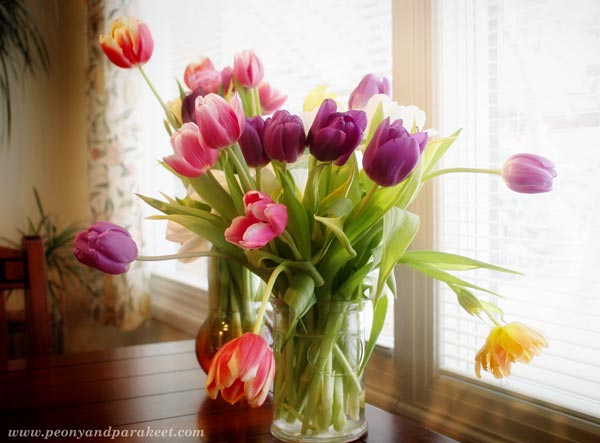 Here's the setting:
And here are my six tips:
1) Flowers are Never Solid-Colored
You don't have to use a huge range of colors, but mixing them to get several tones is essential. Here are the colors that I used for this project, just seven, and I mostly used only two of them: blue (ultramarine) and pink (Quinacridone Magenta).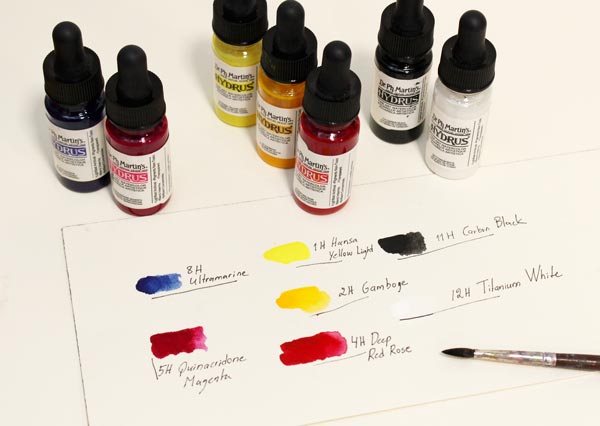 2) The Structure of a Flower is Always More Elaborate Than You Think
Accept that you don't quite understand the structure of any flower. It is much more elaborate than you can ever imagine. So when painting realistically, don't simplify what you see!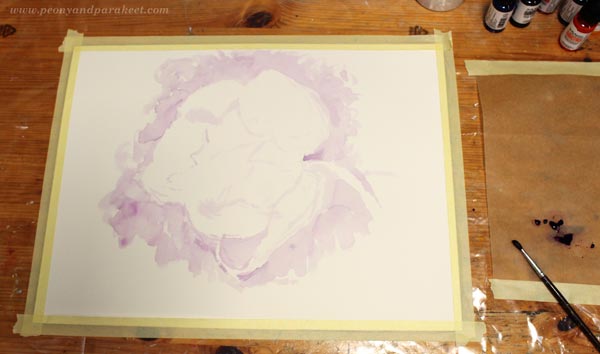 I began the painting by sketching the biggest petals with the mixture of blue and pink. Notice how pale my sketch is! In reality, it is even a bit paler, but I enhanced the photo so that you can see it more clearly. When painting with watercolors, it's important to start with a very pale color so that you can fine-tune the painting as it progresses.
3) Flowers Have Strong Shadows
We usually connect flowers with light and light-weightedness and don't want to use dark colors for them. But if you imagine being an ant living inside a flower, there are a lot of hiding places between the petals. Without those murky dens, bright plazas lose their shine, and the flower looks flat.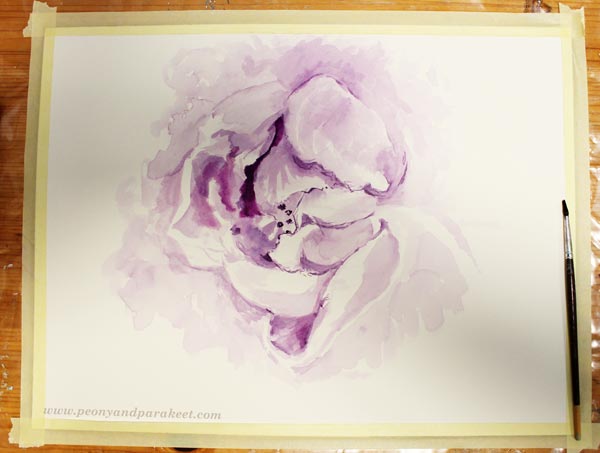 With the mixture of pink and blue, I continue by adding more shadows to the flower. The result is a bit like an underpainting (one of the techniques in the floral art class). It focuses on the lightness and darkness instead of the actual tones of color.
4) Flowers Are Full of Gently Flowing Streams
In general, flowers may look static but when expressing them with paint, take a different mindset! Every petal, shadow, bright spot, any detail, is a part of a dynamic, circulating and flowing stream.
Instead of fixating to the big picture, I move from one detail to another and change them so that they are more curvy and organic.
My tulip is not static either. The petals open with the daylight! It doesn't bother me because I follow the streams of my painting more than the reference.
5) Flowers Are Never Separate from Their Surroundings
If you aim for a realistic look, don't make the background too separate from the flower! In reality, colors interact with each other, and there are blurry reflections everywhere.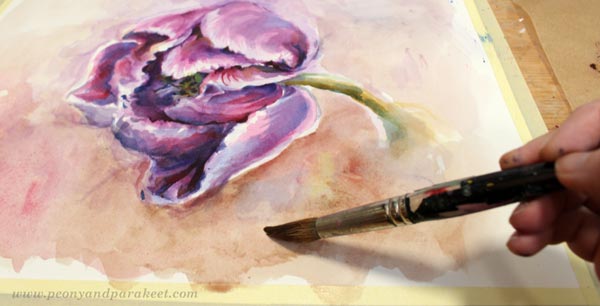 I mix some neutral colors for the background before finishing the flower. Then I go through all the details one more time, and finally paint and splash colors carelessly for the background.
I use the same pink and blue in most of the color mixes than what I used for the flower. It makes the painting more unified.
6) Macro-Painting: Flowers Can Be Big!
When you want to give a realistic impression, don't start with a tiny sketch! The smaller your flower is, the more difficult it becomes. My paper is 16 x 12 inches, and the flower is approximately 8 x 7 inches. I can easily think about creating a flower twice the size to get the details even more aesthetic.
Floral Fantasies – Create Expressive Floral Art!
Stylish floral designs, abstract intuitive flowers, and loose realistic art may seem different, but they all use similar building blocks, just in a bit different way. In Floral Fantasies, you grow your imagination, expression, and technical skills by creating beautiful floral art together with like-minded art enthusiasts! I will show methods that make your art bloom and help you to finish your pieces so that the expression shines through.
Floral Fantasies in Three Styles
Level up your skills and let flowers show the way to expressive art!
The registration closes on Sunday midnight, Feb 18th (PST). Sign up here!