The fashion themed Smash book is just perfect to show my love for bags. When I made these hand decorated papers became heavy fabrics and leather in my mind. It was so fun to draw stitched seams, add layers and choose decorations.
I have a lot of ugly papers in my hand decorated paper collection. I do not take my papers too seriously. Their common nominator is that they are made by myself and thus they fit together whether pretty or ugly.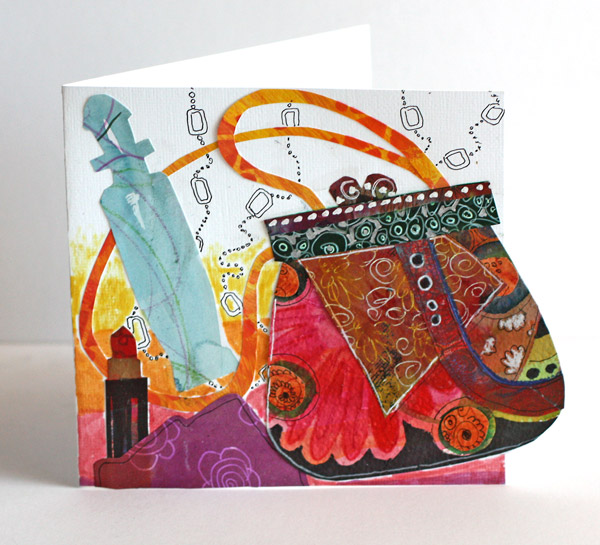 If you prefer to make cards instead of art journal pages, you don't have to miss the fun. Create bag themed cards like I did! This card is a birthday card for my sister. She loves everything red. I also added some stuff that could be found inside the bag: a lipstick, perfume bottle, small scarf and a necklace. We can always give dreams, even for people who have everything and do not want to own more.
I want my art journals to be like catalogs: full of items to pick and choose. I am like a dream shopper with a hand made credit card (how would that look like, or a row of them!). I could ask from the maker of the turquoise pouch: "Do you make these in green too?" And the maker would respond: "Of course, which tone would you like?" With a little help of image processing in Photoshop, the options are right there.
Think about it: there are millions of hand bags which you, and only you, can make!
Let me be your art teacher: Subscribe to my weekly emails!