This summer has been sunny and warm in Finland. It has been great to spend time outdoors, gardening! Our garden is still work in progress. I think about it constantly. And it shows here in this art journal page, as well as the hot summer days!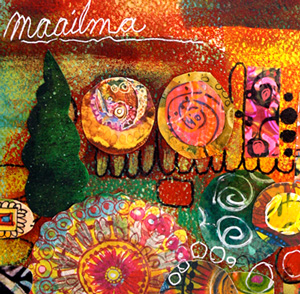 I love the combination of acrylics and watercolors. They make a great background. Start with the acrylics, leave some unpainted areas and the add watercolor to them.
I continued by adding some handdrawn papers and wrote: "For someone this would be only a house and a garden but for us it's the whole world."
Coming up in Espoo, Finland: art journaling courses by Peony and Parakeet (in Finnish). The first evening (19th September) is about creating pages about landscapes and places!