This week we will grab colored pencils and draw freely in full color. Follow me step by step!
This exercise is set so that we start simple and then get more creative. If you are a beginner, you can stop earlier, and if you have more skills and patience, you can go to the very end. You only need paper and colored pencils. I drew the picture in my colored pencil journal.
Step 1 – Draw a Flower and a Heart
Pick a brown or blue colored pencil and draw a flower and a heart.
There's nothing creative here, these are just the basic symbols of a flower and a heart. Place these on the corner of the page so that they are like a starting point for the rest of the image.
Step 2 – Draw a Tilted Flower and a Heart
Now draw a flower and a heart so that they look tilted. Having variation makes the image!
Instead of a circle, draw an oval for the center of the flower. Change the length of the petals gradually. Draw the other side of the heart smaller so that it's not symmetrical anymore.
I like to add some color right away – not much, just a light layer as a warmup.
Step 3 – Draw a Big Flower and Then a Heart Behind It
I bet your flowers and hearts are pretty similar in size and placed separately – like mine are! Let's add variation by drawing a big flower and by placing a heart behind it. So here, the heart is only partly visible.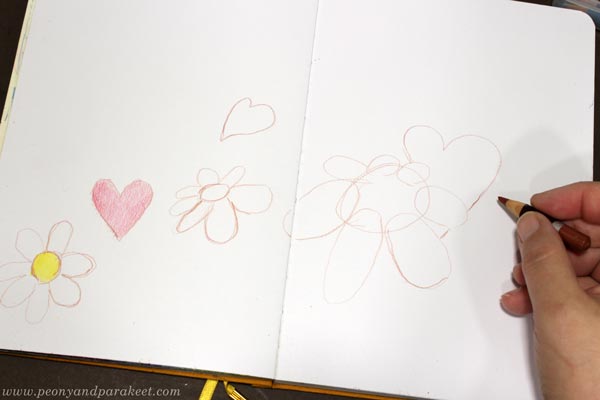 Again, I drew the flower a little differently than before. I made the petals go on the top of the center. Now when the flowers and hearts are all a bit different, they look more lively too.
Step 4 – Color the Hearts and Flowers and the Background Around Them
Now pick a wider selection of pencils and color the hearts and flowers. Also, choose a background color and add some of it to the background.
You can adjust the outlines if needed with the background color. Color lightly and leave most of the background blank.
Now you have a cute little drawing, but let's draw more freely next!
Step 5 – Color Flowers on the Background
We now have stereotypes of flowers, but let's go further and question them. When a flower wants to be free, it becomes less defined, and the center disappears. Make the background more lively by coloring three big blurry flowers freely.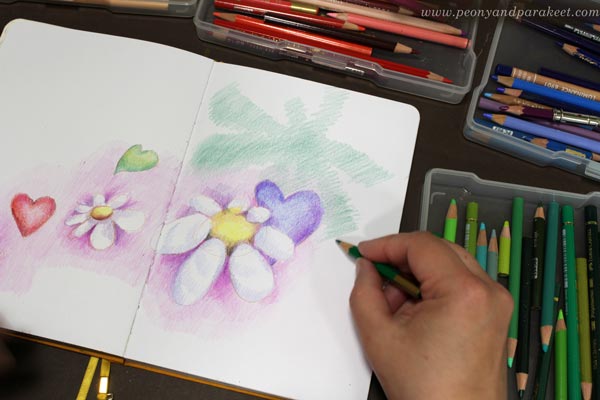 Without thinking about typical flowers, color stripes that go in different directions. They can have different lengths, be straight or curvy, and the result can look pretty odd!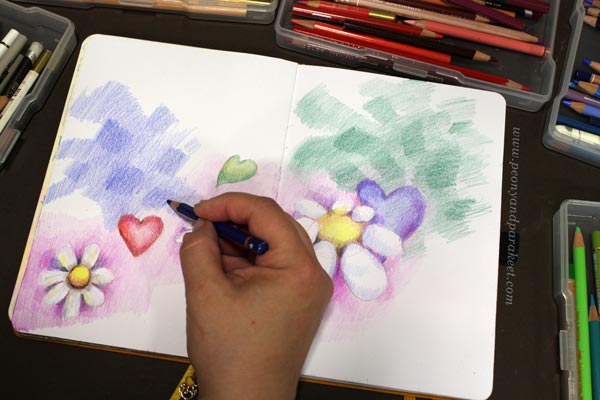 Then color rectangles on the top. Make three blurry flowers total – sets of stripes and rectangles, that is!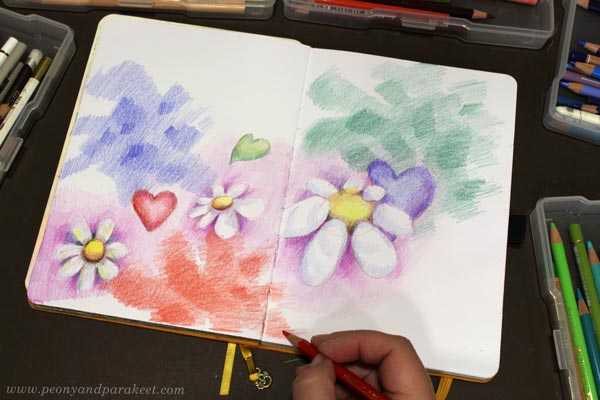 Connect the elements so that the new ones go a little behind the old ones. When you want to create an emotional connection, create a visual connection!
Step 6 – Color Hearts on the Background
Without outlining, color a set of hearts with the background color, and then make a second set of white hearts by coloring the background.
Color around the heart, not the actual heart! The hearts can have various sizes. Place a part of the hearts near the edges so that they are only partly visible.
Then add more background color so that it goes partly over the background elements and makes the image a little darker and calmer.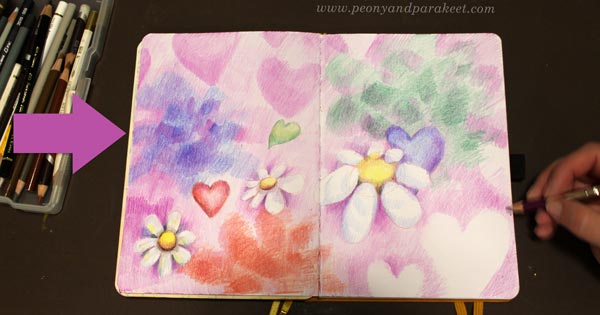 Now you have some free expression, but next, let's go further and add more drama!
Step 7 – Color a Dark Path
Light always shines more brightly when there are also dark colors. Pick black and other dark pencils and plan a path that goes across your image from one corner to the opposite side of the center.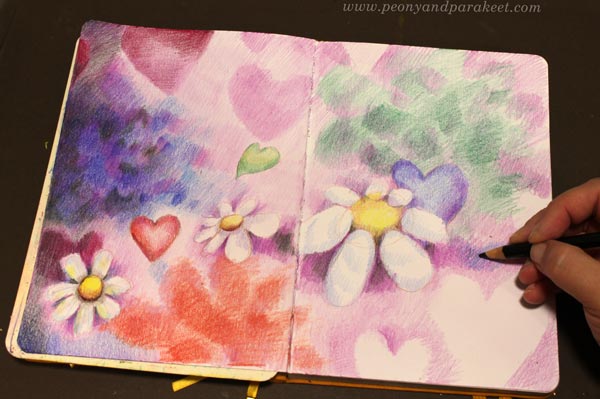 First, color the chosen corner and the nearest edge. Then move towards the center. There, add shorter stripes and spots that mark the path and highlight the best parts of the image.
Now you have set the basic lighting. But in nature, light often travels less straight and makes the overall impression less stiff.
Next, we will get creative and free up the light!
Step 8 – Draw a Freeform Line and Color Its Sides Differently
Take a deep breath, and practice first. Stand up, and move a pencil in the air so that it creates curves. Then sit down and draw a curvy and continuous line that goes across the page.
Draw freely and lightly!
Then color around the line so that light and shadows alternate there. When darkening an area, notice that you can also color smaller shapes and patterns instead of using a solid color.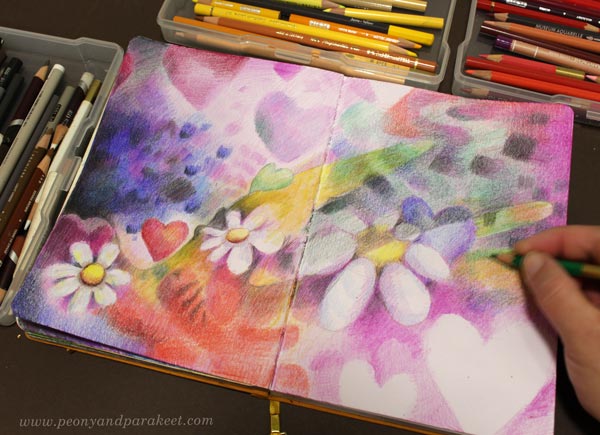 Hearts and flowers can also interact with the division so that they add more little curves to it.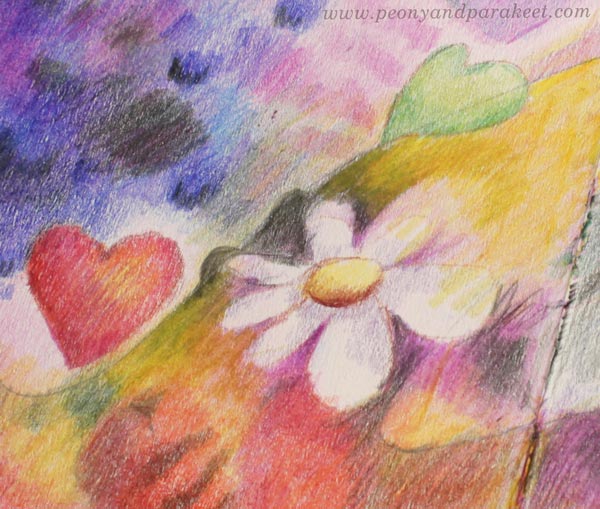 Here, the petals push the line away, creating small bumps.
If you want to add more interest to any other area, you can do the same: draw a line and then color the sides differently.
Now you have an atmospheric image, but does it have a message?
Next, let's ponder what to express and color a little more!
Step 9 – Finishing with a Message
Ask yourself: what element do you like the best? My favorite thing was this blurry heart.
Even if it's not a centerpiece like the big white flower, it felt like a force that affects the scenery the most. I often discover this kind of "background force" in my drawings and paintings. It seems to be the most strongly connected with the overall message that I want to tell.
The pink heart is like a lady who makes everybody fall in love with her. I want the overall scenery to look feminine but also have elements that include agony and the more desperate side of romantic feelings. I like the tension that I gave with some sharp lines and dramatic curves.
Because everything has two sides, often finishing with the message means adding more tension. It makes the image feel more real and more relatable.
I hope this inspired you to draw freely!