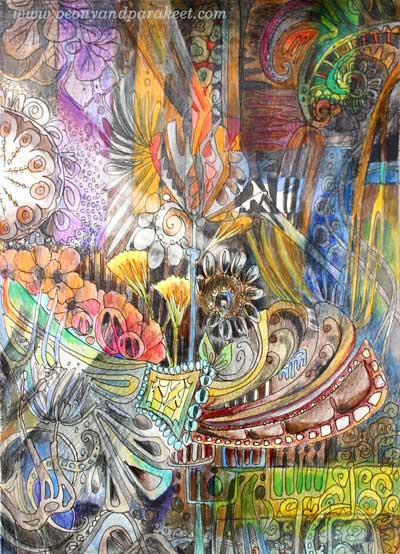 This art journal page is about two things that are close to me: art nouveau and computer engineering. With my background in technology, many find it surprising that historical styles like Art Nouveau fascinate me so much. And vice versa: why someone so interested in history, has studied and worked with computers.
Inspiring Periods of World History
For me, history, computers, and art have a natural connection. Think about the era of Art Nouveau: the end of 19th century and the beginning of 20th century. It was the era of the industrial revolution when many technical inventions were born. Also, at the same time, new kind of art was emerging. For example, Virginia Woolf wrote books using the stream of consciousness, Vincent van Gogh painted Starry Night, and Charles Rennie Macintosh designed a grand building for Glasgow School of Art. After inventing computers, we are experiencing another great era with a lot of innovations, the internet, and smartphones among others. I am certain that it will be seen as one of the most exciting time in the world history. We have new tools for art and design and we if any can use art to look at what the future could hold.
The Stream of Consciousness – Creating a Coloring Page
When I started to create the art journal page, I thought about the two eras and their similarities. With a black drawing pen, I began drawing art nouveau style shapes. It was exciting to think about modern things while drawing in the old style. It is very inspirational to stay focused on two things that have both similarities and differences.
It is relaxing to draw like imitating Virginia Woolf: using the stream of consciousness. Rotating the page makes it easier to keep the stream flowing.
Coloring books seem to be popular at the moment. We art journalers can make our own! Here's my page before coloring.
Past, Present, Future – Art Is an Equation
When I studied computer engineering, I had to understand a mathematical equation that was used widely to control technical systems. It was called Kalman filter and it was composed of three parts: past, present and future. I found the philosophy behind the equation most fascinating: to get better at what we do, we must understand the past, stay grounded to the present and be brave enough to predict the future.
Art can be our equation. We can use art to ponder on what has happened to us. We can use art to record the present. But most importantly: art can make us get off the ground. We can predict what the future will hold by taking old and current stuff and create new combinations. We can imagine what Virginia Woolf would do in the 22nd century and illustrate it. There are no limits and we already have most of the information.
That's why I think that history, computers and art belong together. They are all parts of the same equation.
Adding New Dimensions by Coloring
To bring today's graphic shapes to the work, I drew rectangular areas on the top of the drawing. Then I colored them with a different color scheme.
Finally, I expressed how past can bring us the future by erasing color with a light strokes. The light comes from the past. With the past, we can see the future.
Tell me, what have you picked (or would like to pick) from the past to your art?
Create your own colored version of this page!
>> Buy Coloring Freely!