You can create wonders with composition. Many worry about the balance but it's also important to add interest. In this post I will show you how this still life was created and give a formula for a balanced composition that is also appealing and interesting.
1) Create a background without color repeats.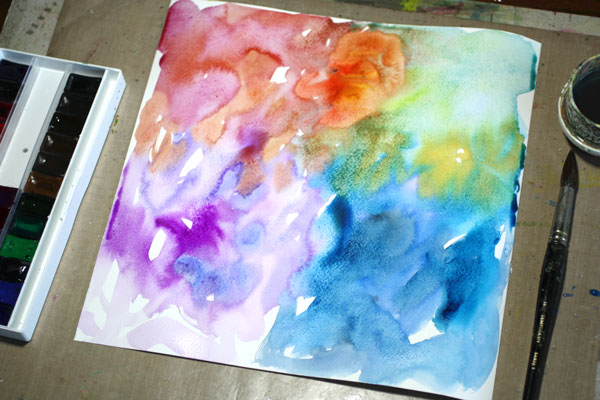 The background was painted with watercolors. I avoided repeating the same color. It is good to create separate colored areas instead of  color repeats. That way our mind begins to associate colors with meanings. The areas seem to be individual elements and their relation to each other is more interesting than if we repeat the same color over and over.
(Did you notice that I have a new set of watercolors, White Nights! Love them!)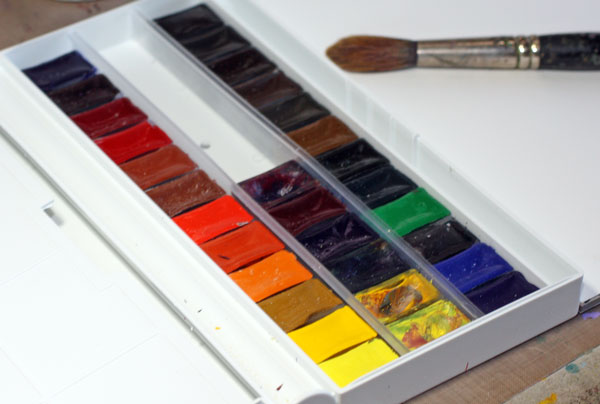 Few tips on watercolors: I never wet the background paper first but use wet brush instead. That way I can control the areas better even if I use a lot of water. I also prefer to mix colors on background paper. The way the colors mix is beautiful to watch and the result is more interesting than when the color is even. Let the background dry before the next step. If you use a lot of water as I did, drying might take a while. I often make backgrounds on the previous day.
2) Change colors and brushes when adding elements.
I continued with watercolors. Much drier brush was used than when painting the background. And more importantly, I changed the brush! Use at least three different brush sizes in the same artwork. In my still life you can see the difference of brush strokes between the red splashes (flowers) to the other elements.
Also, change and mix colors as often as you can. Especially subtle changes in color look very appealing. (More tips to choosing colors)
3) Create focus with fine lines.

I love fine lines. They make the picture sharp and focused. I used Uniball Signo white gel pen for details. I love the way the watercolors get new shine when the white is added. And if the watercolor is slightly damp, it will also color the white, which I think is adorable!
4) Include a variety of elements.

Even if that white gel pen is enjoyable to use on the watercolor background, do not decorate everything in the same way. I added some details with color pens to add variety in colors but also to create new elements like leaves.
I often purposefully create a composition that is not in balance and only finally add the balancing elements. Here you can see how I left the blue area empty for a new kind of element.
Next I chose a new colour, yellow, and picked a paper that was painted with acrylic paints. I also added few other elements like some details on the bowl and a leaf, by cutting them from my big stash of hand decorated papers. When you create your own papers, they always fit seamlessly with your other art! Also notice that I used various papers to avoid too many color repeats.
5) Maintain a slight off balance.

I used to create very balanced compositions until it hit me: a slight off balance is more interesting! The difficult thing is that it must be so slight that it's almost controversial if the composition is balanced or not. Bringing that white tulip a little bit to the left would create a perfect balance. But with this still life I wanted to tell you that we are all human, we make mistakes, nobody is perfect or pure. When you notice your mistakes and allow them anyway, that's when you stop copying and start creating unique art.
Let me be your art teacher: Subscribe to my weekly emails!