Here's my latest acrylic painting "Blooming Centuries". With this piece, I show you how stepping into roles of three different types of artists can grow your skills.
Tight Focus – Don't Believe it!
The conventional way to grow artistic skills is to choose your media, mindset, and style and stick with the choice. To me, this kind of tight focus has never worked. It feels boring and too straight-forward to work in practice. It forgets the fact that creativity comes with limited persistence but with unlimited imagination.
For example, when I have a heavy heart and want to get quickly into the core of it, I don't want to stick with the technique that is more labor-oriented. On the other hand, when I want to think and adjust, quick and simple is not what makes the most of the contemplation. Sometimes my imagination wants to be playful, other times it wants to be timeless and deep. When the moment and the mood can define the supplies and techniques, I not only enjoy more but also surprisingly, learn more!
3 Moods – 3 Artist Types
In my upcoming workshop, I will expand your toolbox for creating art in various moods, rather than trying to force everything under one media and one way of working. I have defined three types of artists and picked the techniques accordingly.
The most interesting column in the table above is "Emotion" because it brings up the benefit of the mood.  When you imagine being a designer, you aim for clarity. You get happiness out of clearing your thoughts and communicating the essence. When you step into the role of an intuitive watercolorist, your core desire is freedom of expression. What appears on paper, is exciting and your adventurous mind makes the most of it. As a Renaissance painter, you are searching for the peace of mind. By creating a layer after another, you gently caress your way away from busy life.
Now you might say: "But Paivi, I am nothing but an intuitive painter. I am all about quickly creating a beautiful mess." But don't let your successes take you on the wrong track. Think about your struggles and what you can learn from the other artists. For example, if your mess has become nothing but beautiful it's often because the small portion of clarity that we all need has been missing. Or if your mess looks too flat, it's because your work doesn't follow the concepts of the three-dimensional world. Also, the time that it takes to create tens of pieces quickly could be used to creating one piece that rises to another level.
I believe that growing as an artist is about learning the best of the many approaches. It's like getting ingredients for the soup and then making a personal recipe to fit the current mood and style.
3 Artist Types – 1 Painting!
With "Blooming Centuries," I wanted to express how flowers may be fleeting things, but in general, they have a strong position in the history of art and design. Flowers have inspired artists and designers through past eras, and they still inspire us to create no matter what mood we have. This painting is based on playing with different artist types from a designer to a Renaissance painter.
Designer: Some elements of the painting are more related to crafts and design than to the fine art. They are built from geometric shapes and are quite minimalistic.
Intuitive artist: There are also elements that have been born freely and intuitively.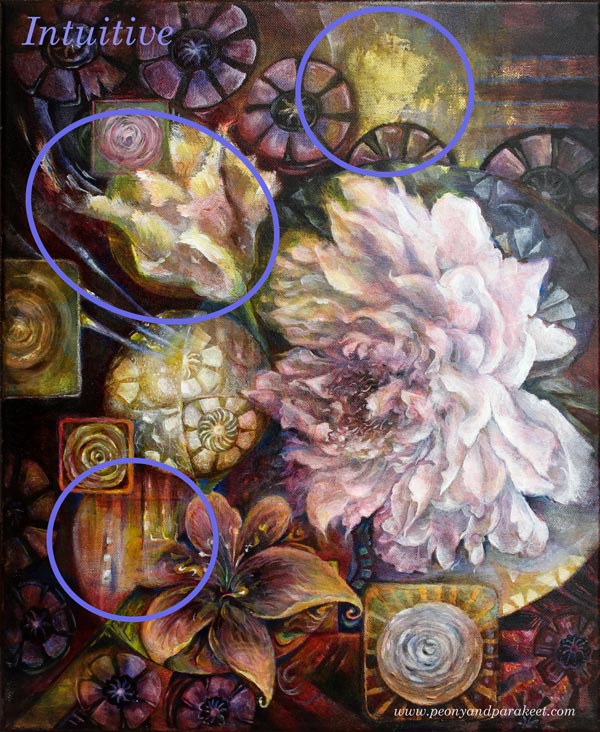 Renaissance painter: Some of the elements have a lot of layers and are more 3-dimensional than others.
Another Example – Combining Intuitive with Art Nouveau
Let's imagine that you love Art Nouveau. You adore Alphonse Mucha's work and everything from the beginning of the 20th century. You want your style to include a lot of Art Nouveau but in a refreshing way. So you might think you need to focus on developing your drawing skills only. You draw and draw, and you get closer and closer to Alphonse but the new twist that you want to give to your drawings, "your personal style," is missing.
But if you start learning from Intuitive Watercolorist and Renaissance Painter, your Art Nouveau designs will take a new turn. By adding more transparent layers, you can express liveliness so that it still looks graceful. By finding ways to manipulate water, you get free-flowing shapes more effortlessly. Your art no longer is a copy of what someone else has created, but it takes a direction of its own. You begin to appreciate all kinds of art because you want to add more spices to your recipe. Your passion for art gets stronger, and the joy you get from it grows bigger. When you struggle, you see a wider range of solutions than before.
So, every Designer or Illustrator has something to learn from a Renaissance painter or an Intuitive Watercolorist. And the same applies to all artist types.
Get into the Minds of the Three Artist Types!
In my online workshop Floral Fantasies in Three Styles, we will dive deeper into the three artist types. It will expand your impression of style and how to construct one.  It's the class you don't want to miss if you love flowers and want to become an imagination-driven artist! Reserve Your Spot Now!
Floral Fantasies in Three Styles: Reserve Your Spot Now!