This week, I have some drawing inspiration for you. Let's celebrate our living line!
Recently, I heard the term "transition" and it resonated strongly. After receiving the grant from the Finnish Cultural Foundation, I have thought about my artistic career forward and at the same time also backward. I've noticed that it's hard to think about the future without thinking about the past. I thought I'd write a few blog posts this spring about how I've grown my artistic skills by building courses.
First, I want to talk about a course that formed the basis not only for everything I teach but also for how I paint today.
From Dots and Circles to a Living Line
Wassily Kandinsky (1866-1944) said "Everything starts from a dot." On the same topic, Paul Klee (1879-1940) stated: "A line is a dot that went for a walk." I think that when a person feels the call of fine art, he is at a point where he wants to get to know himself, to walk inward. I first went on a small tour only: I drew circles.
When I finally understood that I could open the circle and boldly move forward, a new world opened up. I saw my living line pulsating strongly. I felt I could draw anything and didn't have to "know how to draw" to draw.
Fall in Love with Your Line
It became my calling to help people who are stuck and going around in circles move forward. In 2015, I first made a trial course for Finns called "Inspiroidu piirtämisestä" (Get inspired by drawing) and learned how to make an online course and clarify my points. Then, based on the Finnish course, I made an English version called Inspirational Drawing. When time passed and I got more experience, I made the same course a third time. In 2017, the most comprehensive version Inspirational Drawing 2.0 was born, which is also in my current course selection.
Inspirational Drawing is based on getting to know your own line. You don't immediately remove your hand from the paper, but let the line travel a longer distance. This technique is commonly called "contour drawing", but in my version, you don't copy what is presented, but walk with your line and let the landscapes open up to the unpredictable.
Your line is as unique as your signature. The most motivating thing in art-making is to fall in love with your line. When you want to repeatedly see your line and cherish it, it will also reveal its hidden potential. With your line, you can go much deeper in drawing inspiration and feel much freer than if you cut and compose collages from magazines or use stencils or stamps.
Drawing Inspiration
Inspiring pictures are also at the core of Inspirational Drawing. It's natural for a creative person to collect pictures in one way or another, and drawing is a wonderful way to spend time with them. In the course, you will be guided to use the pictures you have chosen in drawing so that the pictures are not copied in the traditional style. To fuel free drawing, ideas are extracted from them. I still use this kind of inspiring effect of images in my painting process.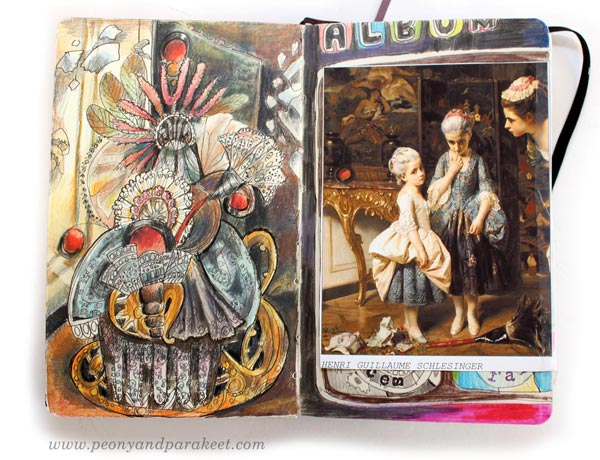 When moving from a point and closed shapes to an open, free-roaming line, inspiration has been a keyword anyway. With inspiration comes courage. It's wonderful to draw when inspired. And it's wonderful to inspire others with your own creative outcome.
Start Drawing!
Inspirational Drawing is now for sale this weekend, from March 15-19, 2023 (midnight PDT).
Inspirational Drawing – Get 20 % OFF – buy here!