It took just a few seconds looking at the pictures of folk dresses to become almost overwhelmingly inspired. I hurried to my fashion themed Smash book and created this art journal spread.
And then I had to make even one more page. Folklore and folk art always make me feel like this: fabulous! They give me both the sense of belonging and the sense of freedom. I feel that I am one part of the long chain of all the women, of Finnish women, of my mother and grandmothers. At the same time I am not defined by them, just empowered by them. With folk style, I can express my roots and origin without constraints.
They say that one of the basic needs is to belong to someone, to somewhere. I think that creating art can greatly enforce that feeling.
What kind of art makes you feel like that you are included? Maybe enjoying creating is not so much about finding one's personal style but finding ways to feel belonged.
If you want to develop, it will be insufficient to create art that touches only you. You will want to get connected to other people as well. I claim that the deeper you go in your own self-expression, the more you will also touch others. Our mothers and grandmothers may have very little in common but we can share the goal to create something new and original from our heritage.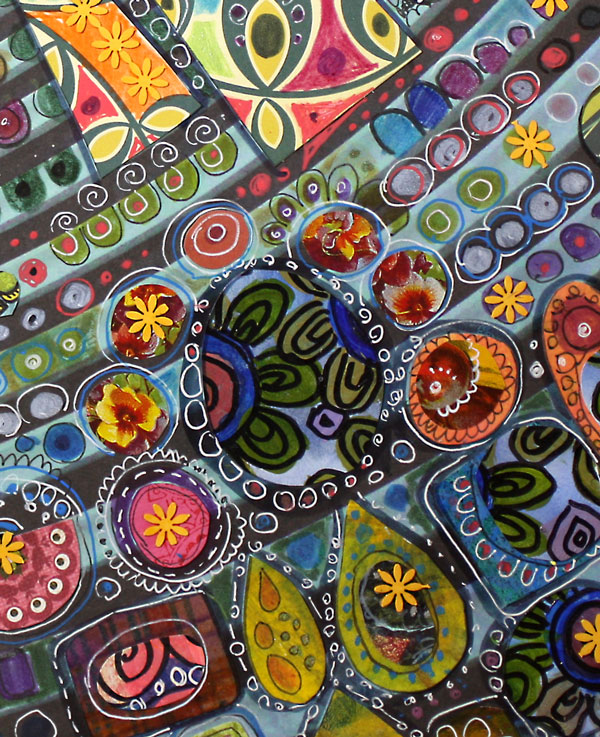 We do not have to think shapes or lines. It is often enough to dive into the colors. For me, colors represent the feeling. Shapes and lines are just to support them.
Find the colors from your origin and mix them with the colors of your present life. You are free to create any combinations! The best colors give you the sense of belonging. They will also inspire you to create art that is filled with meaning.
See this journal fully finished! >> Watch the flip-through video!