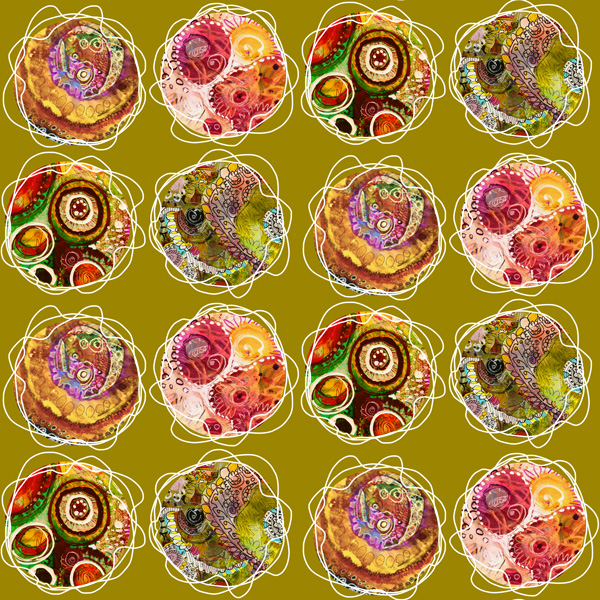 This is my new fabric pattern called "Homemade". The happiness really starts from home and appreciating everything you already have.
A stool that I am proud of
Our house is filled with little items that me or my husband have made. This year they have been especially important for me. Maybe because the winter has been so long and dark, with very few sunny days.
This stool is one of the little suns of our home. It has been made by my skillful husband. Every time I see it, I observe it's brilliant structure and feel proud for his accomplishment.
Smash book continues
I have continued filling my Smash book with art journaling.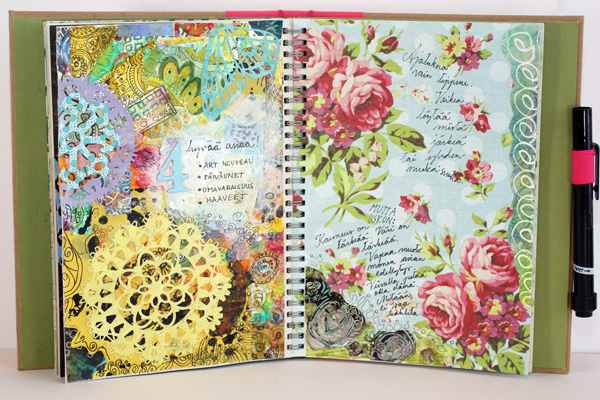 I do not mind the pages with preprinted assignments. They challenge me to get creative. Here I have expressed how I often see the images or colors when using my other senses.
Good Distractions
The world is sometimes too full of visual distractions for me! But they can be beneficial too. The yellow that I see when  entering our home really makes me forget most of my worries.
I made a page about it and created a fantasy image of a house. It was so fun to make. What I love about art journaling is that everything can be taken as lightly or seriously as I want.
Recommend: Journal Fodder
I have bought a new art journal. It's Dylusions journal with super thick pages. And I have also bought a new book: Journal Fodder. It is a great and detailed book about art journaling. The book includes techniques, prompts, ideas and is well structured. I love the combination of creativity and systemacy of it. See more information at the website of the authors: Journal Fodder Junkies Needless to say: will be spending a lot of time with art journaling this spring!