This week, we are creating an intuitive painting step by step. This project is more about following a process and mindset than trying to replicate my example.
I call this "Deer to Dream" because if you look at it from a distance, it looks like a bunch of flowers the view is more interesting when you find the deer. This is a small acrylic painting, 35 x 27 cm (about 13,5 x 10,5 inches).
Step 1 – Explore Mud – Paint a Background
Pick a few tubes and mix colors freely. Allow mud to be born!
Don't expect clarity right from the beginning, but trust that the painting process will purify your mind. The muddy start will make you grounded.
Step 2 – Take a Flight – Paint a Flock
With a bit brighter tones, add strokes so that they make a stream across the painting. Paint dark shapes so that they group the strokes.
Keep the focus on expressing the movement rather than trying to create something accurate and realistic. The groups can be flowers or birds or anything that comes to your mind.
Your spirit has raised from the mud and begun a journey to a new world.
Step 3 – Land Towards the Light – Add Bright Pastels to the Flock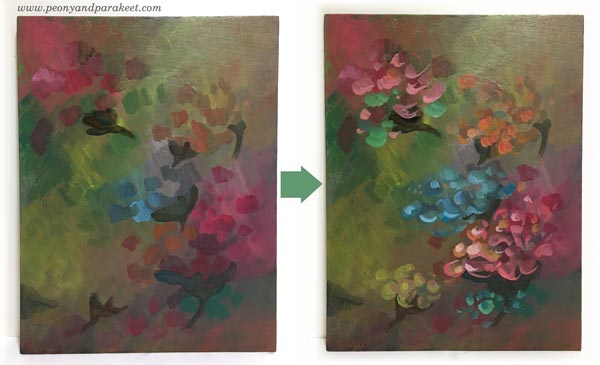 Mix white to the colors, and add bright strokes to the elements. They are now exposed to light, and the flight is getting closer to its destination.
You can leave the painting like this, but for me, intuitive painting is an adventure rather than a safe performance, something that includes risk and excitement, and we haven't gone far enough yet. So, let's keep painting!
Step 4 – Become Adventurous – Paint over the Elements
When we want to deepen the process, disruption is needed. Use a little bit more water and make brush strokes that partly cover what you have painted so far.
New layer is like an emotion that takes over. It makes the painting messier, but also freer and more open to new ideas.
Step 5 – Explore the Wilderness – Paint Details
The painting is now like a wilderness, and you need to know its every corner. Slowly go through every small area and forget the big picture. Make paths from one element to another, allow some parts to become more intense than others, and add little spots and strokes where you want the eye to stop and admire the view.
Imagine that every shape has a personality and that it's your mission to make the shapes interact with each other. Connections can be built so that they share a line, a color, or form.
In this step, you begin to experience creative freedom. At first, it's like a smell that you become slowly aware of. It's a possibility to take a new direction and follow your instinct. So again, let's keep painting!
Step 6 – Dare to Dream – Meet a Spirit
Dare to dream further than what you would expect in the beginning! Every painting has a spirit and your mission as an intuitive painter is to recognize it. Even if it's you who created the painting, the spirit is free.
Feeling the presence of the painting's spirit is often enough, but recently, I have dared to look at it to the eye and paint it too.
You may also want to read my previous post about artistic spirit!
Intuitive Painting Step by Step with Watercolors?
I used acrylic paints for the project but it's possible to follow the process for watercolors too. Here are my additional tips for watercolors:
Start with lots of water and very light tones.
Let the painting dry between every step.
Slowly darken the color palette of the painting towards the last step.
More to Come – A Big Intuitive Painting in Progress
I hope that you enjoyed this project! I also have a big intuitive painting in progress, and I am excited about how it has taken off. I will talk more about it in upcoming posts.