I work at home with two dogs and four birds. My husband leaves early in the morning and then there are only us, the gang of seven. One of my little assistants is a beagle called Stella, a very cute little angel to every human but I think she would describe herself as a hungry hunter and would order a very different portrait than this one!
Gathering Inspiration
First, I take the dogs out for a walk. I solve most of my work-related problems and make plans in this private morning meeting, happening inside my head.  In the afternoon, there's another walk, but that's not as productive as the one in the morning.
I always carry a phone with me so that I can take photos if I happen to see something inspirational and artistic. As a result, I have a lot of pictures that are not so great or meaningful to memory keeping and such, but that look abstract art to me.
This winter we have got quite a many snow storms. In February, it had snowed a lot during the day, so before we left our front yard, I was already taking photos of this mad whiteness that we were trying to overcome.
We had been wading for some time when I realized that I had lost my keys in the snow while taking photos. After a lot of sweat, and stepping back and forth, I finally found the keys in the middle of "the road." During a year, there are many days in Finland where everyone else than dog owners have their meetings indoors.
Taking Healthy Breaks
On a workday, my dogs hang around quite a lot.  They have learned that if I set something on the floor, it's not for them to lay down on.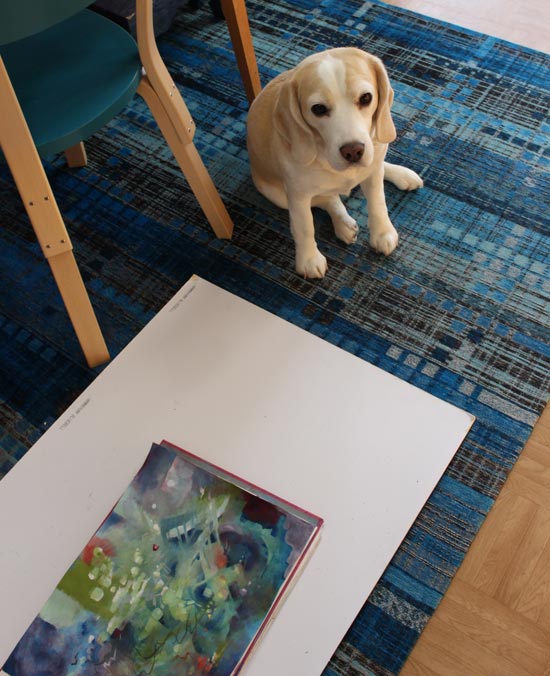 They try to be patient when waiting for daily treats but maybe see their role as interrupters who force me to have short breaks now and then. Cosmo, the old one, is the leader who decides when to stop my work, and Stella quickly joins him.
These breaks don't always seem so healthy and fun to me. I am often in a very concentrated mode and find a soft touch of a nose just annoying. But who could resist these faces?
Getting Genuine Encouragement
The birds – four budgies called Henrietta, Citronelle, Dynamite, and Bonneville – see my work differently. They want to join me and encourage me when I am at my best. It means that every time I record videos, and they sense the excitement in my voice, they start chirping: "Go on, you are doing great! Oh Paivi, you are so inspiring!"
Hearing the birds is a contradictory thing. My birds don't lie so if I don't hear any sounds when I am speaking, I know that my enthusiasm doesn't show and I have to fix that. But despite the walls, the mic picks up the high-note sounds easily. So I have to stop recording, go to the library room to ask them to be quiet. Sometimes nothing else helps than darkening the room and adding a cover on their cage. It often feels cruel, especially after seeing them happy and excited first. So many of my videos have bird sounds in the background, and I hope that you forgive us!
Having Pets as Models
Cosmo and Stella are very proud of their modeling skills, and they think that the reward they need for every minute is very moderate too. However, it's often cheaper for me to take a photo and use that as a reference.
Unfortunate for them, but I don't often paint dogs. But this month, when the monthly theme of Bloom and Fly is stretching the imagination and adding surreal elements to art, I wanted to express how cute Stella is in my eyes.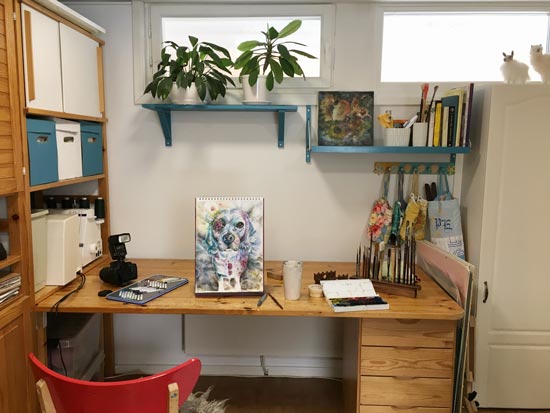 Learning Leadership Skills
My position as the leader of the pack has strengthened during the past years. We all wait eagerly for my husband in the afternoons but I am often the one my pets turn with their needs. My husband loves them as much as I do, and it hasn't always been this way. But the time spent with them matters, and it gives me the sense of satisfaction when I don't have to leave my pets alone.

This year, leading an online community has been new to me. In fact, when I left my day job in 2014, I thought that I would be just making self-study classes and taking care of the pets! There's a false sense of independence built in the art making because most of the creating happen alone. But after running my first workshop, I realized that I can help more when there's more interaction.
With the community, it has dawned on me that the role of a leader doesn't mean that I have to know it all. We are all learning from each other. It's a liberating thought, and it doesn't only empower the leader, but the members as well.
We often have intentions to create a certain kind of art or share our art but postpone it because we feel that we need to figure it out by ourselves first. Some of the things that I have postponed are diving deeper into watercolor painting and develop more ways to use art for self-exploration.
But the truth is that when you have the support, changes start to happen. You get structure and kindness that gives you courage. There's no need to struggle alone or wait until you are ready. The life is not so long after all.
Bloom and Fly – Don't wait until you are more skillful, join the community now!