After finishing a series of canvas paintings, I have felt that it's time to change. It has been smoldering in me for the whole year, but as we know, the change rarely happens in one go. There's one big thing that I want to change in my teaching. I want to give more personalized suggestions and encouragement, and enable more sharing and connecting. I want to be a mentor rather than a teacher in the traditional meaning. When you start creating art, you need a teacher to follow. But when after a while, you will want to create something from your personal perspective. Then you will benefit more from observations about your art. When you have someone to help you see the possibilities in your expression, you will find it easier to grow your creativity. During this year, I have developed my online workshops in that direction, and the results tell me that I should continue on that path.
Questioning Your Talent vs. Willingness to Learn
While pondering which paintings to frame, I was also thinking artist colleagues that have helped me to analyze my work in a new light. That's one reason why I also want to enable connections between people who love to create art and even more importantly, want to change their art.
Here's what I wrote on my Facebook page today:
"Am I talented enough?" – Pondering about it doesn't take you forward. Replace it with the question: "Am I willing to learn?" Because art like any field has a set of principles and skills that you just need to know and practice.
Then there's imagination and originality. Is that the talent that we talk about? I don't think so. They are also skills that can be learned. They are about self-exploration, tolerating quiet time, being open to what inspires and irritates you.
When you see something that raises negative emotions, start questioning: "Why do I see this as a threat?" By answering, you will understand more about yourself, about people in general, and get the curiosity that makes you step out of the conventional. Your empathy and imagination will grow, and you become more willing to learn.
My art journal page from 2010, and my painting from 2017.
The Change Is in The Nuances
This week, I reorganized my art supplies and found an old art journal. Funny enough, there was this page: "Time to Change." And when I compare it to the piece that I just painted, it looks quite similar if you omit the clumsiness.
Then I realized that the painting that I had created a year ago also looks quite similar. I sat by it holding the new piece, and it felt like the two come together.
In art, the change is in the nuances. Many of your characteristics won't change during the time. But how you express, invent and gain more self-knowledge will. Sometimes people say that they wish they would have started creating art sooner. I totally relate to that. I had a long break in creating when I was a young adult. But then, art is not just executing; it's also about living. People who have more life's experience than me, always make me humble. They have more to express, deeper insights to deliver. When I can help, inspire, and encourage with that, it makes my life meaningful as well.
Art Journaling and Mentoring
One thing that I don't want to change is that I will keep on talking about art journaling. I believe in playing with ideas and not just creating big pieces. To me, a full sketchbook or art journal can be more of a treasure than a single canvas painting. Now when I have been painting bigger canvases, I also missed having a big sketchbook. So I purchased one that is twice the size than Dylusions Creative Journal that I usually use. It's manufactured by a company called The Pink Pig from the UK.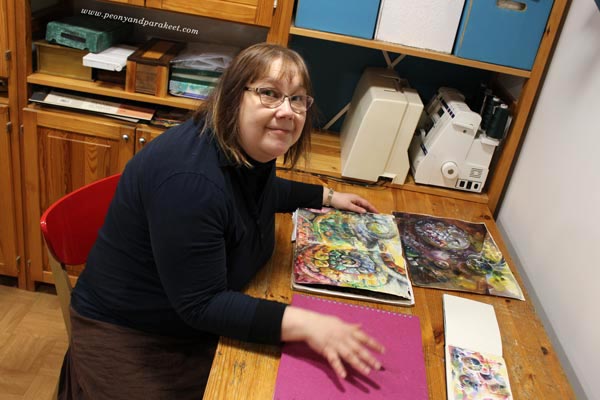 Bloom and Fly – Stay Tuned!
While browsing the art journals, I was planning for the upcoming spring season. Next year, I will run a new community called Bloom and Fly, and it's for all who want to learn together with me. It will have a separate fee, but it will also include mentoring days, monthly live sessions and led discussions. You can share and work on any project there. So if you want support for creating from any of my self-study classes or any other art project that you desire to finish, join Bloom and Fly! The registration for the spring will open on Black Friday, Nov 24th. I will have a special discount for early birds so make sure that you won't miss it!
Hopefully, you are as excited as I am! If you haven't subscribed to my weekly emails yet, now is the time!