I ordered a Midori Traveler's Notebook last year, in August. I couldn't help myself because based on Instagram, it seemed to me that everybody had one! I was curious to know what's so special about it. Midori Traveler's Notebook is practically a piece of leather with a binding system for small notebooks, often referred as "inserts." I also ordered a few blank inserts. When I received the set at the beginning of September, I wasn't so impressed. I didn't like the smell of the leather, and the paper in the small notebooks was so thin that writing showed through. But I knew many of those who make planner pages had changed to a Traveller's Notebook, so had many scrapbookers and art journalers. I had to try it!
Traveler's Notebook as a Visual Diary
I decided to start a notebook where I combine journaling and drawing. It would be a kind of visual diary where I would add random thoughts and illustrate them. I began with daily events, but once I got the hang of it, I wrote more openly about anything that came to my mind. Like in the spread below, I write about how Finnish Post is in trouble when people don't send letters anymore and when the postbox is on the phone rather than anywhere else. I also speculate what would happen if people suddenly started writing letters again.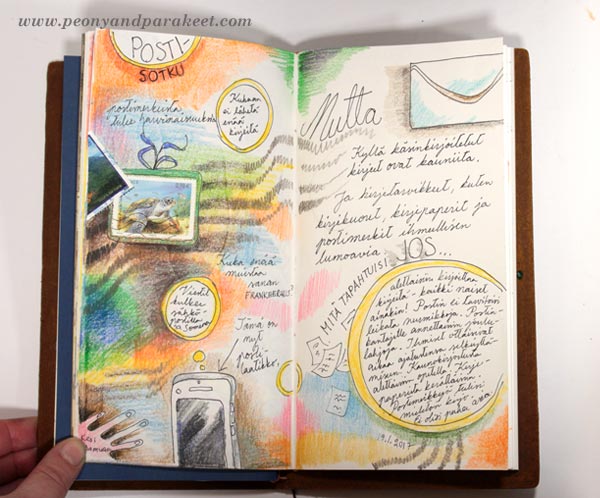 In the next spread, I show the current year and the next year walking side by side on the left page. The right page is inspired by a Japanese artist Yayoi Kusama and her inspiring exhibition in Helsinki Art Museum.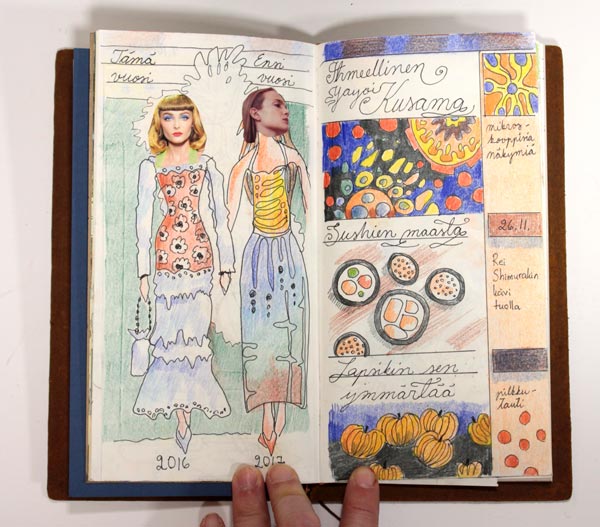 Supplies for Traveler's Notebook
I mostly use a thin-tipped black drawing pen and colored pencils. I sometimes add a little bit watercolor or water with watercolor pencils. Random collage pieces are also used, but I mainly use thin paper so that the bulkiness doesn't affect my drawing in the next pages.
Alternating between Words and Images – Watch the Video!
I don't sketch but just start by drawing a small motif or writing a couple of words. While creating a page, I like to maintain a dialog between drawing and writing. A written thought leads to a visual element and vice versa. To show this technique I have created a short video where you can see me writing and drawing, and at the same time, I show some ideas about what you can put in your notebooks.
Because the video is quite small in size, here's a close-up of the page that I am creating in the video.
And here's the video which shows a few more pages too.
Get more ideas and enjoyment by drawing!
>> Sign up for Inspirational Drawing 2.0