This week, I get back to the project that I started earlier this spring. It's a small notebook that I have filled with happy art. I call it Rainbow Journal because it has brought me both joy and hope. Here's a quote from the video below:
"When working on this journal, I have been able to live inside a happy bubble momentarily. It's been refreshing, and my inner critic has got gentler. I have gained new inspiration for my paintings and classes."
Watch the video to get inspiration for yours!
Creative Prompts for Your Rainbow Journal
Use the following prompts to make yours!
Cover – Make It as Decorative as You Can!
Use a limited color palette and let the colors and shapes flow.
Spread #1 – Get Inspired by Happy Interiors!
Think about textiles, wallpapers, and painted motifs on wooden furnitures and dishes.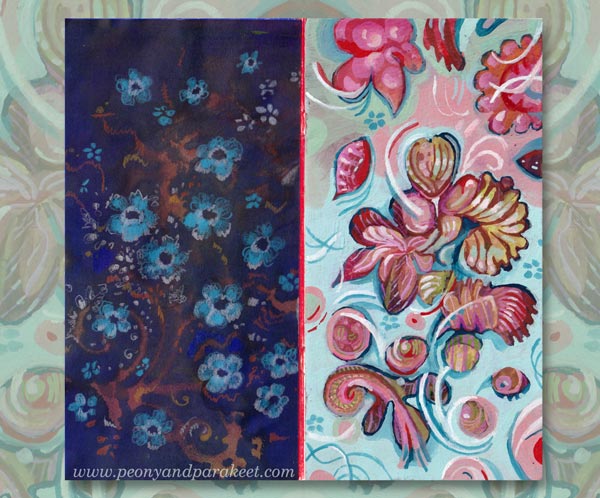 Spread #2 – Embrace the Good and the Innocence!
Once you have set the style of the world you are building, who could be wandering there, full of happy thoughts with an innocent mind?
Spread #3 – Paint Something Juicy!
Show how it feels when the glass is full, even overflowing.
Spread #4 – Grow the Flowers of Imagination!
The dark soil makes flowers grow and shine.
Spread #5 – Show the Bright Future!
Get creative with rainbows, how many can you fit in?
I hope this lifted your spirit and inspired you to keep creating!
Get a free mini-course when you subscribe to my inspirational weekly emails!