Last week was great. I went to Scotland! I started with a small business conference in Glasgow and then had a couple of days sightseeing. My husband joined me in the end of the week and we really enjoyed our time. To celebrate the journey, I made an art journal spread which is based on the easy, yet effective technique, using black in art journaling.
Before I get into the process of creating the spread, I want to show a page of a smaller art journal which I had with me. I made the page while I was eating breakfast at Willow Tea Rooms in Glasgow. It is a wonderful place for a Charles Rennie Mackintosh fanatic as I am.
Charles Rennie Mackintosh was a designer and architect in the early 20th century. I have admired his and his wife's Margaret MacDonald's work for ages, so I wanted to look around the tea room area really carefully. Because sketching not only makes me observe things in detail but also memorize better, I recorded most things that I saw.  The first tip of this post is to create sketches before making the actual pages. It is easy to keep a black pen and a small journal in the bag.
When I saw this doorway of St Conan's Kirk, I knew it would be inspirational after getting back home. When thinking of doorways and windows I remembered a page spread in my largest art journal which was started some time ago but was not finished. I often create jumpstarts for the future pages. This was just perfect for the theme!
To get to this stage is really easy:
1) Paint a background with watercolors. Use various colors and brush sizes. Do not repeat colors or patterns too much but create areas that differ from each other. Create few layers and let each layer dry before adding the next.
2) With black watercolor, add a new layer on the top. Leave empty areas so that the previous layers show through.
And after the black layer is dry, the real fun begins:
3) Doodle on the black areas with color pencils and gel pens. You can also add details in the other areas. Feel free to use decorative papers too.
I wrote to the art journal that my best experience of the journey was to visit Mackintosh house. Taking photographs was not allowed but I did manage to take a couple of photos of Charles Rennie Mackintosh work. The first photo is from Kelvingrove art museum which is located near the Mackintosh house. In the second photo I am standing on the front door of Mackintosh house. There were no stairs as the house was a replica of the real house and was built inside Hunterian art gallery.
When walking around the interiors designed by the creative couple, Charles and Margaret, I wondered what kind of discussions they had had in their beautiful home. Margaret's remarkable collage art showed extreme talent but she was not valued as an artist back then. Charles also struggled at times. Still, what those two people shared with each other, must have been wonderful and deep. I just wish I could take a time machine and spend at least one evening with them, talking about the form, design and philosophy of art!
These photos also worked as inspiration to the art journal spread. Here is Inveraray castle and its beautiful entrance with summer flowers.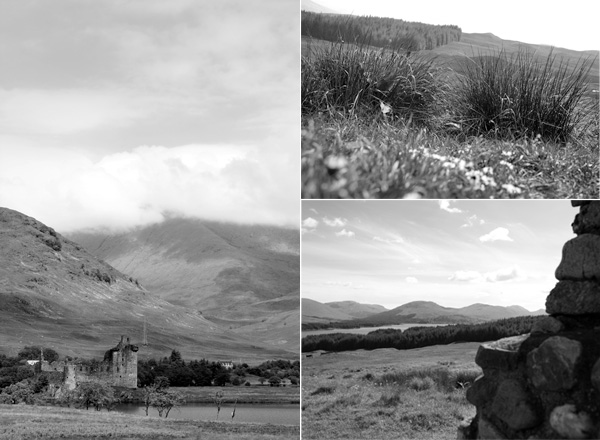 The day we visited the highlands was sunny and the nature looked incredibly beautiful. The Stalker castle was not available for visitors but the view from it must be breath-taking.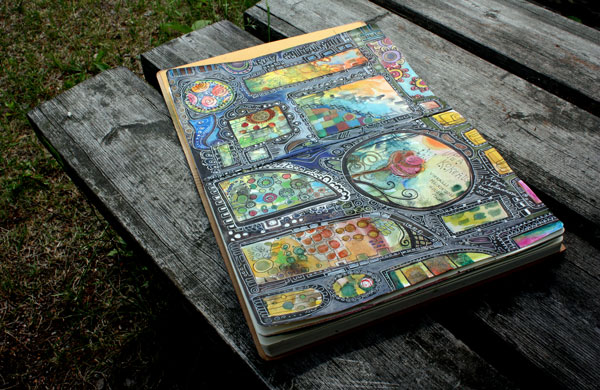 Here's the finished spread again. Hopefully you enjoyed the photos of the journey and fell in love with Mackintosh couple's work. I also wish that you'll try my technique of using black in your art journal!
Let me be your art teacher: Subscribe to my weekly emails!