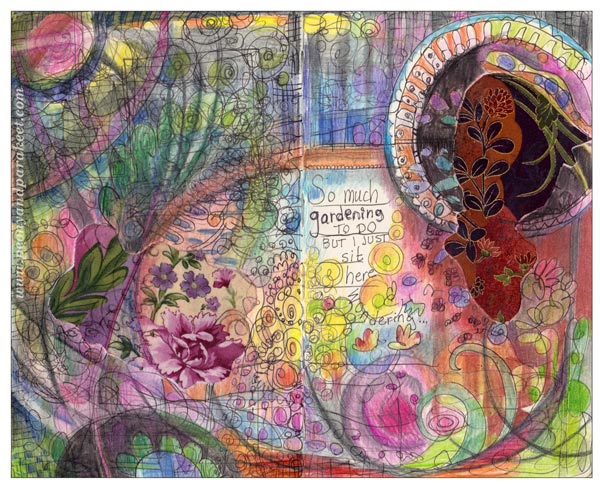 At this time of the year, at the beginning of summer, there's a lot to do in the garden. I started early this year, but recently there has been so many activities that I feel I have neglected the garden. This guilty feeling also showed up on my latest art journal page!
This page is made on a spread of Moleskine Sketchbook, so the image is fairly small, about 10 inches in width. A special feature here is that I have added two small cotton fabric pieces to boost my imagination. Using the technique of fabric collage was just a sudden idea, but I love how the page feels when touched!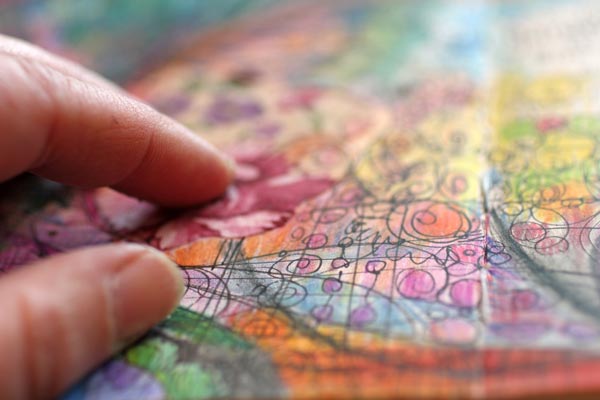 I attached the first fabric piece at the early stage. Golden Soft Gel Gloss Medium was used for attaching the fabric.

After attaching the fabric, I doodled with a black drawing pen to get the creativity going.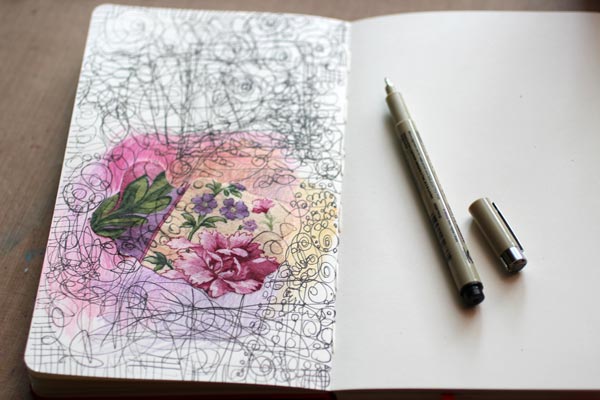 When I began coloring, I realized that I want to create a spread instead of a page. So I attached another fabric, purposefully a bit different from the first.
While coloring the page, I added more details. As my garden looks wild at the moment, I wanted to show the growth on the page too.
Here's one corner of our front garden. Tulips bloom beautifully, and peonies (my favorites, of course!) grow fast.  Lots of weeding to be done!
Why not try some fabric collage in your journal?
Let me be your art teacher: Subscribe to my weekly emails!