Here's something that I have wanted to show you for a long time! I have been working with a custom order which made me think of a new idea: to create fabric prints and make quilted wall hangings from them. This idea is very versatile as you don't have to be a quilter, you can print your art on fabric and use it for bags, purses, clothes – anything!
The artwork above has been composed digitally of various art pieces that I have made. The person who ordered the wall hanging is a fan of modern folk music and the color red. (If you have not listened to modern folk songs, try Hanneke Cassel for example!)
I created one new collage piece for the artwork. All the other details are picked from my archives.
It was pretty exciting to send the artwork to Spoonflower. When I received the fabric, the print quality was really sharp and detailed! I already knew from the previous experiences that big areas of black don't print well, so I avoided those.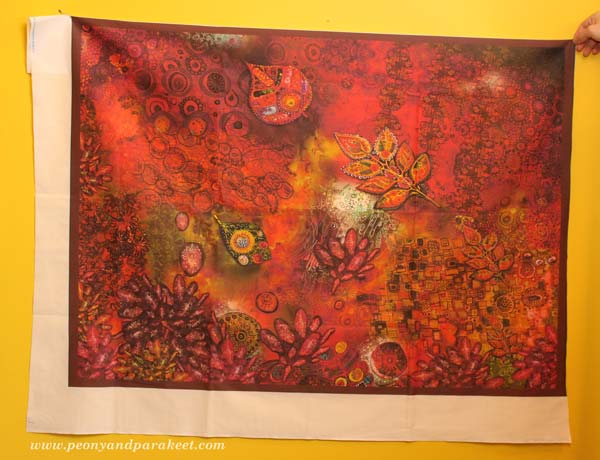 If you are a quilter, you know that the fabric will look so much better when quilted! I sandwiched cotton wadding, two layers of fusible interfacing and backing fabric and took out my sewing machine.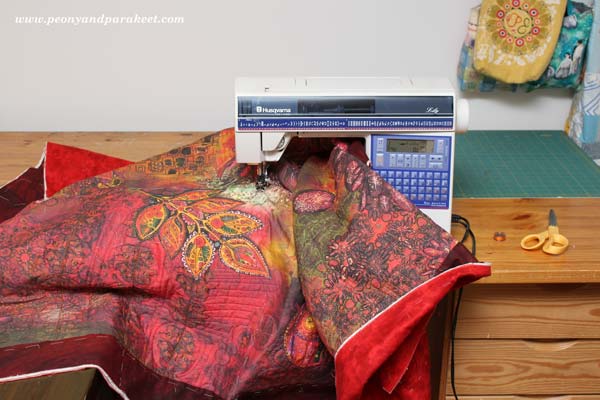 I am not very experienced with free-motion quilting using the free-motion foot, so I used even-feed foot instead. But with patience, I was able to create quilting that enhanced my brush strokes.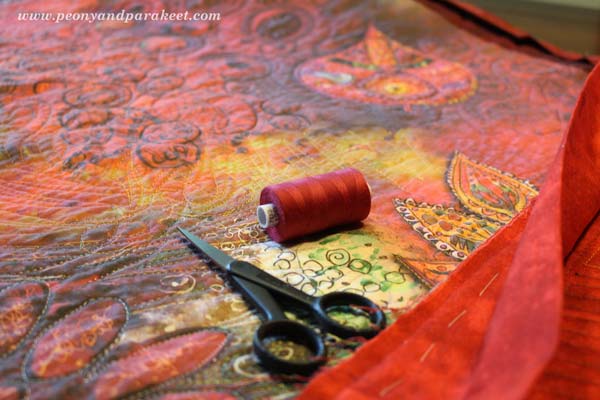 The finished quilt is about 45 x 39 inches.
I used various colors of shiny embroidery threads for quilting. Using black thread brings the real black that was not produced by digital printing.
Quilting on watercolor!
Entering the flow state when playing modern folk was in the center of my inspiration.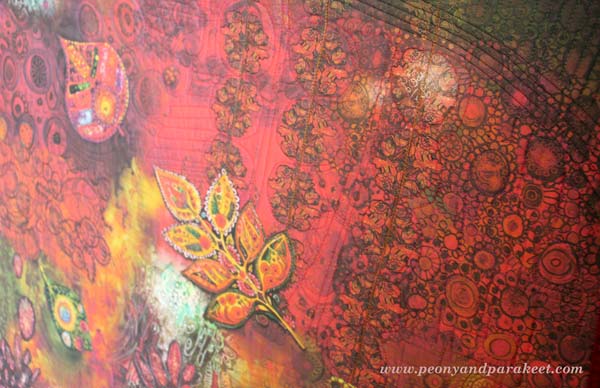 I added the label to the printing file too.
Here's another project that I actually made earlier to test the idea. This one does not contain much digital processing, I only took a good photo of the original art and enhanced it a little bit.
I think this artwork looks really good on fabric! The actual idea when creating the original was to mimic hand embroidery! Read about creating the original artwork: When Pens Replace Needles
I added some embroidery before quilting but found out that quilting works well as decoration.
A printed fabric label can be found from here too.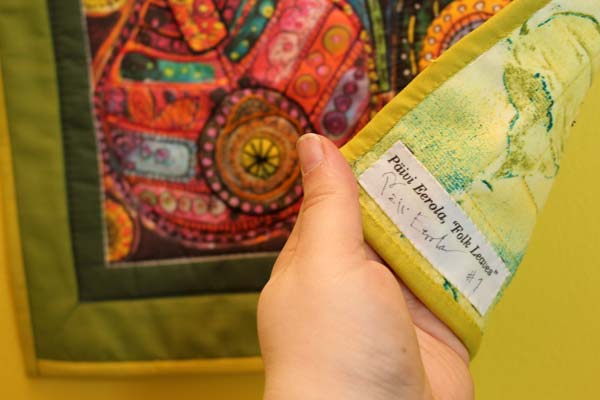 I also have more fabric prints waiting to be transferred into art quilts!
Paper prints news: New card sets have arrived at my Etsy shop.
Life can never be too colorful!
Stella and Cosmo send their greetings to all artists and quilters: Have a relaxing weekend!
Let me be your art teacher: Subscribe to my weekly emails!