I am honored to be the featured artist in Documented Life Project this week! The theme is Hometown inspiration: "There is no place like home". This, if any, is suitable for me and for my art journal! I had a stay-at-home mother and we did not travel much as a family. Probably because of that, I have always loved being at home. When I worked away from home, I missed it all the time. Nowadays, especially every morning when I wake up, I am extremely grateful to be able to work from home!
Let's create an art journal page to celebrate home!
1) Background – Outside from Home
How do your surroundings look like when you are not at home?
Bring those things to the background of your page!
I thought about the situations when arriving home is most appealing. The house, and the living room couch, looks the most welcoming after walking the dogs on a bad weather.
Being a dog owner and living in Finland, I have been in the middle of snow storms, pouring rain and everything between.
2) Focal Point – Inside Your Home
Pick some of the items from your home which represent your love for home!
I wanted to express the experience of staying inside, feeling happy, warm and safe from the blowing winds. A couch and house plants are good symbols for that.
3) Location, Location!
Create the page where you feel most at home!
We, visual people, are often very easily affected by the environment where we create. To make sure that the page would express of a warm and comfortable place, I created the page by sitting on the living room couch.
4) Start by Drawing Freely
Draw and doodle on the page. Don't worry too much about the end result!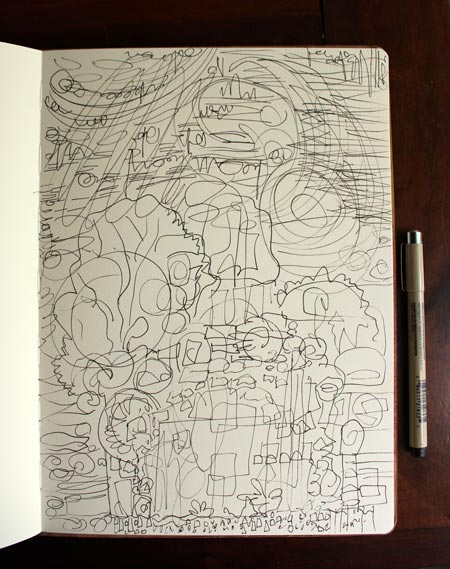 5) Add Color (+ 3 new ideas)
To make sure that your page expresses an experience and is not only a static illustration, add few new thoughts and ideas when coloring the page.
1st: For me, the first idea was the green color. Namely, living in Finland is not only enduring snow and rain. Now in summer, we have daylight almost through the night. Actually, if you read this on 20th June, we Finnish will be celebrating Midsummer, one of our biggest holidays.
This photo was taken just a week ago when walking the dogs 11 pm in the evening.
2nd: My second new idea was that home is not only a house or an apartment. It is a mental state. When I feel at home, my cup gets filled, I become peaceful and energetic at the same time.
The combination of peace and energy looks yellow to me. So I made sure that the focal point has a lot of yellow. I also cut a yellow heart and glued it to the page with a gel medium.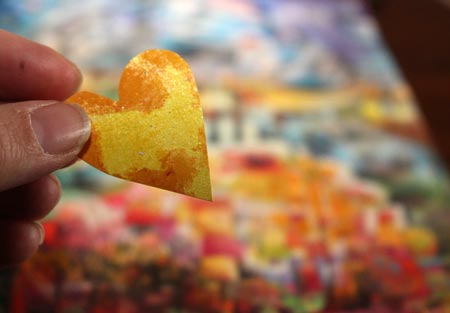 3rd: Where ever we go, we always carry a piece of home with us. My third idea was to add some red spots to the background to express that.
Boosted Expression
When you bring new ideas and thoughts on the theme while you are creating, you are not only making the page look more lively and expressive. You are also allowing your thoughts to move forward with creating.
Supplies Used
A black drawing pen (Micron 0.8 mm), colored pencils, a piece of scrap paper and some gel medium were the only supplies used on this page.
Subscribe to my weekly emails – Get a free mini-course!