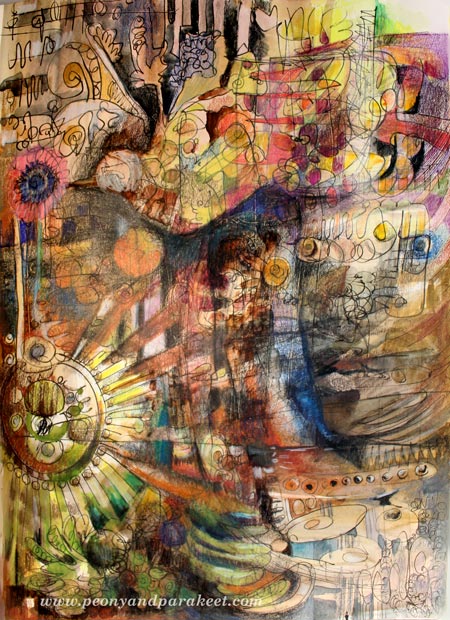 This art journal page is called "Introvert." I made it while thinking about how much I enjoy spending time alone. My love for sharing and interacting are not the only things that make me; I am also an introvert who needs time to ponder and visualize what's going on in my inner world. I find it often difficult to express myself in writing, so I like to create an image first and then write down the thoughts. Usually, my thoughts have moved forward and become clearer after processing them visually.
My Inspirational Adjectives
When I begin creating and while I am creating, I often get inspired by single adjectives. The same words continue to fascinate me, at least for a while, before I have found new ones. These words challenge me to both start and finish the artwork.
These are my current adjectives: "imaginative", "forward-thinking", "avant-garde", "visionary", "historical", "futuristic". I am especially fascinated by the words that are somewhat opposites like "historical-futuristic" or which describe a new kind of idea like "forward-thinking – imaginative". While creating the page, I introduced the word "introvert" and got inspired by the word pair "visionary – introvert". Brown watercolor felt just the right choice to express those words!
I continued with the black pen, not worrying about what to draw. Namely, it's difficult to express "visionary" without first having something to look at!
It was a warm summer day, so I took my colored pencils outside and started coloring carelessly.
After a while, I added some watercolors with a thinner brush.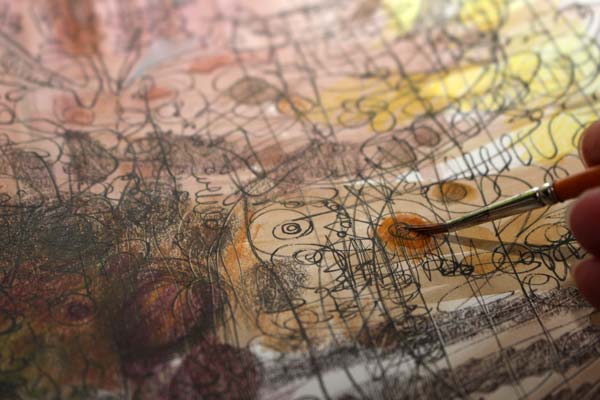 How to Choose Your Words?
Some people think that art is a set thing. But pre-named styles and standards don't define it adequately. On a general level, yes. But when creating art, your uniqueness should be your standard. Thus your adjectives should be set so that you respond to them emotionally. They should make you feel not only excited but also a little bit scared. For example instead of "caring" you might choose "sensitive" or "connected". Think about your personality and what you value. Don't take the first words that come to your mind. Seek for specific words that define the adjectives more accurately.
Express Your Adjectives!
Start seeing and enhancing your words, your personality, and your values in what you create. Whatever your piece looks like when you are in the middle of the creative process, think about those adjectives and find ways to express them.
"Introvert" instantly brought black color to my mind. "Visionary" made me look for circles like eyes. As there's something mystique in the combination of those adjectives, I set a quite dark and little bit dramatic color scheme.
When you focus on things that excite and scare you, your art becomes more meaningful. It can bring new kinds of thoughts and ideas not only for you but also for others. Everybody doesn't need to know your adjectives. Art can often be interpreted in many ways. But your creativity is most powerful when it's focused, and few inspirational words can bring that focus!
Subscribe to my weekly emails – Get a free mini-course!