This week, I continue showing pieces that will be presented in the upcoming group exhibition "Flower Gardener's Diary" (Kukkatarhurin päiväkirja, 9.- 22.9.2019, Hietsun Paviljonki, Helsinki). This one is called "Flower Fairy's Year." I will be presenting both paintings and drawings, so I wanted to create a piece that would build a bridge between fine art and illustration. I hope you find this project inspirational!
Inspiration Piece: Wheel of Fortune
When building the class Magical Inkdom earlier this year, I made a fun drawing called Wheel of Fortune. It has a center that's separate from the rest of the piece, and it can be rotated so that the heads of the figures change. The bigger drawing is attached on thick cardboard so that it feels like it's a game board, not just a flimsy piece of paper.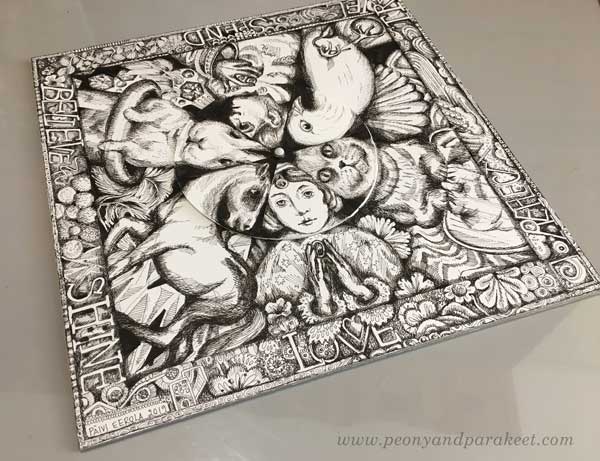 I wanted to use the idea of a separate centerpiece and sturdy base for this project too.
Fine Art Centerpiece: A Miniature Oil Painting
The project started by finishing a miniature oil painting that I suitably had in progress. It's only 4 by 4 inches.
The painting was made very traditionally. I sketched the face with charcoal, and then made an underpainting with umber and white. I used Bernardino Luini's portrait of Saint Catherine as a loose reference for the facial features.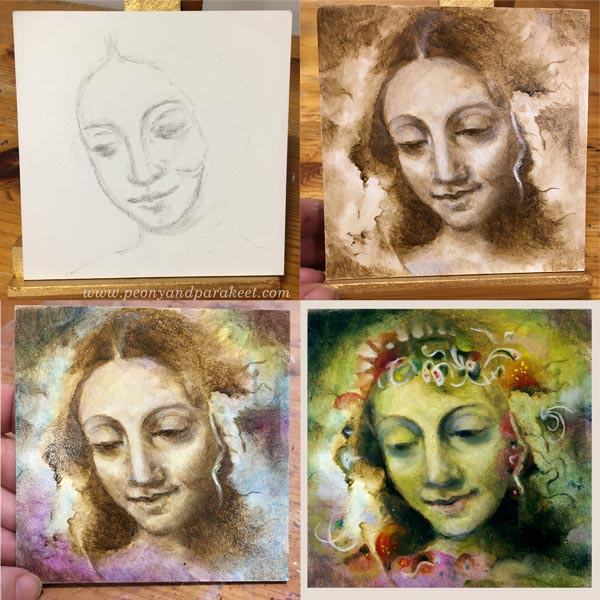 The color layers were thin so that the previous layers stayed visible too. It took a bit of courage to give a green wash to the face, but I really like the result. Decorations were easy and fun. They are quick lines and shapes that make the saint look like a floral fairy.
With oil, the most difficult thing is to wait for every layer to dry separately. Other than that, I find oil easier to handle than acrylic paint.
Illustration: Decorative Flower Frame
For the frame, I cut a piece of Bristol paper. It's about 10 by 10 inches.
I wanted to include flowers from January to December so that the frame is like a clock that has months instead of hours. The drawing was made with Copic Multiliners (I mostly use 0.05 tip), and I colored it with watercolors.
Plywood Base
My original idea was to cut two layers of cardboard so that the topmost layer would have a 4-by-4-inch hole. But when I told my husband that "Ideally, the base would be wooden", he went to his workshop and came back with a hand-carved plywood base!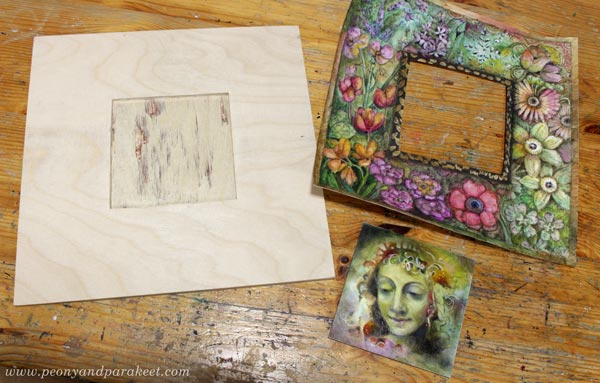 Putting All The Pieces Together
I painted the plywood black near the surroundings of the miniature painting. It makes sure that the plywood won't show if the piece is observed from different angles. I varnished the oil painting with Gamvar and let it dry overnight. I put a plastic plate over the frame to reduce the curviness of the paper after painting it with watercolors.
Then I glued the painting to the base with gel medium and attached the frame with double-sided tape. Finally, I marked a line of 0.5 cm from the edge of the base and made sure that the motifs extend there. This piece will be professionally framed, so I didn't want to leave too much empty space around the edges.
Between Fine Art and Illustration
In the art world, there's a lot of talk about choosing between fine art and illustration. Many define fine art so that it comes up solely from the artist's own creative expression when illustration illustrates a story or can easily be used with the text. One way to separate them is the number of copies. Fine art pieces are often unique or manufactured in very limited quantities only when illustrations are more of everyday art, consumed by the masses. Some say that it requires talent to create a piece of fine art, and just art education to create a piece of illustration.
In my artistic path, I have found the definitions both helpful and destructive. It has been essential for me to expand to illustration – to learn how to visualize text and written ideas. It has made me more connected with the surrounding world, and it has also brought me more work. However, I feel that art is free, and without exploring that freedom, it's also difficult to create insightful illustrations. So I have tried to keep up with both worlds.
However, I hate when people say that you have to choose between fine art and illustration. For me, bringing the two approaches as close as possible has been a working solution. I think this project shows really well how one is not the enemy for the other.
I can't wait to show you more pieces that I have finished for the exhibition! I will also have many framed and will blog about how I selected the frames in the upcoming weeks. Stay tuned!
Come to draw fantastic art (+ fantastic frames) with me –
Sign up for Magical Inkdom!
Right after the registration, you will get all the lessons, and you are good to start drawing! >> Sign up here!