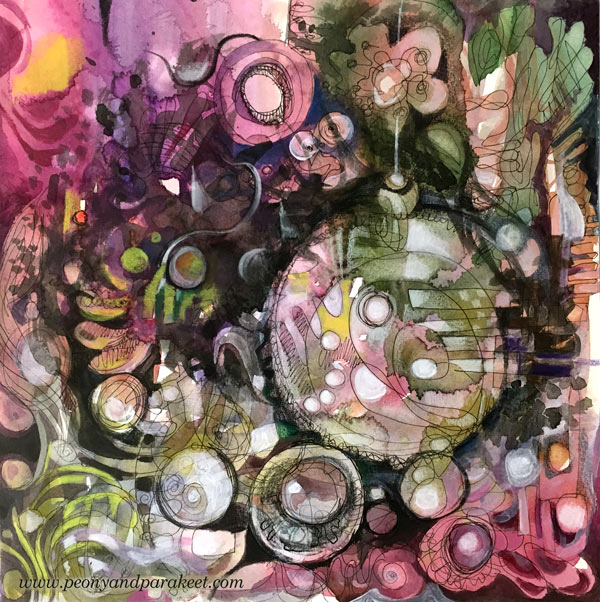 Here's what I made today: a mixed media painting with a Christmas theme. When I began creating, I had no idea that this will express the season. I didn't even start with a blank paper but cut a piece of a big pre-painted watercolor paper. It had just careless splotches of color, and I had painted it months before to wait for the right moment. I had just enjoyed knitting some old sock yarn into socks, so I thought to use up that paper with the same mindset: using what I already have and making that more inspirational.
Begin Like a Crafter
I picked a black Zig drawing pen and started doodling without any idea in my mind. I often think about knitting or crocheting when I doodle. I feel more like a crafter than an artist at the beginning of the process. Exploring the paper with a pen is like crocheting with a hook and yarn. It's much more relaxing than trying to find a grand idea first. When you start as a crafter, you are ready to do the work. You don't expect miracles to happen, you know you just have to keep on going, and it will get easier after a while.
After filling most of the paper with crossing lines, I felt that there was a lack of connection between the drawing and the background painting. They looked like they were two separate layers, each made by a different person. But because I had used a good quality watercolor paper, I was able to add water and wipe off color here and there so that the layers began to interact.
Again, I felt like a crafter adding stitches that would tie the two layers together. I also used white and black colored pencils to enhance the effect.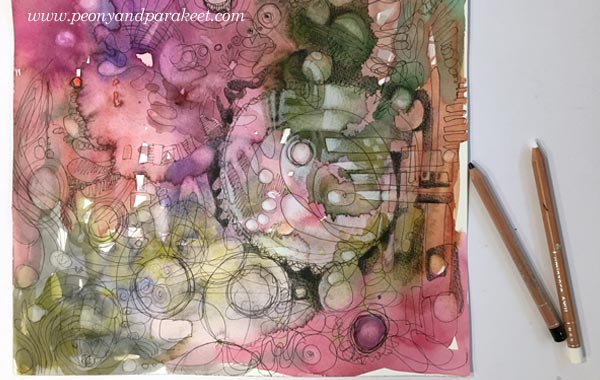 Find Routines that Start the Change
Working with black is my thing. It always brings in more excitement, more drama, and my identity begins to change from a crafter to an artist. This time, just holding a black pencil, made me want to start painting. I picked few bottles of India ink first.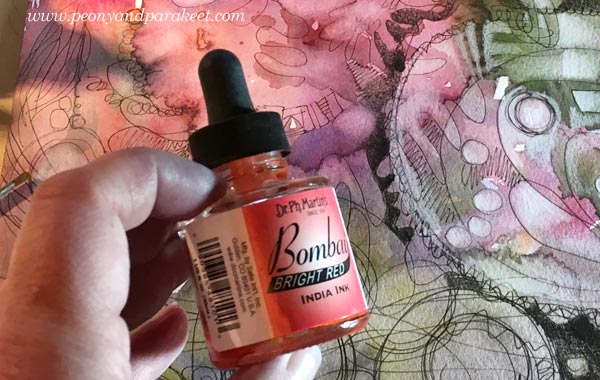 My brush felt stiff, and the shapes that I painted were controlled and modest. But I knew I just had to keep going. There were times when I stopped too soon, and I have seen that happening to many people too. When you stop too soon, you are still too much of a crafter. You try to focus, and you don't feel like doing anything risky.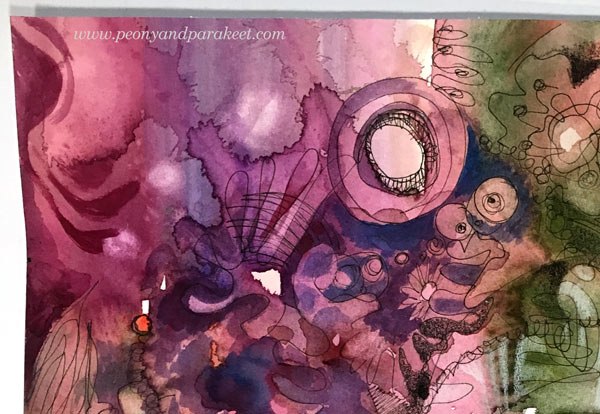 I changed to white acrylic paint to get more ideas and contrasts. There were some round shapes on the paper, but I had no idea what they could be.
Finish Like an Artist – a) Do Something Risky
After spending some time painting, I was ready to take risks. All I needed was to choose a little black ink bottle and turn on Jean-Michel Jarre's Stardust, a song that always gets me into the flow. Uncontrollable black brush strokes felt scary, and of course, there's a risk of "ruining everything". I often set an area, where I don't go. This time I decided to be as wild as I want but leave the center of the biggest bubble alone.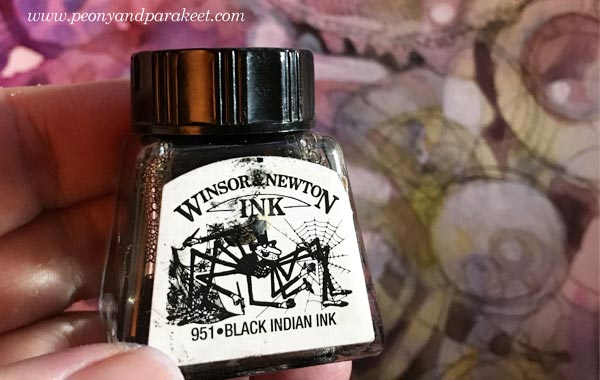 Before doing this phase, I convince myself that my subconscious knows what I could bring up from the mess because I have been staring that for a while already. I often repeat the words "trust" and "knowledge" before I turn to the music. I try to be as quick as I can and focus on adding more speed to my brush. This short phase where I leave the crafter behind is the most enjoyable thing in creating. I feel free while pushing the limits of my creativity.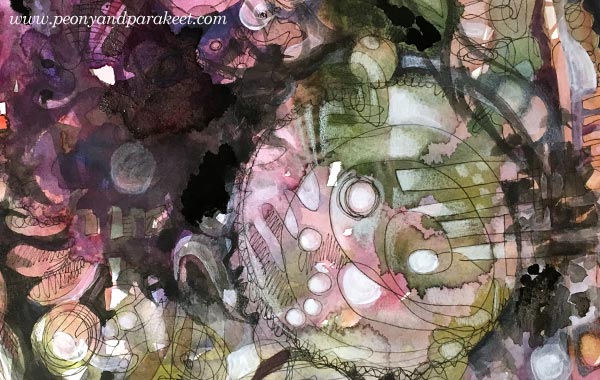 Finish Like an Artist – b) Bring in the Intention
After adding those black strokes and splotches, I knew what I was expressing: holiday decorations on this black Christmas. In the southern Finland where I live, all the snow melt away just before Christmas Eve. I had taken photos just a couple of days ago that connect well with the painting. In this last phase, I try to find the fastest and most natural route to finishing the painting and focus more on composition and clarity than trying to make the image other than what it seems to be already. Accepting that my image can go to the area that is unknown to me at the beginning of the process, allows me to be less stiff.
I find it so fascinating that art is a combination of knowledge and letting go. There are clear guidelines for communicating visually such as how to set your composition. And still, it's also about taking all that knowledge and jumping into the unknown. Every day, I want to know more and then, relax more!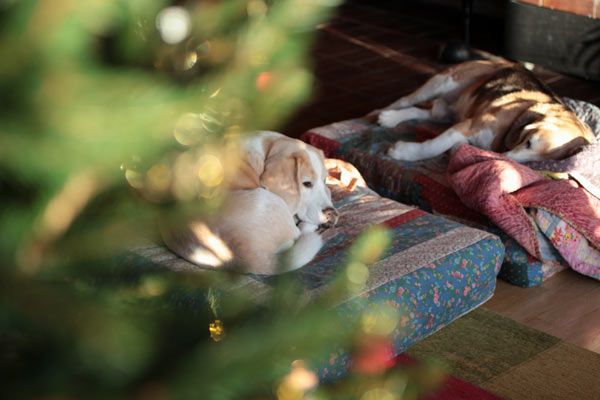 First Lesson of Inspirational Drawing 2.0 – Start with a Mood, Finish with an Image!
Like knitting starts from the first stitch, drawing starts from the first line. Somewhere between the lines the transformation happens and the crafter changes to an artist. The ideas grow with the imagination. Moods turn to motifs, motifs to modules, modules to streams, streams to images.
The first lesson of Inspirational Drawing 2.0 will be published on January 1st. This is the class you don't want to miss! Every lesson takes you further in enjoying drawing from inspiration and imagination! I will help you create unique art in unique ways that will make you absorb the knowledge and then let your ideas grow.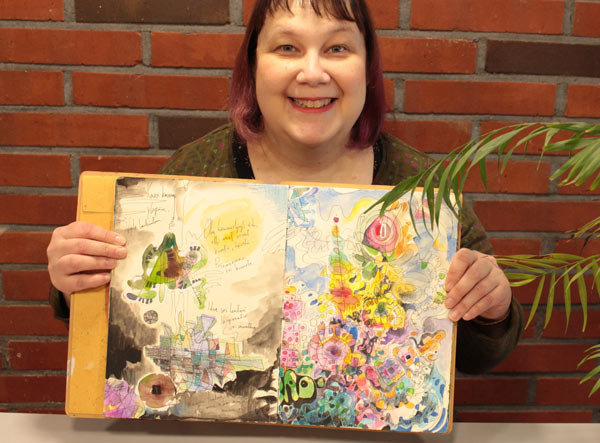 Enjoy drawing from inspiration and imagination!
>> Sign up for Inspirational Drawing 2.0