This time I want to show how I use my art to make designs. Some may think that art journaling and art in general is very far way from design. But that's not true. You can grab inspiration and ideas from art and it can be very straight forward.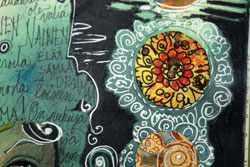 Remember the art journal page I made about women loving historical dramas? It grabbed my attention while I was searching for ideas for a new fabric design. See the yellow-orange ornament on the right corner? I liked the way it was structured.
So I redraw it and tried how it would work as a repeat.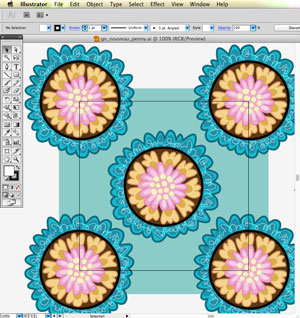 After that I opened Adobe Illustrator and created a digital version of it. I do not usually scan my doodles even if you can do so. I like to understand the structure of the ornament first and then fine-tune it while re-creating it.
Another thing that I like to do is to leave some asymmetry to the motif. I think it looks more interesting that way.
When choosing colors I decided to imitate the contrasts in the art journaling page. I created two colour combinations and three sizes for test prints.
This is how they came out! See my Etsy store for more photos!
When art journaling I am often filled with ideas and details. I have found out that it is not a good thing for me to try to control the creative flow then. To design is to simplify. Later one image can offer jumpstart to many designs. I still see many details on this page that I could use for designs.
An art journal can be your mini world, the best sourcebook for any pattern design!