Paint with me! This week, I have a video tutorial of making an intuitive gouache painting with Arteza Gouache set.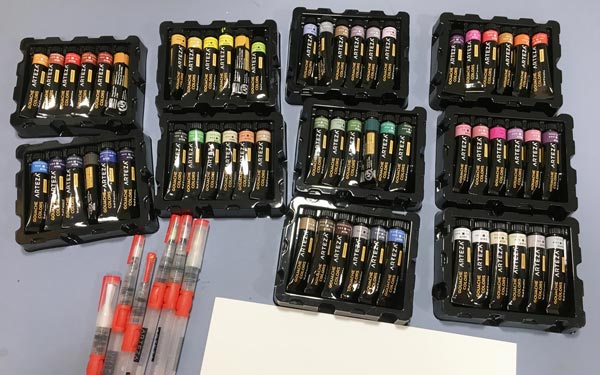 In addition to the gouache paints, I also use Arteza water brushes, Arteza watercolor paper (mine is A4 from Arteza's UK store, but here's the link to the similar paper in the US store), and Arteza Fineliner. These supplies are all donated to me by Arteza (US Store, UK store). You can get 10% off with coupon code peonyandparakeet1. This coupon is valid till Oct 25th, 2019.
Intuitive Gouache Painting – Watch the Video!
Gouache Comparison – Arteza vs. Schminke
Arteza's gouache paints are very affordable compared to artist quality paints. I have few tubes of Schminke Horadam Gouache paints, and with the price of 60 colors of Arteza, you can only get a few tubes of Schminke!
But of course, there are differences too. Schminke, manufactured in Germany, has a higher pigment level than Arteza, manufactured in China. These tubes are both Burnt Sienna, but Arteza's color is much more pastel and creamy.
Most of Arteza's colors have names that are not pigment names. They describe the tone very well and sound tempting, like "Blush Pink." But if you have used to dealing with pigments and their individual qualities in transparency and archival quality, it can feel frustrating. If pigments are individual spices, Arteza's gouache paints like spice mixes – easy to use for beginners, but a bit joyless for professional cooks.
The differences between these paints are small, and it requires an eye for nuances and experience on pigments to notice them.
When painting, Arteza's creamy paints are like family vehicles, easy to maneuver. Schminke's gouache paints are more like sports cars, quick to react with water and more suitable for fine brushwork.
Traditional vs. Acryl Gouache – Reacting to Water
Some gouache paints are marked as acryl gouaches. It means that they are not opaque watercolors as gouaches normally are, but translucent acrylic paints. I had some Turner acryl gouaches (made in Japan), and you can see the difference below. Unfortunately, I didn't have similar magenta tone, but the color doesn't matter when testing how the dried layer reacts to water. Both Arteza gouache and Schminke Horadam bleed, Arteza a little more than Schminke. But acryl gouache doesn't bleed at all!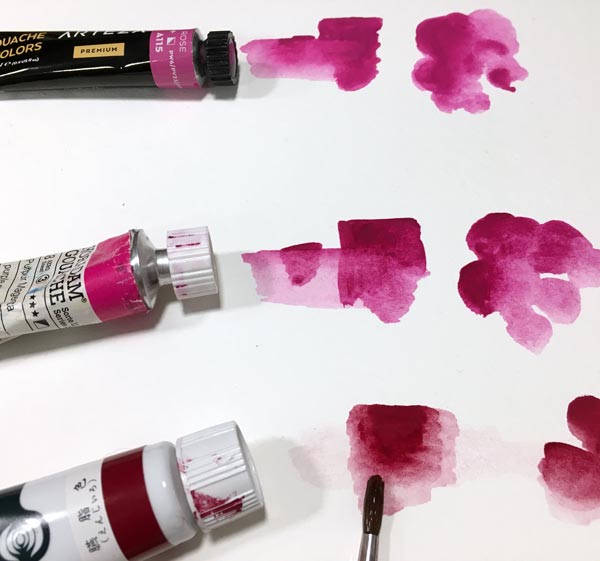 Bleeding is not necessarily a bad thing. Actually, I prefer paints that bleed because I often like to remove color in later stages.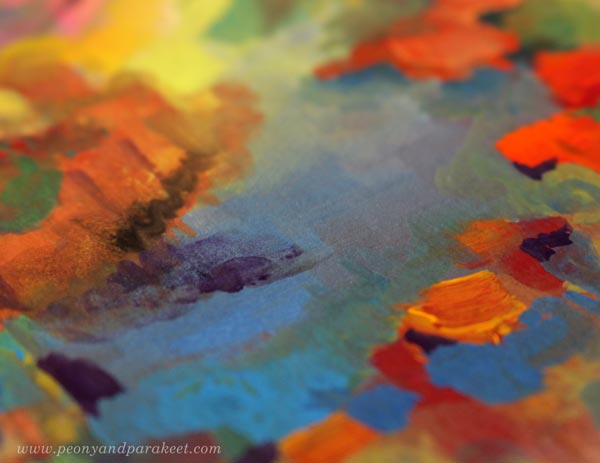 Bleeding wasn't any problem when making this painting either. I used both thin and thick paint quite effortlessly.
I hope you enjoyed the video, and let's keep creating!
Let's share the passion of creating art!
Subscribe to my weekly emails | Welcome to my classes