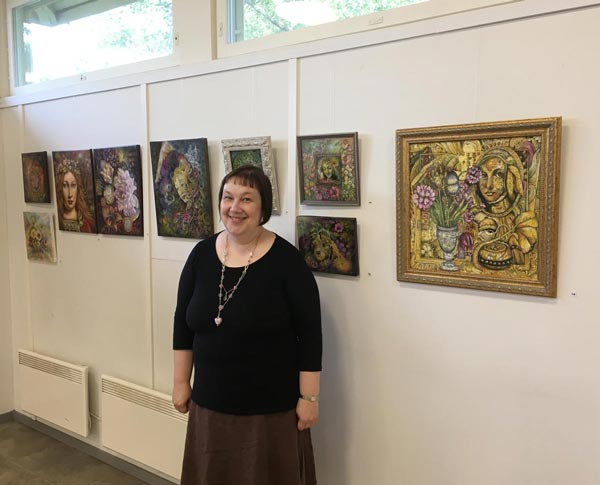 I currently attend a group exhibition in Helsinki, Finland. The place is called "Hietsun paviljonki", and it's located on a beautiful beach quite near the center of the city. The art exhibition is open from 11th to 22nd September, so if you are in Helsinki during that time, welcome!
See the Exhibition – Watch the Video!
For those who can't come, I have made a video of all the 11 pieces that I have there.
The Art of Framing
As you see on the video, I got several pieces framed for the show. My artist friend Eeva Nikunen has gorgeous frames in her paintings, so I used the same framer than she usually does. I am really happy with these frames!
For a drawing, that already had a hand-drawn decorative border, I chose a narrow frame that goes well with the fantasy theme too.
This frame also had a purple version, and I chose it for the houseplant-inspired piece. The purple frame highlights the green leaves beautifully. Originally, I hadn't planned to frame this piece so I didn't leave any blank space around the paper when creating it. The framer attached the drawing on the green cardboard first. I like this solution.
I wanted something silvery for the madonna painting and chose a broad white frame that also has real silver! It wasn't the cheapest option …
I was a bit doubtful if I could find a perfect frame for my big yellow drawing but this one really hit home.
I hope this inspired you to frame some of your pieces!
Coming Up!
I have another group exhibition coming up soon (Sept 20 to Oct 8). It's in Gallery K in Vantaa, Finland. The show is called "Raffia ja smoothia" – Rough and Smooth, and it's organized by the local professional artist association.