I finally painted something that I have tried for years – my view of life and my personal mystery.
Art, Religion, and View of Life
Art and religion have been connected for centuries. Some see it primarily as a business connection – churches have ordered paintings and artists have made their living.
But I like to think that the connection is not only about money but that's spiritual too. At best, art expresses what we think about life and death. This doesn't mean that an image has to be gloomy, or that it has to illustrate any particular religion. Vice versa, I believe that every person has their view of life. Let's call it a personal mystery!
Searching for Personal Mystery
Your personal mystery sets the direction of your deepest thoughts, but it's difficult to put into words. Now and then, you can catch it emotionally. But intellectually, it can feel impossible to reach.
Even if your personal mystery is unique for you, it's so authentic that it resonates with many other people too. When I go to historical places like the Church of the Savior on Blood, they have a flavor of my mystery. But still, it's not quite in line with my deepest thoughts and feelings.
The Only Thing You Desire to Paint
Your personal mystery dictates your artistic goals. Whatever you say you want to accomplish, the deepest desire is to express your personal mystery. You can say you paint because you want to escape everyday life, but in truth, the escape is about reaching your mystery. No matter how successful you want to be, you also want to be authentic – and that requires discovering your mystery! Your visual style may seem like the primary goal but believe me, it's secondary – just a tiny hammer in a big toolbox that you need to reveal your mystery.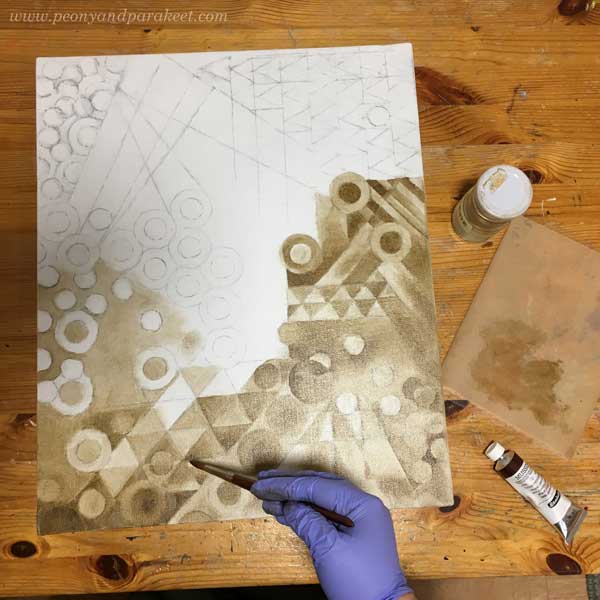 No matter how orderly you begin the painting, the final goal of the process is to let go and become one with your mystery.
Painting Your Mystery
In the middle of the painting process, your mystery like a secret whisper, so sacred that it feels forbidden even to try revealing it. This secrecy sends mixed messages to your creativity and the process gets confusing and disappointing.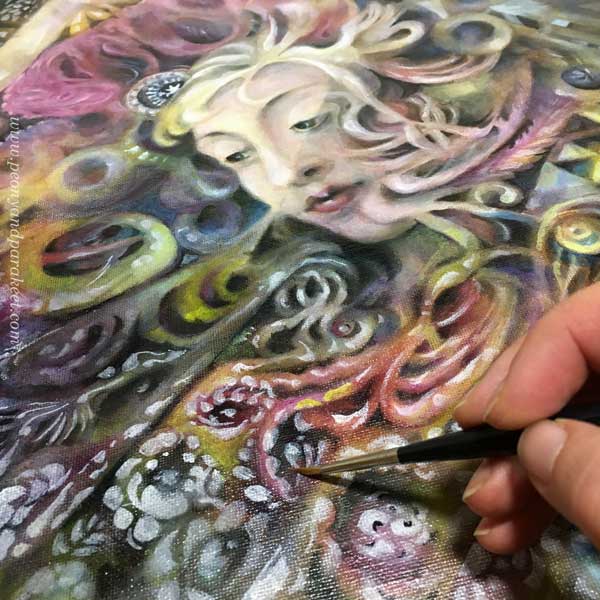 When painting the woman and all the colorful details, I started to hate the mess and get disconnected with it. The image felt too complicated and decorative, and I didn't know what to do with it. I was traveling through strange places and wondering how to reach an unknown destination.
At this point, it's tempting to give up. I put my painting away for months. My plan was to wipe the paint away with turpentine so that I can re-use the canvas for another painting. But about a month ago when I picked the unfinished piece again, I knew instantly how to finish it.
Five Tips for Revealing Your Personal Mystery
I don't think there's a straightforward formula for revealing the mystery, but here are some things that are helpful:
Grow visual skills so that you can freely choose what you paint whether it's representational or not. Learn to use references creatively, and study the principles of abstract art (my favorite book about abstract art).
Grow confidence so that you can let uncomfortable, erroneous, silly, and "wrong" things happen while creating. You won't find the mystery if you stay in your normal zone (breaking the rules)
Grow imagination so that you can jump from one association to another and come up with a unique solution. Creating from prompts help with that (I recommend Inktober).
Curate what you love and value. List things that inspire you and keep filling and editing the list (remember to include innocent little secrets)
Become more aware of details and nuances in all art-related things. The more general you think ("I am an abstract artist", "I draw faces only", "these are pretty flowers"), the more difficult it is to connect with your uniqueness and find inspiration.
I used to think that when painting people, humans should look as realistic as possible. But I am more of an engineer and an innovator than a portrait painter. By trying to make the woman look like a real person, I had blocked my personal view of life appearing on the canvas.
When I realized that the woman is just an anonym observer, the painting was very straight-forward to finish.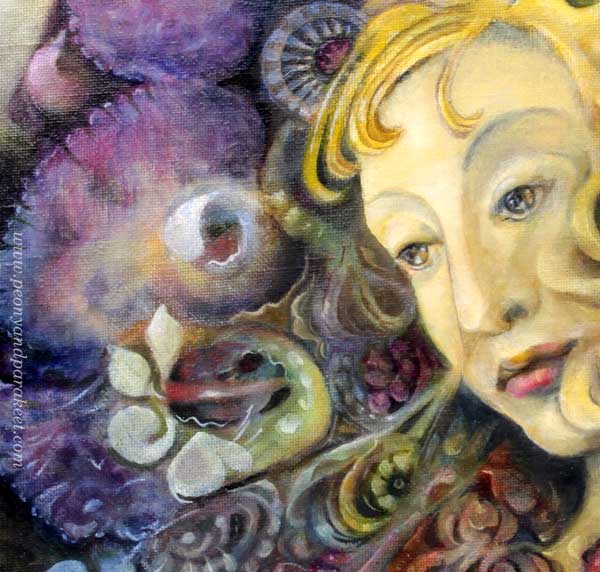 My Personal Mystery
In my mind, science, beauty, and spirituality are all connected.
The biggest miracle for me is how the universe works, and how I can take parts of that to create a new world.
Historical buildings and paintings connect me to the origin of our culture and universe emotionally. To me, the painting looks historical enough to fit in.
In the future, I hope to create more pieces that express my personal mystery.
For Finnish readers: Come to see this piece and more of my art! I show about 10 artworks in a group exhibition this month in Helsinki. Lisätietoja täällä!