My sampler madness began when I found an unfinished embroidery project. I had started it two years ago on an online course called Happy-Go-Lucky Stitchalong. It was led by Amy Powers and the goal was to embroider a sampler showing all the things that make you happy.
It was only a two-week course and I got some more squares done than what is shown here but there was still plenty to go. I had dyed the fabric with monoprinting method and quite liked it. I was not happy with all the embroidery that I had made but I felt compelled to finish this project. The embroidery floss I had to finish this looked so tempting!
So I began to work little every day for a couple of weeks. Some of the squares were remade and some were complemented with extra stitches.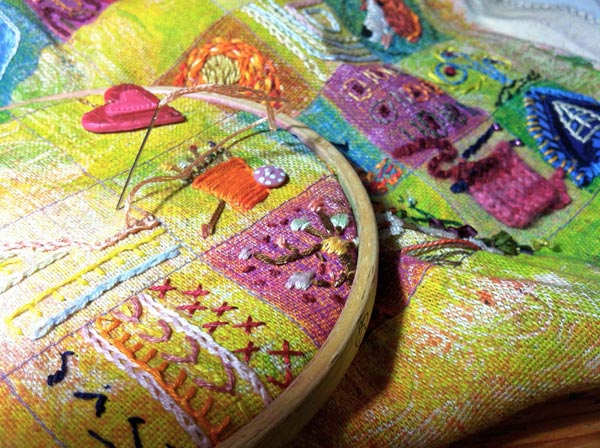 In the end I added some more details to the background fabric using the same method than in the beginning. By using a glass plate and textile dye I was able to prints some more color and doodling to make the result even more interesting.
I painted the frame with bright coral red to create an athmosphere of hot summer days (which I love and which are all too rare in Finland).
I am pretty happy with the finished piece. Can you spot a peony and a parakeet there?
While stitching the sampler, I was thinking about samplers in general. They can be really handy of saving things. Even virtually! Isn't Pinterest like a big sampler too?
I chose not to spend an extra hour at Pinterest but make a stamped sampler showcasing some of my favorite stamps.
Folk style suits well to samplers so I decided to make a sampler that reminds me of folk costumes. I doodled around the stamped images to get extra details. Then I colored them with colored pencils and markers.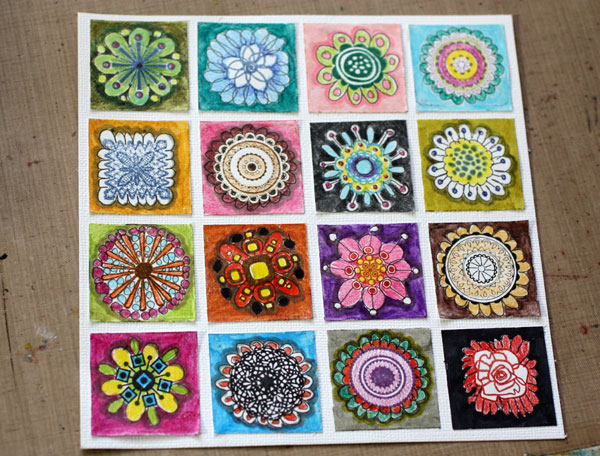 Thinking of folk costumes, I got the idea of adding buttons in the middle of each square. They all had to be different, of course. That way they would repeat the idea of a sampler too.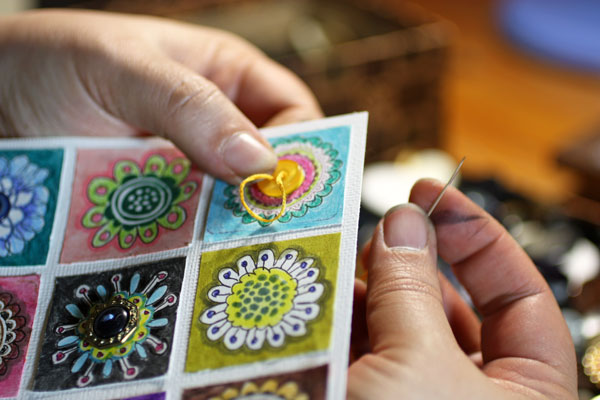 Before sewing the buttons I had painted the frame with faux antique paint. Many folk costumes use a lot of lace and ribbons so I picked all the stamps which were like them. Luckily I had so many that I was able to use each once and get the decoration around the frame.
While making this sampler I got the idea of a sampler made from handdecorated papers. Wouldn't it be cool to have an art journal page showcasing the scraps of papers? Or just coloring and drawing 9 squares while on vacation, one per day and then gather them into a sampler. Or giving each family member a square … The possibilities are endless!
Let me be your art teacher: Subscribe to my weekly emails!