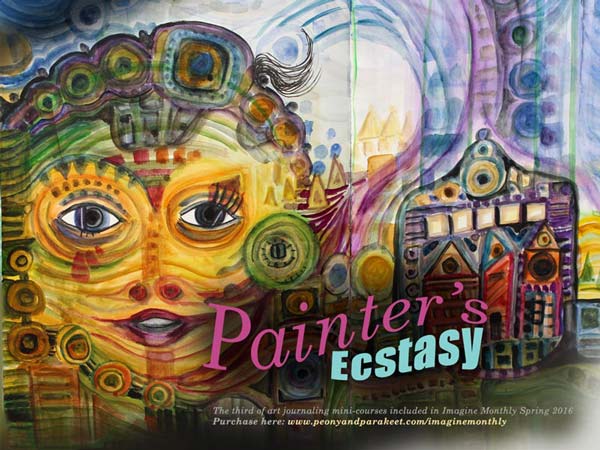 An Austrian architect and artist Friedensreich Hundertwasser inspired me to create this art journaling mini-course. Painter's Ecstasy has just been released as a part of Imagine Monthly.
Getting into Hundertwasser's Head
Creating the mini-course took a lot of time. I didn't want to just paint something in Hundertwasser's style. I wanted to find the elements in his style that support intuitive painting. I wanted to discover the essentials that allow anyone to produce their own work, not just copies. I also wanted to point out the most important nuances that make his paintings so appealing.
Even if Hundertwasser's paintings (go check my Pinterest board: "Hundertwasser Hunger") are so clearly shaped and striking, getting into his head wasn't easy! I made a lot of sketches and experimented with various art supplies. These art journaling pages are some of the sketches:
Structures from Buildings and Maps
Hundertwasser's education in architecture affected the way he painted. He used structures from buildings and maps to express himself.  His paintings tell stories about how humans relate to their environment. It made me think how my desire to paint glassware and ceramics is due to my studies in industrial design. However, I truly enjoyed the techniques discovered from Hundertwasser's paintings! I am definitely going to continue using those! It's mostly just watercolor, isn't it amazing?!
3 Months, 3 Artists
Each of the mini-course has now presented an artist. I must admit that I have been a bit selfish here, picking out artists that truly inspire myself. Luckily I have been blogging for a long time. It hasn't probably been any surprise that January's artist was Alphonse Mucha and February's William Morris.  But my love for Hundertwasser's paintings might have been a bit hidden. Now when I have found out how he created his paintings, it won't be a secret anymore!
Have Some Hundertwasser in Your Art Journal!
You can still hop on Imagine Monthly and get all the 3 mini-courses right after the purchase. There are three more mini-courses to come and the community is just wonderful to be in! It is so delightful to see everybody's unique versions of the techniques shown in the class. Purchase here!