My latest collage here is influenced by fabrics and quilting. After being linked from Amy's Free Motion Quilting Adventures blog I got the idea to blog about my roots in quilting. And even more: what I have learned from quilting.
I used to be a quilter you know. Within years my quilting became more and more complex. I fell in love with hand embroidery and it felt like the needle was my pen. Quite soon after I made this, "The Time of Miracles", I knew I could not just go on. It took too much time to complete one, even small quilt.
I discovered paper crafting hoping it would be faster. And it was! That time I also combined paper with fabric.
But after taking the first steps in paper crafts I realized that I had learned a lot from quilting.
1. Using ugly colors
Choosing only pretty colors makes them all ugly. Every quilter buys neutrals, blacks, whites, solids and other duller fabrics to make pretty even prettier.
2. Selecting colors that differ in intensity
Hues that have the same intensity look flat and unappealing together. Like in nature and in photos, the hues vary and I think it looks beautiful.
3. Mixing patterns
By bringing new and new fabrics to the quilt it gets more and more appealing once the colour choices work. I love mixing a variety of patterns together!
4. Layering 
Applique is the technique where the fabric motifs are sewn on the background. Layering creates depth and makes the end result interesting. I try to maintain clear color contrasts between layers.
5. Attachment
In quilting all the pieces are first attached by sewing. They form a connection within each other even before the final step: the actual quilting. In collages I always try to group elements and give them some kind of border. Pieces that float look like they do not belong anywhere.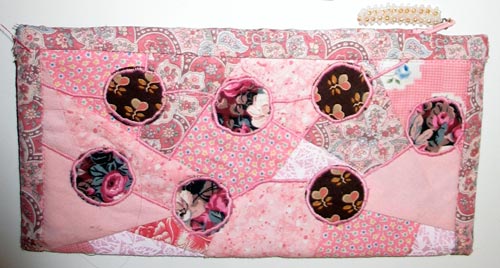 I still make quilts now and then. I do not make traditional blocks or plan my quilts. I like sewing intuitively like I would be drawing something unexpected.
Skills can be mixed and styles can evolve from the experience of making a wide range of things. Whatever you create, hopefully this encourages you to combine your skills for the next project!
More design advice applied to crafting: Folk Bag Workbook