This week, I talk about memories and art-making and how the connection between them can be loose but still important.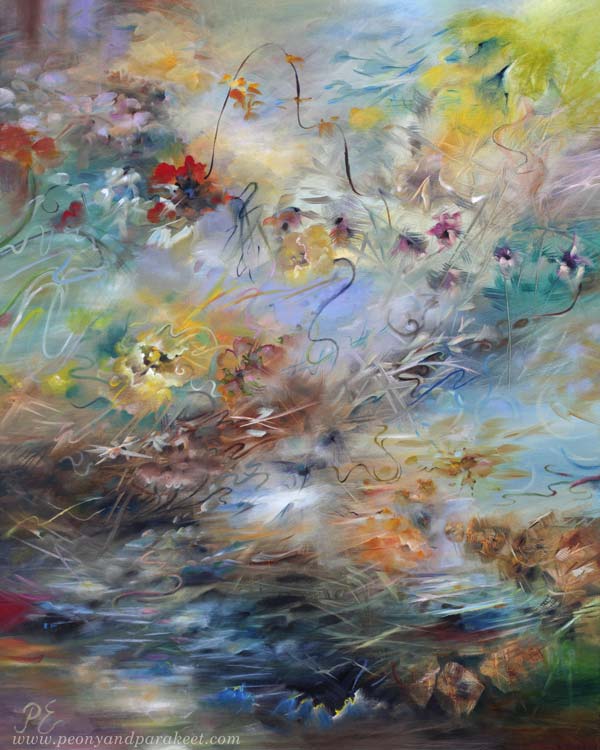 With this new painting, I want to talk about …
Books and Memories
My parents never visited another country, and as a child, I never traveled abroad. My first foreign trip was to England when I was 21 years old.
So when I think about my childhood, the first feeling that comes to mind is boredom. "Äiti, mitä mie tekisin – Mother, what could I do next?" I often asked. But my mother's suggestions were never inspiring, and if my friends weren't around, I usually chose to walk to the local library so that I could see the world.
My body was local, but my mind was international. Maybe it's because our family had the book Tuhannen ja yhden yön satuja – One Thousand and One Nights, and I found it fascinatingly exotic at a very early age.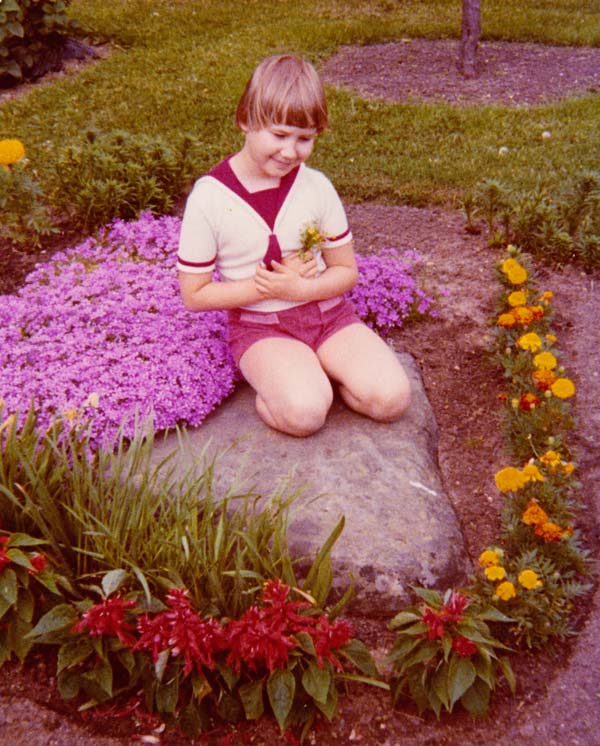 So the local library became my globe. As soon as I opened the door, I glanced at England, to the bookshelf where Jane Austen's novels were in a row. Then I went to Africa and Asia by browsing big encyclopedias of animals, searching for big cats. I traveled to Egypt when admiring the treasures of the pyramids. I spent hours in France and Italy, contemplating whether I liked impressionism or expressionism more. Pictures of folk dresses took me to the east, across the border. I traveled west over the sea to meet my friends Uudenkuun Emilia – Emily of the New Moon, Laura Ingalls, or Vihervaaran Anna – Anne of Green Gables. And I also spent quite a lot of time in a fictional American town through Spoonriver Anthology by Edgar Lee Masters.
When my fingers danced on the spines of the books, my mind contemplated where to go next. And always, I was able to find a place more pleasant than the small town in Eastern Finland.
Painting Freely, Inspired by Memories
This freedom of mind still inspires me. In fact, this blog is one channel to reach you who lives far away. Despite the distance, you may have read the same books, yet our memories are unique. The common stories and pictures get mixed with personal experiences and views.
No matter how current we want to be, memories always play some role in our art too. When painting freely, it's not as literal as illustrating a story but more about the atmosphere and associations that a traveling brush can evoke.
Like a child, we can get enthusiastic about very little – about a spot or a simple idea and then expand our thoughts, shapes, and colors.
I believe that the more we paint, the more we remember who we naturally are.
My Artist's Journey
My artist's journey has been full of practice. A lot of it has been that I have developed a class of my recent revelations and then moved forward to find more. So, it's been a very straightforward route that way, and I am oddly relieved that it has brought me where I am now, being able to use a brush as my pen and paint stories that go beyond words.
Right now, it doesn't feel right to develop a new class about painting, especially when I already have the master class Floral Freedom.
However, with the current series of paintings, I have got new ideas for drawing. A big part of my painting skills and imagination have come from drawing practices, and I love the quickness and playfulness that pens and pencils enable. So stay tuned!
Tiger's Eye – Memories into Painting
I painted this piece, Tiikerinsilmä – Tiger's Eye, like it would be a good book, taking me to unexpected places. Just like a child sees the world in a library, as an artist, I try to stretch my memories and imagination so that I don't get stuck in the mundane.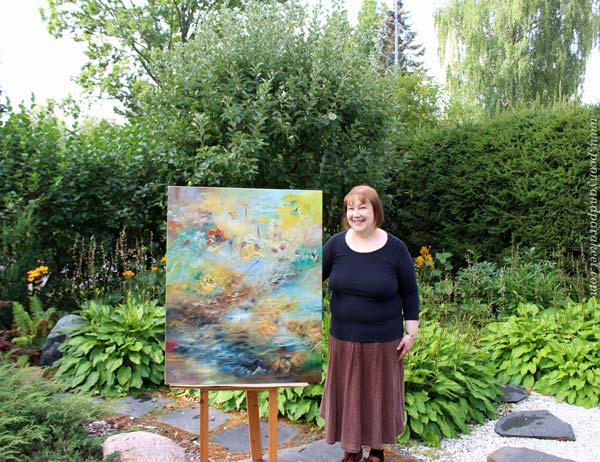 What kind of memories and hopes came to your mind when reading this post? Did you, too, read One Thousand and One Nights, for example?