This fantasy art piece is a hand-made collage called "Zebra Madonna". It's made mostly with Copic markers, some elements have been colored with colored pencils. It's hand-drawn from start to finish, mostly for my class Animal Inkdom where I show easy ways to draw and color wonderful wildlife animals like flying butterflies and running zebras.
Time Flies When You Are Having Fun
It often happens to me that I am going to draw just something small, but then end up making a bigger project. Jane Austen has a novel called "Sense and Sensibility", but my inner conversation is not very romantic.
Sensibility says: "I have an idea." Sense says: "Don't!" Sensibility says: "I want to do it. Now." Sense says: "It's 2 AM, no way! Go to sleep and wait for tomorrow."
What was I drawing in the middle of the night? A small drawing of a girl with a zebra. The girl is a bit like zebra herself, and the zebra looks almost like a unicorn without a horn.
I started with a black and white drawing, but because coloring is fun too, I couldn't resist. Time flew, and I was having fun.
For Animal Inkdom, I drew a lot of collage pieces as samples, and then many in the videos. So I have two boxes, big and small, that have all kinds of fantasy creatures. It felt like the zebra of the small drawing started calling his fellows, and these three came out!
Even if my zebra madonna was framed and all, I wanted to make a new image where the other zebras could join her. I cut a big piece of Bristol paper, approximately 14 x 20 inches. This is when I went to sleep! It was apparent that I would need quite a lot of energy to fill it with markers and doodles.
Self-Doubts
Next morning, I woke up determined to continue the project. I wanted to "paint" with markers – use several layers so that they would blend. I also wanted to draw with a very thin pen, Copic multiliner 0.03, so that most of the background would have subtle patterns. At this point, I wasn't so sure if these were good ideas. Drawing took a long time, and markers weren't so quick either.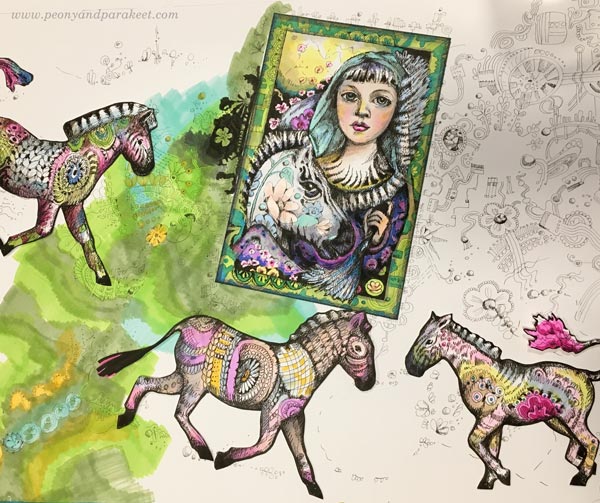 I was also hesitating to use the zebras. Of all the animals that I had drawn for Animal Inkdom, they were my favorites. I reminded myself that because I had developed an easy way to make them, I could draw more at any time!
Before starting to ill the background, I had marked the places for the elements with a dashed line. Still, there was quite a lot to color. Here you can see how uneven the coloring is when there's just one thin layer. I needed more layers!
It's typical that at some point my Sense is starting to say: "This wasn't a very good idea." I am at the rock bottom trying to figure out how the project could be finished quickly because it doesn't seem so fun anymore.
New Inspiration for Fantasy Art
My way to cope with what I call "the ugly phase" is to focus on a small area and start listening to an audiobook or a podcast. I also get inspired by colors, mostly by … black! It makes other colors shine, and my collection of black pens is growing steadily. I find it difficult to express any fantasy without black!
Fantasy art can be just fantasy and play, but I usually have a deeper thought in my mind. Despite the happy colors and fantasy feel, the message that I have in mind often has dark tones. Here zebras symbolize things in our past that have been difficult first, but after accepting them, they have become our strength.
Fantasy Art – Zebra Madonna in Detail
Here's the finished piece again.
And because it has a lot of details, here are some pictures of them.
The butterflies are also from my class Animal Inkdom. I think they fit perfectly to the color scheme. I also added the third butterfly on the background. It's just a careless drawing but it adds depth because it looks to be further away than the two colorful collage elements.
The most of the flowers have jeweled centers and are inspired by my free mini-course Flowers and Jewels.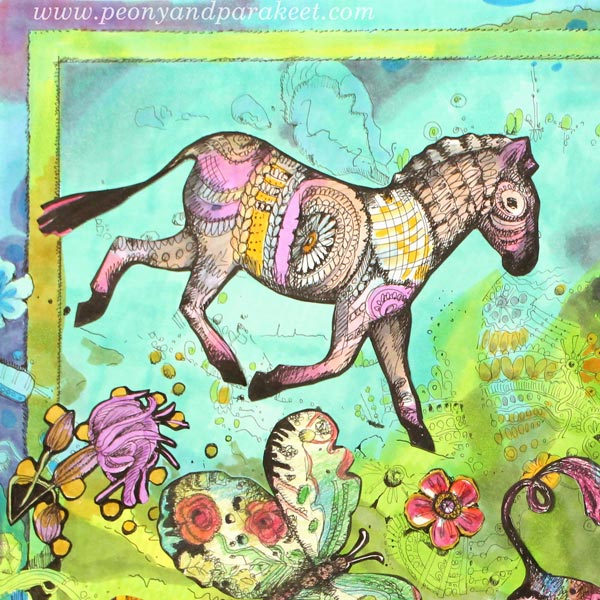 One of the zebra is flying with the butterflies, and if you look carefully, you can see his wings that I doodled vaguely.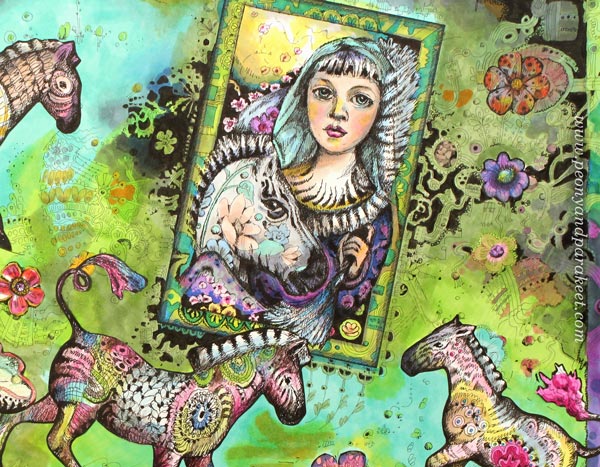 I like how the black continues the framed image and gives more depth and contrast. The right upper corner has a grey layer so that it doesn't take the attention away from the central elements.
Drawing and Playing in Animal Inkdom
Come to draw and decorate animals with us in Animal Inkdom! You will get the published lessons immediately after the registration, and you can start drawing right away. Sign up for Animal Inkdom here!